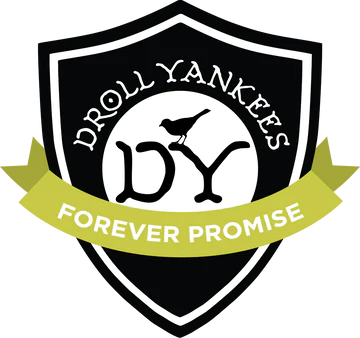 Droll Yankees Forever Promise
Droll Yankees strives to engineer products that exceed consumer expectations for quality and durability. We are proud to offer our customers a Forever Promise on all products. The Forever Promise has several important elements.
The Forever Promise provides worry-free lifetime customer service that includes a dedicated and knowledgeable customer service team to answer calls and questions. We will gladly send replacement parts and provide a stellar experience every time you call. Send it to us or bring it in to an Authorized Service Center (use the map and select "Authorized Service Center") and we will take care of the rest! Shipping is on us; you just need to cover the cost of the replacement part(s).
Warranty
In addition to our lifetime customer service, we also provide the following warranty on all Droll Yankees bird feeders that are not discontinued:
Lifetime Squirrel Damage Warranty
If your bird feeder is badly damaged by squirrels, to the extent that the effectiveness of the feeder is compromised, the Forever Promise also includes a lifetime warranty against squirrel damage on all our products unless discontinued.
2 Year Manufacturing Warranty
Each product comes with a registration card to mail back, or you can simply register your product online. Once you register, the Forever Promise covers all bird feeders, accessories and components from manufacturing and materials defects for 2 years or 24 months from date of purchase. Droll Yankees will repair or replace, at its discretion, any manufacturing defect in these products free of charge. The Forever Promise does not cover damage through normal wear and tear, weather, or bear, raccoon or other animal damage.
Electrical Part Warranty
The Yankee Flipper Powerstick and AC/DC Adapter are warranted to be free from defects in materials and workmanship for a period of one year from date of purchase. In the event of a manufacturing defect, Droll Yankees will replace the Power Stick and AC/DC Adapter free of charge. This warranty does not extend to damage through improper use, improper cleaning, or weather.
Designed for Life
We are proud to offer a vast array of replacement parts online, so your feeder never needs to be thrown away. If you do decide to dispose of your feeder, all product components are 100% recyclable, to aid in the preservation of our planet.
We are here to help! Please contact us at (800) 352-9164 or email consumerservices@classicbrands.net.