Perky-Pet® All-Year Window Feeder Kit
Special Price
$29.99
Regular Price
$37.48
Perky-Pet® All-Year Window Feeder Kit
3
5
5
1
Earn 580 rewards points on your purchase! Learn More
Enjoy birds at your windows all year long
Feeders attach directly to windows for up-close bird watching
Hummingbird feeder features three hollyhock-inspired ports
Seed feeder has a 4.5" entrance fits even large birds like cardinals
Includes a Perky-Pet® Plastic Window Hummingbird Feeder and a Perky-Pet® Window Bird Feeder
Best Used For





Perky-Pet® All-Year Window Feeder Kit
Enjoy having your favorite birds right outside your window year-round with the Perky-Pet® All-Year Window Kit! This kit includes a Perky-Pet® Window Hummingbird Feeder and a Perky-Pet® Window Bird Feeder so you can experience both hummingbirds and seed-eating birds up-close throughout the seasons. Attach each feeder directly to your window for hours of bird-watching pleasure from the best seat in your house. The sturdy suction cups ensure a strong hold to offer peace of mind.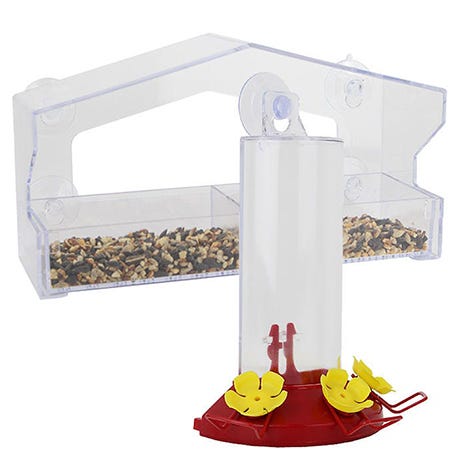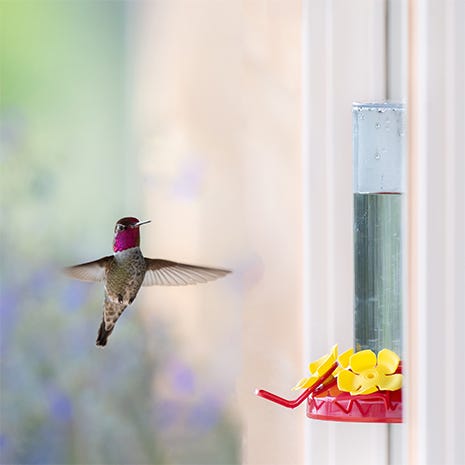 Incredible Bird-Watching Views
Get closer and more frequent bird sightings – all from the comfort of your home! Perky-Pet® window feeders attach securely to windows with suction cups, which provide a strong sturdy hold to prevent the feeder from falling off. With food for them and fun for you, this feeder promises hours of enjoyment as you watch your favorite backyard birds come right up to the window.
Window Hummingbird Feeder
Bring acrobatic hummingbirds to your favorite viewing spot with the Perky-Pet® Window Mount Plastic Hummingbird Feeder. Holding up to 8 ounces of nectar, this hummingbird feeder features a transparent plastic reservoir and a bright red base that will capture the attention of hummingbirds. The inviting design includes three lifelike hollyhock-inspired feeding ports with a built-in bee guard. They are bright, soft, and flexible just like the flowers they flock to in nature! Each port is accompanied by a perch for comfortable dining.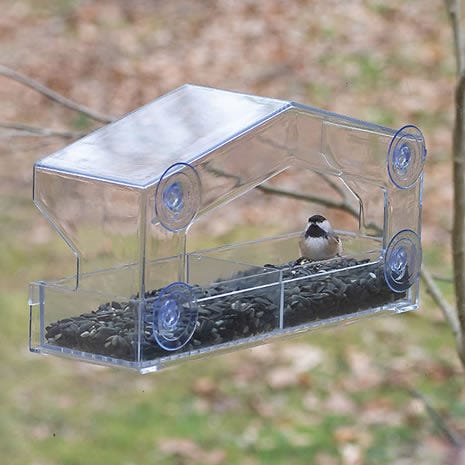 Window Seed Feeder
Relish the sights of your favorite backyard birds, both large and small with the Perky-Pet® Window Bird Feeder. Attach it directly to your window for easier bird watching from the best seat in your house. The large entrance and strong suction cups will accommodate even large birds like cardinals. This feeder features a removable tray, capable of holding up to 1 lb of seed, making it easy to fill and clean without detaching from the window.
How to Hang Window Feeders
To securely hang a window feeder, it is important to thoroughly clean your window first. Once clean, moisten the feeder's suction cups with a bit of water or vegetable oil then apply the feeder to the glass. The moisture will create better suction, so the feeder stays in place.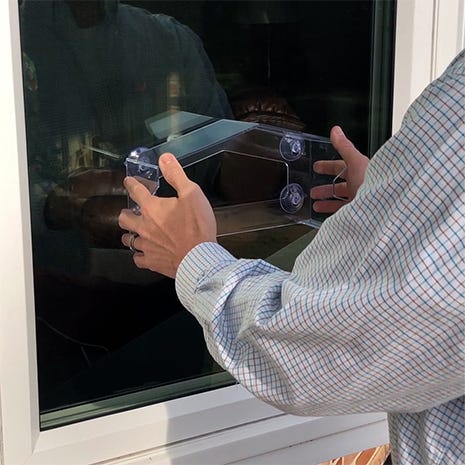 Perky-Pet® All-Year Window Feeder Kit Product Details
Do you want to know more helpful details about the All-Year Window Feeder Kit? Take a closer look at the in-depth specifications for this product.
Perky-Pet® All-Year Window Feeder Kit
Model #
BWINDOWKIT
Includes

Perky-Pet® Plastic Window Hummingbird Feeder – 8 oz nectar capacity
Perky-Pet® Window Bird Feeder – 1 lb seed capacity
Perky-Pet® All-Year Window Kit
Model #
BWINDOWKIT
Includes

Perky-Pet® Plastic Window Hummingbird Feeder – 8 oz nectar capacity
Perky-Pet® Window Bird Feeder – 1 lb seed capacity

Seed Feeder (347) Specifications

Attach directly to a window for hours of bird feeding pleasure
Crystal clear plastic design makes bird watching easier
Large 4.5" entrance fits even large birds like cardinals
Removable seed tray allows for easy filling and cleaning without detaching from window
Includes 4 suction cups for a strong, secure hold on windows
Holds up to 1 lb of sunflower chips, sunflower seed, safflower seed, or mixed seed

Hummingbird Feeder (217) Specifications

Feeder attaches directly to windows for up-close bird watching
Three hollyhock-inspired ports are soft & flexible for a natural feel
Feeding ports are tapered to keeps bees out of nectar
Mount two ways – use the suction cup or hang from a nail
Comes apart completely for easy cleaning
Constructed of shatter-resistant plastic for durability
Holds up to 8 oz of nectar