Perky-Pet® Americana Bird Feeder Kit
Special Price
$83.49
Regular Price
$98.42
Perky-Pet® Americana Bird Feeder Kit
2
5
5
1
Earn 1660 rewards points on your purchase! Learn More
Three feeders to attract seed-eating birds, hummingbirds, and birds that just need a sip of water
Attractive designs and Americana color scheme to liven up your yard
Seed Scoop holds up to 4 cups of seed & doubles as a funnel
23" hanging hook is perfect for hanging on high branches
Includes a Farmhouse Bird Feeder, a Red Glass Mason Jar Hummingbird Feeder, a Daisy Vase Vintage Bird Waterer, three 23-inch metal hanging hooks, a Quick-Fill seed scoop, and a Foam Feeder Cleaning Mop
Best Used For





Perky-Pet® Americana Bird Feeder Kit
Break out the red, white, and blue with the Perky-Pet® Americana Bird Feeder Kit! This all-inclusive kit features everything you need to attract all kinds of birds to your yard – a Perky-Pet® Farmhouse Bird Feeder, a Perky-Pet® Red Glass Mason Jar Hummingbird Feeder, a Perky-Pet® Daisy Vase Vintage Bird Waterer, three metal hanging hooks, a Quick-Fill seed scoop, and a foam cleaning mop! Whether you're an experienced bird enthusiast or a beginner bird feeder, this kit is just what you need to simplify your feeding routine. Plus, it makes the perfect gift!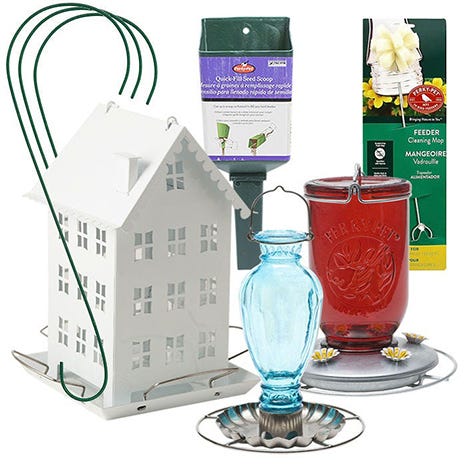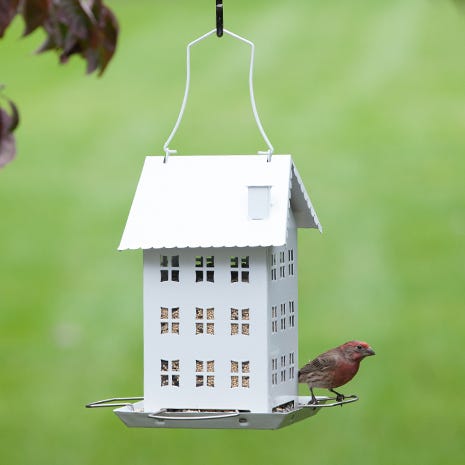 Farmhouse Bird Feeder
Introduce your backyard birds to the charm of farmhouse living with the Perky-Pet® Farmhouse Feeder. This quaint white feeder is designed to resemble an old-fashioned farmhouse, complete with a gabled, scalloped-edge roof and an array of windows. In addition to adding authentic appeal, the numerous windows allow you to easily monitor seed levels, while the four perches accommodate multiple birds.
Red Glass Mason Jar Hummingbird Feeder
Provide a gathering place for hummingbirds with the Perky-Pet® Red Mason Jar Glass Hummingbird Feeder. This fashionable feeder is designed with antique-style red glass and embossed with hummingbirds to add a charming rustic look to your yard. The metal base and perch provide long-lasting durability, and the wide-mouth opening makes it easy to fill and clean. The feeder holds up to 32 oz of nectar and features a wraparound perch, so birds have a comfortable space to hang out and refuel.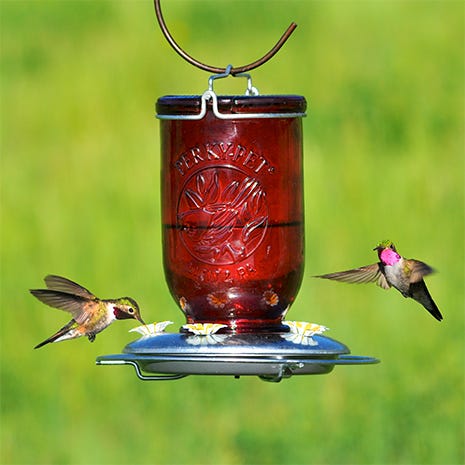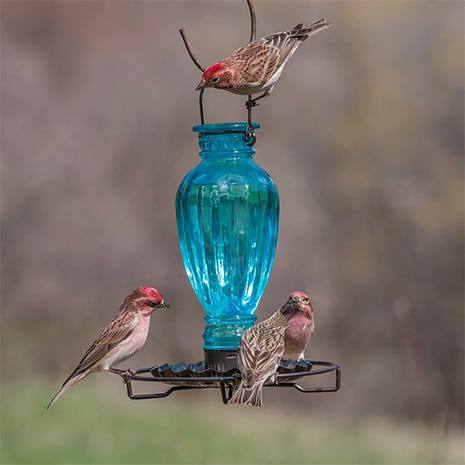 Daisy Vase Vintage Bird Waterer
All birds need water, even birds that don't eat seed. By adding a water source, you'll attract a larger variety of feathered visitors. Provide backyard birds with a fresh, clean water source by adding the Perky-Pet® Daisy Vase Vintage Bird Waterer to your bird feeder collection. The traditional vase style glass bottle has a beautiful, blue luster finish giving it a unique sheen just like a pool of fresh water, while the delicate embossed details offer added elegance to this antique-style waterer.
Hang Them Anywhere
This kit also comes with three Perky-Pet® 23" Metal Hanging Hooks so you can hang all of your new feeders anywhere around your yard or patio. It has a rust-resistant powder-coated finish to ensure durability even in the harshest weather. Plus, the extra-wide top hook won't damage tree branches! This sturdy hook can hold up to 15 lb, so it's more than up to the job of holding feeders or you can hang planters and hanging baskets!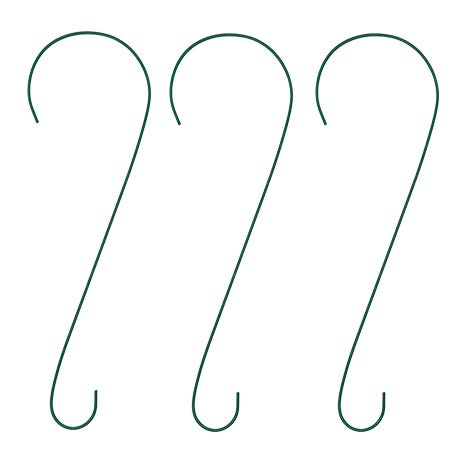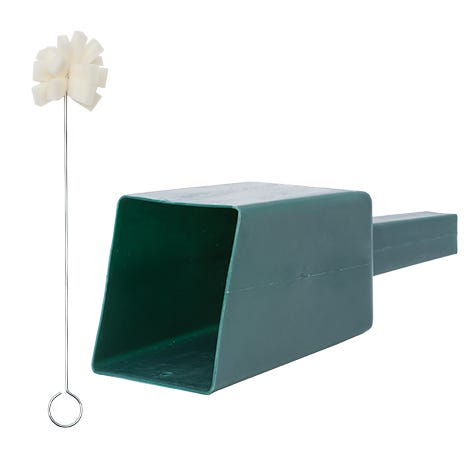 Easy Filling & Cleaning
Filling feeders can be a messy business. The Perky-Pet® Quick-Fill Seed Scoop has features that make filling all your bird seed feeders a quick and easy task. It works both as a funnel and as a scoop. To use as a funnel, simply fill it with seed, position the scoop over the feeder, then use your finger to trigger the seed release. The scoop boasts a four-cup capacity so you can fill your feeders in no time. Use the Foam Cleaning Mop to get into all the nooks and crannies when cleaning.
Perky-Pet® Americana Bird Feeder Kit Product Details
Do you want to know more helpful details about the Americana Bird Feeder Kit? Take a closer look at the in-depth specifications for this product.
Perky-Pet® Americana Bird Feeder Kit
Model #
BRWBKIT
Includes

Perky-Pet® Farmhouse Bird Feeder
Perky-Pet® Red Glass Mason Jar Hummingbird Feeder
Perky-Pet® Daisy Vase Vintage Bird Waterer
(3) Perky-Pet® 23" Metal Hanging Hooks
Perky-Pet® Quick-Fill Seed Scoop
Perky-Pet® Foam Feeder Cleaning Mop
Perky-Pet® Americana Bird Feeder Kit
Model #
BRWBKIT
Includes

Perky-Pet® Farmhouse Bird Feeder
Perky-Pet® Red Glass Mason Jar Hummingbird Feeder
Perky-Pet® Daisy Vase Vintage Bird Waterer
(3) Perky-Pet® 23" Metal Hanging Hooks
Perky-Pet® Quick-Fill Seed Scoop
Perky-Pet® Foam Feeder Cleaning Mop

Farmhouse Bird Feeder (WFH001) Specifications

Four U-shaped perches allow birds to feed from every side
All-metal construction ensures durability
Easy cleaning with slide out window panels
Drainage holes keep seed fresh
Holds up to 2.8 lb of mixed seed or sunflower seed

Red Glass Mason Jar Hummingbird Feeder (786) Specifications

Attractive antique red glass mason jar with embossed bird details
Circular perch and 5 flower-shaped feeding ports attract hummingbirds
Metal base and perch to ensure long-lasting durability
Wide-mouth opening for easy filling and cleaning
Holds up to 32 oz of nectar

Daisy Vase Vintage Bird Waterer (8136-2) Specifications

Provides an essential source of water for birds
Attract luster blue finish with traditional vase style glass bottle
Wraparound perch provides plenty of room for birds
Wide-mouth opening for easy filling and cleaning
Holds up to 18 oz of water

Metal Hanging Hook (68) Specifications

Rust-resistant powder-coated garden green finish
Extra-wide top hook won't harm tree branches
Sturdy hook holds up to 15 lb
Great for hanging bird feeders, planters, and hanging baskets

Seed Scoop (342) Specifications

Innovative design doubles as a seed scoop and funnel for easy filling
Holds up to 4 cups of seed
Finger-control seed release opens and shuts funnel
Constructed of strong plastic

Foam Feeder Cleaning Mop (23T) Specifications

No scratch foam mop makes cleaning feeders easy
Perfect for hummingbird and oriole feeders
Prevents harmful mold and water residue build-up
Built-in handle hook for convenient hanging and storage