Perky-Pet® Bird Feeder Mounting Brackets - 1-Pack
Perky-Pet® Bird Feeder Mounting Brackets - 1-Pack
6
4.5
5
1
Earn 180 rewards points on your purchase! Learn More
Easily mount feeders to decks, windows, and more
Provides you with more hanging options for your feeder
Mount Hummerbar®, hummingbird feeders with up to a 16 oz capacity, & seed feeders with up to a 1.5 lb capacity
Each bracket holds up to 4 lb
Includes 2 brackets, suction cups, & mounting hardware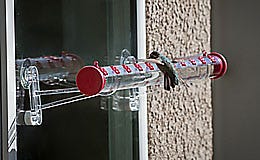 Perky-Pet ® Bird Feeder Mounting Brackets
When you have a busy bird feeder, you want to make it as easy to view as possible! With the Perky-Pet® Bird Feeder mounting brackets, you can do just that! This convenient bracket comes with everything you need to hang your Hummerbar® hummingbird feeder on decks and windows. Use the included suction cups to attach your feeder to any window, so that you can view the bird feeding action from the best seat in your house. You can also attach the included brackets to mount your hummingbird feeder on a deck railing, shed, wooden post, or other surface.
This mounting set is perfect when you have limited space, or simply want more hanging options for your favorite hummingbird feeder. Now you can get the most out of your feeder and enjoy the sights and sounds of your favorite backyard birds from anywhere around your property.

WARNING: This product can expose you to chemicals including Bisphenol A, which is known to the State of California to cause birth defects or other reproductive harm. For more information go to www.P65Warnings.ca.govwww.P65Warnings.ca.gov.
Perky-Pet® Bird Feeder Mounting Brackets
Model Number
8203
Weight
.350 lb
Dimensions
9.5 in H × 1.0 in W × 6.5 in D
Each Bracket
Holds up to 4 lb
Includes
2 brackets, suction cups, and mounting hardware