Perky-Pet® Cactus Top-Fill Glass Hummingbird Feeder Kit
Special Price
$48.79
Regular Price
$57.46
Perky-Pet® Cactus Top-Fill Glass Hummingbird Feeder Kit
3
3.7
5
1
Earn 960 rewards points on your purchase! Learn More
Wide-mouth Top-Fill design for easy, mess-free filling
Flower-inspired feeding ports with removable perches - soft and flexible for a natural feel
Customize the feeder with your preferred flower color and style
Feeder holds up to 32 oz of nectar
No-scratch foam mop easily cleans hard-to-reach spaces
Concentrate makes up to 192 oz of clear hummingbird nectar
Includes a Perky-Pet® Cactus Top-Fill Glass Hummingbird Feeder, 6 Yellow Hollyhock Replacement Ports and Perches, a foam feeder cleaning mop, and a 2 lb bag of clear powder hummingbird nectar concentrate
Best Used For





Perky-Pet® Cactus Top-Fill Glass Hummingbird Feeder Kit
The Perky-Pet Cactus Top-Fill Glass Hummingbird Feeder is a favorite of birders and hummingbirds alike. This kit includes a pack of additional feeding ports and perches so you can mix and match or customize your feeder with your preferred color and flower style. The wide-mouth opening, and Top-Fill design ensure that filling is always easy and mess-free! While you enjoy time saved from filling and cleaning, your hummingbirds won't be able to resist the lifelike flower feeding ports. They are bright, soft and flexible just like the flowers they flock to in nature! This kit also includes a no-scratch cleaning mop and clear hummingbird nectar concentrate to get you started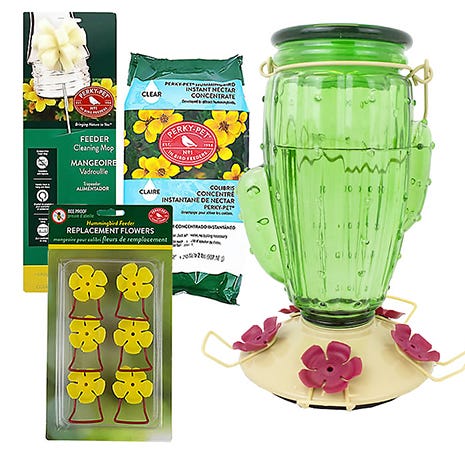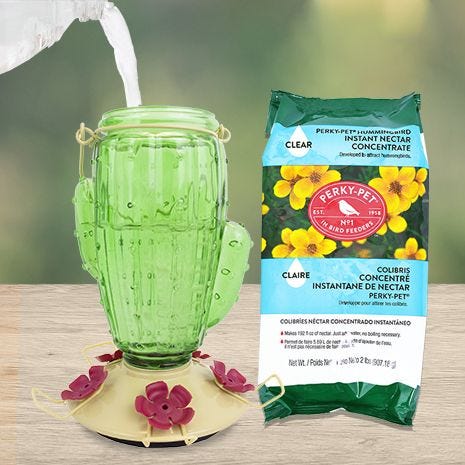 Unique Top-Fill Design for Easy Filling
No more messes and no more spills! Our unique feeder features patented Top-Fill technology so that filling is never a hassle. Simply remove the lid and pour 32 oz of nectar into the wide-mouth opening to get your feeder up and running – there's no need to invert the bottle!
To get you started, this kit includes a 2 lb bag of Perky-Pet® Clear Powder Hummingbird Nectar Concentrate. It's made of 100% sucrose, so your hummingbirds get just the essential energy they need. Just add water to create your desired amount of nectar. The 2 lb bag makes a whopping 192 ounces of hummingbird nectar to keep you in good supply through many visits. There's no need to boil it and our nectar requires no refrigeration, making storage a breeze!
Customize Your Feeders
The included Perky-Pet® Replacement Flower Feeding Ports are a great way to keep your hummingbird feeder looking as good as new if you have lost or damaged ports. You can also use them to mix and match or customize your feeder with your preferred flower color and style. Use different and colors together or use one set at a time. The possibilities are endless!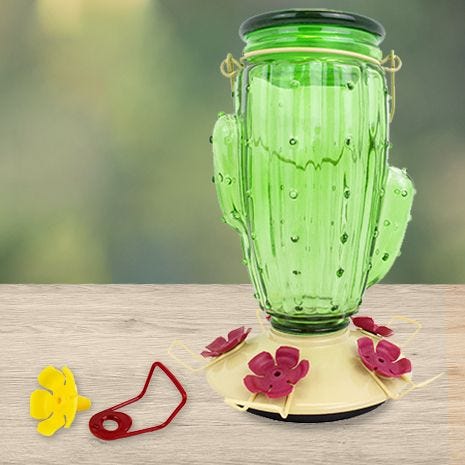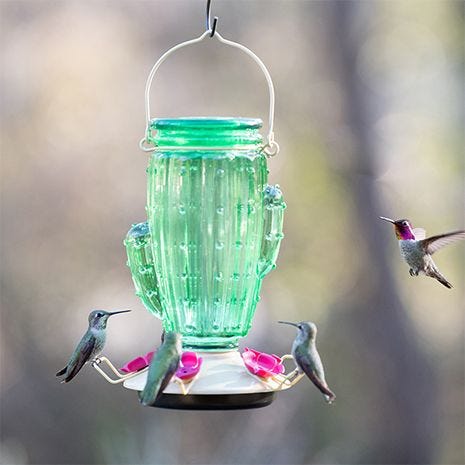 Feeding Ports Inspired By Nature
Hummingbirds are accustomed to imbibing nectar from flowers. That's why we've developed this feeder with soft, flexible hollyhock-inspired feeding ports to offer a more natural look and feel. The bright crimson color and realistic flower shape are perfect for attracting hummers – they're just like the flowers they flock to in nature!
With this feeder, there's no need for an added bee guard. The specially designed feeding ports feature a long tapered "stem" that prevents bees from gaining access to the nectar, while hummingbirds will have no trouble at all! It's a natural way of keeping out pesky bees without adding extra parts for you to clean.
Removable Perches
Each of the ports features a removable perch, so you can hang your feeder with or without them. By using the feeder with the perches on, you can give your hummingbird friends a place to rest while they dine. Or, if your hummingbird feeders are frequently plagued by woodpeckers or other unwanted birds, you can use the feeder without perches. Hummingbirds can hover while they feed, but other birds can't.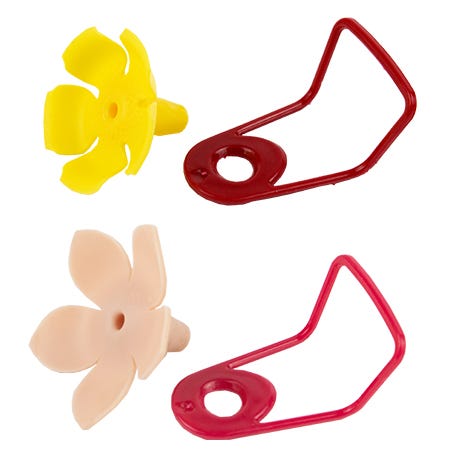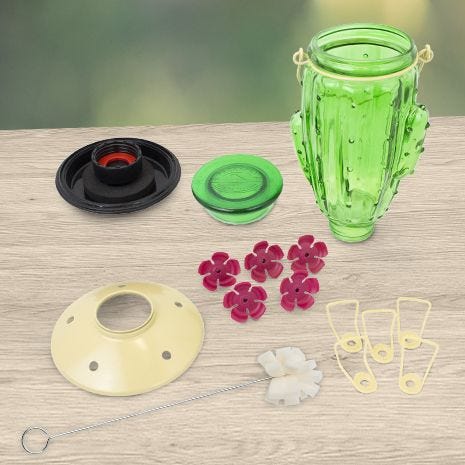 Easy Cleaning
The Perky-Pet® Foam Feeder Cleaning Mop will simplify the chore of cleaning your feeders. The long metal handle allows you to access all the hard-to-reach. It's made of soft, no-scratch foam so you don't have to worry about it damaging your feeders. The included feeder also makes cleaning easy. The entire feeder comes apart. You can even remove the perches and ports! Remember to clean your feeder at least once per week with a to prevent mildew buildup; clean more often in hot weather.
Perky-Pet® Cactus Top-Fill Glass Hummingbird Feeder Kit Product Details
Do you want to know more helpful details about the Cactus Top-Fill Glass Hummingbird Feeder Kit? Take a closer look at the in-depth specifications for this product.
Perky-Pet® Cactus Top-Fill Glass Hummingbird Feeder Kit
Model Number
B9111KIT
Includes:

Cactus Top-Fill Glass Hummingbird Feeder
Replacement Yellow Hollyhock Flower Feeding Ports and Perches – 6 Pack
Foam Feeder Cleaning Mop
Clear Powder Hummingbird Nectar Concentrate – 2 lb bag

Feeder Height
9 inches
Feeder Diameter
5.5 inches
Feeder Capacity
32 oz
Flower Styles Included
Crimson Hollyhock, Yellow Hollyhock
Nectar
2 lb bag of concentrate makes up to 192 oz of nectar
Perky-Pet® Cactus Top-Fill Glass Hummingbird Feeder Kit
Model Number
B9111KIT
Includes:

Cactus Top-Fill Glass Hummingbird Feeder
Replacement Yellow Hollyhock Flower Feeding Ports and Perches – 6 Pack
Foam Feeder Cleaning Mop
Clear Powder Hummingbird Nectar Concentrate – 2 lb bag

Feeder Height
9 inches
Feeder Diameter
5.5 inches
Feeder Capacity
32 oz
Flower Styles Included
Crimson Hollyhock, Yellow Hollyhock
Nectar
2 lb bag of concentrate makes up to 192 oz of nectar