Perky-Pet® Clear Liquid Hummingbird Nectar Concentrate 32 oz Bottle
Perky-Pet® Clear Liquid Hummingbird Nectar Concentrate 32 oz Bottle
1
1
5
1
Earn 240 rewards points on your purchase! Learn More
Dye-free option for feeding hummingbirds
100% sucrose concentrate
Makes up to 128 oz of clear nectar
Easy to use - just mix with water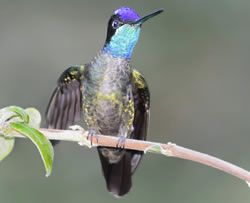 Perky-Pet® Clear Hummingbird Nectar Concentrate
Our clear nectar is dye-free and contains no artificial colors. This 32 oz bottle of Perky-Pet® Clear Hummingbird Nectar Concentrate can make up to 128 oz of hummingbird food. The easy to digest, 100% sucrose concentrate is the perfect energy source for every type of hummingbird.
The chart below features some of the more common hummingbird feeder capacities and how much concentrate and water to use to get to your desired fluid ounces of nectar.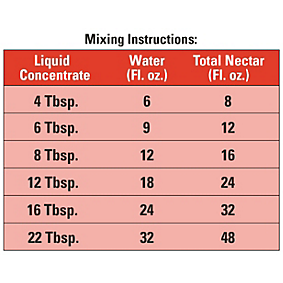 Perkypet.com is the top destination to find quality Wild Bird Feeders and Accessories. Perky-Pet® and K-Feeders wild bird products are trusted brands to bird lovers everywhere. Interact with nature, relax and build memories that last a lifetime by conveniently ordering from perkypet.com. Happy Bird Feeding!
Perky-Pet® Clear Hummingbird Nectar Concentrate - Specifications
32 oz bottle of Perky-Pet® clear hummingbird nectar concentrate
Customer Reviews
0%
of customers
recommend this product
Hummers don't like this nectar.
Jan 23, 2020
I bought this nectar to enable my daughter to keep my hummers fed while I was traveling for 30+ days. When I returned, very little nectar was used. She told me she didn't see any hummingbirds while I was gone. That is strange because for nearly a year (since I have lived here and hung my feeder), I have had hummers at the feeder just outside my window all day long. Sometimes 4 at a time. I put a clean feeder with the Perky-Pet clear nectar out and I observed hummers come, take a taste and fly off. They obviously don't like this nectar. I replaced the feeder with one containing my homemade sugar/water nectar and since I have hummers all day long! Don't waste your money on this nectar. 1 tablespoon white sugar to 4 tablespoons hot water.