Perky-Pet® Flexport® Duo Kit
Special Price
$68.99
Regular Price
$91.95
Earn 1360 rewards points on your purchase! Learn More
Weight-activated Seed Shield™ closes ports under a squirrel's weight when they try to access the perches
Hang the feeder with at least 18 inches of clearance on all sides
Feeding stations with Flexports® prevent seed spillage offering birds comfort
Seed Scoop holds up to 4 cups of seed & doubles as a funnel
12" hanging hook allows for versatile feeder placement
Includes a Perky-Pet® Squirrel-Be-Gone Max Bird Feeder with Flexports®, Perky-Pet® Squirrel-Be-Gone Max Pinecone Bird Feeder with Flexports®, two 12" metal hanging hooks, and a Quick-Fill seed scoop
Best Used For





Perky-Pet® Flexport® Duo Kit
Feeding the birds involves a lot of tools and accessories. Offering maximum protection against squirrels and maximum comfort for your favorite birds, Perky-Pet® Squirrel-Be-Gone® Max Bird Feeders with Flexports® are just what you need. To offer defense against squirrels, this feeder offers a Sure-Lock™ cap and a weight-activated Seed Shield™ so squirrels can't gain access to the seed supply. In addition to its squirrel proof features, the Squirrel-Be-Gone® Max is also a favorite of birds. It also includes four feeding stations with our patented Flexports®, which offer 5-in-1 benefits for birds and you. The feeders also come with two 12" metal hanging hook and a Quick-Fill seed scoop to simplify your bird-feeding routine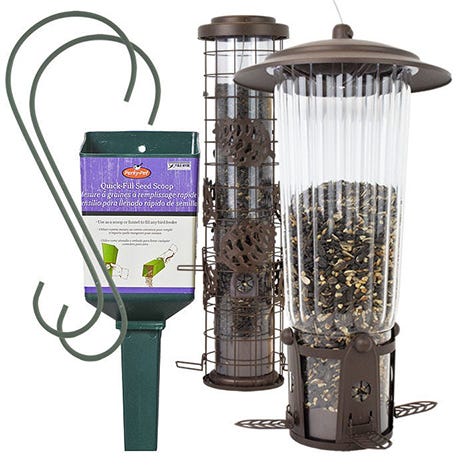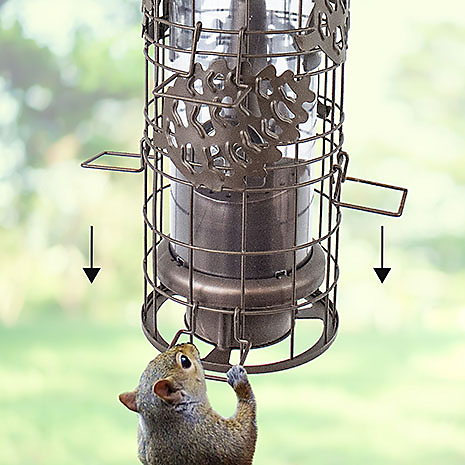 Squirrel Proof Seed Shield™
To offer defense against squirrels, this feeder boasts multiple great features. First, is the feeder's weight-activated Seed Shield™, which is calibrated to support the weight of birds but not squirrels. When squirrels try to gain access to the perches, the ports close off under their weight. Birds can sit on every perch without activating it. In addition, the Sure-Lock™ cap prevents squirrels from lifting the lid, while the metal frame discourages chewing around the ports.
To ensure a 100% squirrel proof feeder, placement is key! Hang the feeder with at least 18 inches of clearance on all sides so squirrels can't easily reach the ports without activating the Seed Shield
Flexports® Offer 5-in-1 Benefits
Our patented Flexports® offer 5-in-1 benefits for birds and you. The unique design is 4X more shake resistant than standard Perky-Pet® ports so there's less seed waste – which means money saved and fewer messes on the ground! The design also allows birds to feed at an optimal position outside of the port, offering improved visibility so they feel safer and visit the feeder longer. Because birds are more comfortable, you'll get more birdwatching time overall!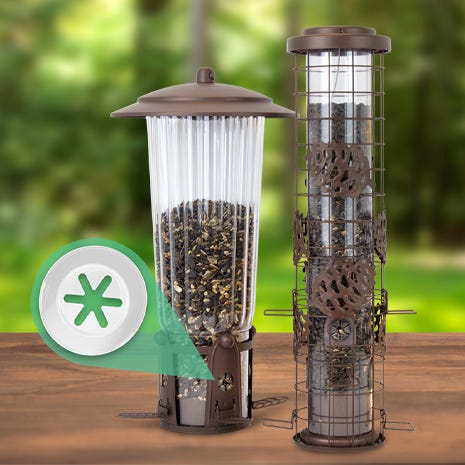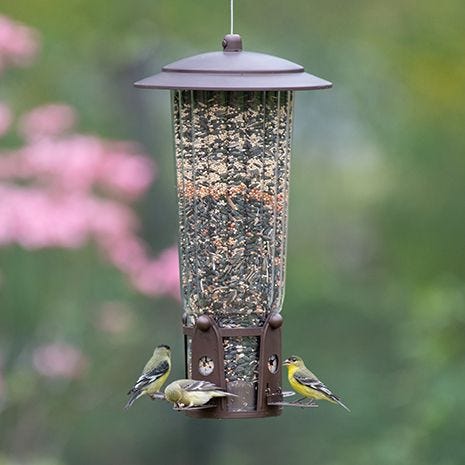 Hang Them Anywhere
This feeder also comes with two Perky-Pet® 12" Metal Hanging Hooks so you can hang your new favorite feeders anywhere around your yard or patio. They have a rust-resistant powder-coated finish to ensure durability even in the harshest weather. Plus, the extra-wide top hook won't damage tree branches! These sturdy hooks can hold up to 35 lb, so it's more than up to the job of holding this large feeder or you can hang planters and hanging baskets!
Easy Filling
Filling feeders can be a messy business. The Perky-Pet® Quick-Fill Seed Scoop has features that make filling all your bird seed feeders a quick and easy task. It works both as a funnel and as a scoop. To use as a funnel, simply fill it with seed, position the scoop over the feeder, then use your finger to trigger the seed release. The scoop boasts a four-cup capacity so you can fill your feeders in no time.
Perky-Pet® Flexport® Duo Kit Product Details
Do you want to know more helpful details about the Flexport® Duo Kit? Take a closer look at the in-depth specifications for this product.
Perky-Pet® Flexport® Duo Kit
Model #
BFPDUOKIT
Includes

Perky-Pet® Squirrel-Be-Gone® Max Bird Feeder with Flexports®
Perky-Pet® Squirrel-Be-Gone® Max Pinecone Bird Feeder with Flexports®
(2) Perky-Pet® 12" Metal Hanging Hooks
Perky-Pet® Quick-Fill Seed Scoop
Perky-Pet® Flexport® Duo Kit
Model #
BFPDUOKIT
Includes

Perky-Pet® Squirrel-Be-Gone® Max Bird Feeder with Flexports®
Perky-Pet® Squirrel-Be-Gone® Max Pinecone Bird Feeder with Flexports®
(2) Perky-Pet® 12" Metal Hanging Hooks
Perky-Pet® Quick-Fill Seed Scoop

Squirrel-Be-Gone® Max Bird Feeder (334) Specifications

Weight-activated Seed Shield™ closes ports under a squirrel's weight when they try to access the perches
Four feeding stations with Flexports™ prevent seed spillage and offer comfort for birds
Ladder-style perch accommodates both large and small birds
Extra-wide, 6" opening for easy, mess-free filling
Sure-Lock™ cap keeps squirrels from removing the lid
Easy to clean thanks to the removable, twist-off lid
Holds up to 4 lb of mixed seed, black-oil sunflower seed, sunflower chips, or safflower seed

Squirrel-Be-Gone® Max Pinecone Bird Feeder (SBG101) Specifications

Seed Shield™ activates with squirrel's weight preventing port access
Six feeding stations with Flexports® prevent seed spillage and offer comfort for birds
Multi-height perches accommodate birds of many sizes
Powder-coated metal cage and lid ensure durability
Twist-lock lid provides additional protection for the seed reservoir
Holds up to 1.75 lb of mixed seed, black-oil sunflower seed, or safflower seed

Metal Hanging Hook (67) Specifications

Rust-resistant powder-coated garden green finish
Extra-wide top hook won't harm tree branches
Sturdy hook holds up to 15 lb
Great for hanging bird feeders, planters, and hanging baskets

Seed Scoop (342) Specifications

Innovative design doubles as a seed scoop and funnel for easy filling
Holds up to 4 cups of seed
Finger-control seed release opens and shuts funnel
Constructed of strong plastic