Perky-Pet® 2 ft Hummerbar® Hummingbird Feeder
Perky-Pet® 2 ft Hummerbar® Hummingbird Feeder
19
2
5
1
Earn 380 rewards points on your purchase! Learn More
Horizontal feeder orientation makes hummingbirds feel safe
An incredible 22 feeding ports angled for optimal nectar access
Attracts more hummers and limits territorial behavior
Perfectly spaced ports allow for side-by-side feeding
Holds up to 16 oz of nectar
Best Used For





Perky-Pet® 2 ft Hummerbar® Hummingbird Feeder
The Perky-Pet® 2-foot Hummerbar® Hummingbird Feeder offers a revolutionary way to feed your many hummingbird visitors simultaneously. Our patented feeder hangs horizontally to create more surface area for delivering nectar to your hummingbirds. The Hummerbar® is a 2-foot plastic tube feeder that features 22 red flower-shaped feeding ports, helping to eliminate competition among territorial hummers! Each port is adequately spaced to allow ample feeding room.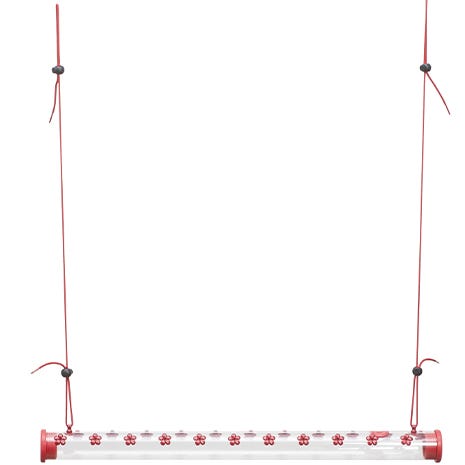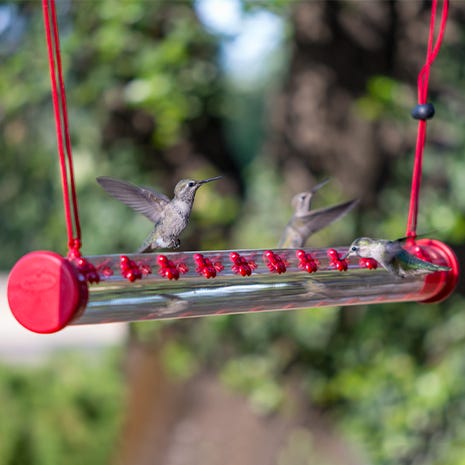 Horizontal Design Provides a 360-Degree View
The horizontal hanging orientation and clear reservoir of the Hummerbar® combine to provide hummingbirds with a full 360-degree view of their environment. Hummers instinctively check for danger as the feed. With this design, they don't need to stop feeding to feel safe because they can easily check their surroundings with a glance. Not only will the birds love it, but you'll also get amazing bird-watching views from any angle.
An Unprecedented Number of Ports
The Hummerbar's unique horizontal design means there's enough room to accommodate a whopping 22 feeding ports! Each flower-shaped port is perfectly angled for a natural feeding experience and ensure optimal nectar access. The incredible 22-port design helps to reduce competition at your feeders – even a territorial bird can't defend all of the ports at once! Plus, with so many birds able to feed side-by-side at the same time, you'll enjoy more hummingbird activity in your yard than ever before.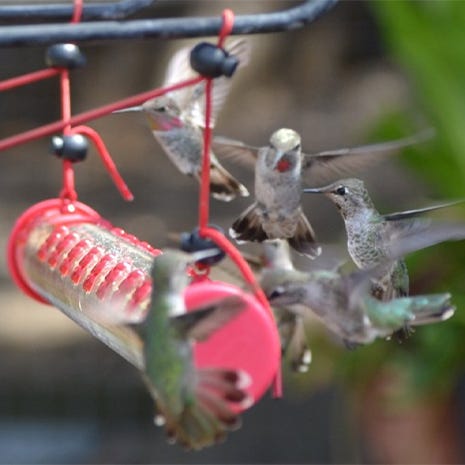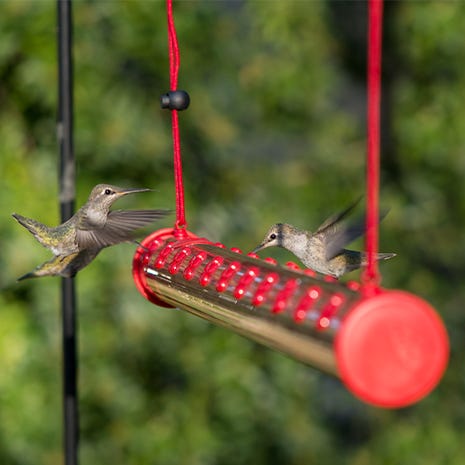 Clear, Shatterproof Plastic Reservoir
The clear plastic reservoir allows you to monitor nectar levels at a glance, so you never run out during peak feeding times. Additionally, the clarity helps to magnify the hummingbird tongues, so you have the perfect view of all the feeding action. The durable reservoir is also made of shatterproof plastic to ensure years of hummingbird feeding action.
How to Hang the Hummerbar®
The Hummerbar® is easy to hang and adjust as needed. Follow our step-by-step instructions to get your feeder up and running.
Hang the feeder using the loops at the end of the attached hanging cords. Make sure the feeder is low enough to access for cleaning and refilling.
Level the Hummerbar® by adjusting its cords. Slide cord locks up and down as needed until it appears level.
Insert the nectar funnel. Fill about ¼ full with nectar. Compare each end. If nectar is pooling to one side, adjust locks again.
Once nectar is evenly distributed, continue to fill the reservoir until half full. Do not overfill. Remove the funnel and insert the rubber stopper.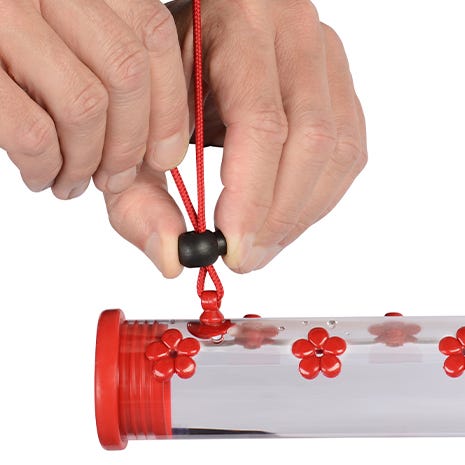 Perky-Pet® 2 ft Hummerbar® Hummingbird Feeder Product Details
Do you want to know more helpful details about the 2 ft Hummerbar® Hummingbird Feeder? Take a closer look at the in-depth specifications for this product.
Perky-Pet® 2 ft Hummerbar® Hummingbird Feeder
Model Number
HUMBAR200-6H
Height
23.38 inches
Diameter
2 inches
Capacity
16 oz
Ports
22
Materials
Plastic, rubber
Perky-Pet® 2 ft Hummerbar® Hummingbird Feeder - 16 oz Nectar Capacity
Model Number
HUMBAR200-6H
Height
23.38 inches
Diameter
2 inches
Capacity
16 oz
Ports
22
Materials
Plastic, rubber