Perky-Pet® Hummingbird Feeder Kit
Special Price
$40.99
Regular Price
$48.45
Perky-Pet® Hummingbird Feeder Kit
2
3
5
1
Earn 800 rewards points on your purchase! Learn More
Cannot Ship to:
CA, ME, VA, PR
Best Used For



Perky-Pet® Hummingbird Feeder Kit
Feeding hummingbirds involves a lot of tools and accessories. Luckily, the Perky-Pet® Hummingbird Feeder Kit has it all! This all-inclusive kit features everything you need to attract hummingbirds – from the feeder itself to nectar and cleaning tools! Whether you're an experienced bird enthusiast or a beginner bird feeder, the Perky-Pet® Hummingbird Feeder Kit is just what you need to simplify your feeding experience. Plus, it makes the perfect gift!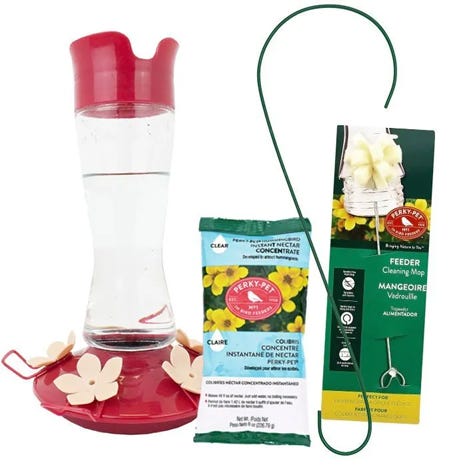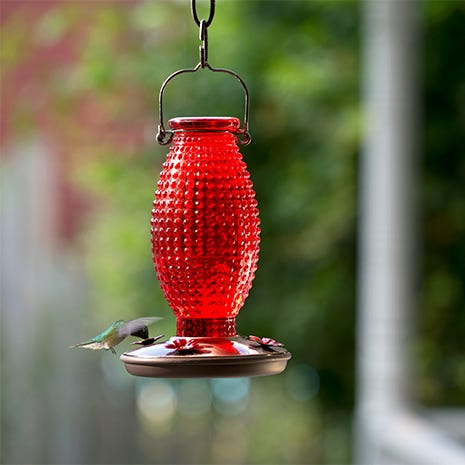 The Star of the Show
The Perky-Pet® Red Hobnail Vintage Hummingbird Feeder highlights this all-in-one kit, creating a hummingbird set that is both beautiful and functional. The red glass bottle features antique hobnail details that are reminiscent of high-end glassware from the early 1900's. In addition, this feeder boasts a 16 oz nectar capacity and 4 flower-shaped feeding ports that will keep hummers coming back for more. For your convenience, the feeder features a wide mouth opening to allow for effortless filling and cleaning.
Clear Hummingbird Nectar Concentrate
To get you started, this kit includes an 8 oz bag of Perky-Pet® Clear Powder Hummingbird Nectar Concentrate. It's made of 100% sucrose, so your hummingbirds get just the essential energy they need to thrive. This concentrate makes feeding hummingbirds simple, just add water to create your desired amount of nectar – there's no boiling required! The bag makes up to 48 ounces of hummingbird nectar to keep you in good supply through many visits.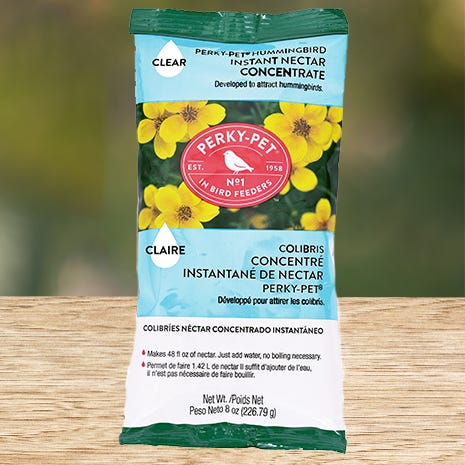 Keep Ants Out
Keep those pesky ants away from your hummingbird feeders! This ant guard helps ensure the birds (and not the ants) will enjoy the fresh nectar. The Perky-Pet® AntGuard® effectively repels ants from feeders and easily mounts in-line with hanging bird feeders. AntGuard® begins working immediately and should stop all sweet-eating ant activity within 24 hours under optimal conditions.
Hang it Anywhere
To make placement easy, this kit includes a 12" hanging hook. Use it to hang your new favorite feeder anywhere around your yard or patio at just the right height for your needs. In addition, you can use it without worry because it won't damage tree branches. Able to hold up to 35 lb, the hook will also safely hold hanging planters and other backyard decorations.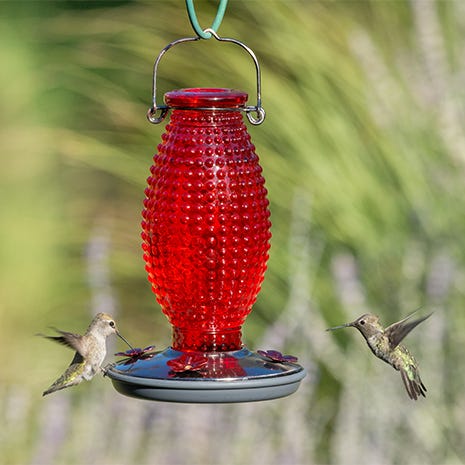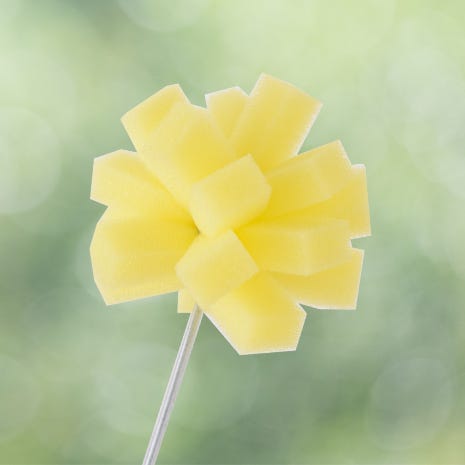 Easy Cleaning
The Perky-Pet® Foam Feeder Cleaning Mop will simplify the chore of cleaning your feeders. The long metal handle allows you to access all the hard-to-reach spaces so you can prevent the build-up of harmful mold and bacteria. It's made of soft, no-scratch foam so you don't have to worry about it damaging the feeders beautiful red luster finish.
Perky-Pet® Hummingbird Feeder Kit Product Details
Do you want to know more helpful details about the Perky-Pet® Hummingbird Feeder Kit? Take a closer look at the in-depth specifications for this product.
Perky-Pet® Hummingbird Feeder Kit
Model #
BHUMKIT
Includes

Perky-Pet® Red Hobnail Vintage Hummingbird Feeder – 16 oz
Perky-Pet® Feeder Cleaning Mop
Perky-Pet® 12" Hanging Hook
Perky-Pet® AntGuard®
Perky-Pet® Clear Instant Nectar Concentrate – 8 oz bag
Perky-Pet® Hummingbird Kit
Kit Model #
BHUMKIT
Includes
Perky-Pet® Red Hobnail Vintage Hummingbird Feeder (8130-2) Specifications

Vintage hobnail glass bottle with red luster finish
Wide-mouth design for easy filling and cleaning
4 flower-shaped feeding ports
Holds up to 16 oz of nectar
Actual size: 5.5" x 5.5" x 8.63"

Perky-Pet® 12" Metal Hanging Hook (67) Specifications

Great for use with bird feeders and hanging planters
Rust-resistant, powder-coated, garden green finish
Will not harm tree branches
Holds up to 35 lb
Actual size: 12 inches

Perky-Pet® AntGuard® (245L) Specifications

Repels ants from feeders
Easily mounts in-line with all hanging feeders
Uses Permethrin, which is safe around birds, pets, and people

Perky-Pet® Foam Cleaning Mop (23T) Specifications

No-scratch foam material
Metal handle for convenient handling and storage
Prevents build-up of harmful mold and bacteria
For use with hummingbird and oriole feeders

Perky-Pet® Clear Powder Hummingbird Nectar Concentrate (243SF) Specifications

8 oz bag of concentrate
Makes 48 oz of clear hummingbird nectar
No boiling required
100% sucrose – contains no artificial sweeteners