Perky-Pet® Squirrel-Be-Gone® II Wild Bird Feeder
Perky-Pet® Squirrel-Be-Gone® II Wild Bird Feeder
237
3.3
5
1
Earn 900 rewards points on your purchase! Learn More
Blocks out squirrels from feeding
Removable roof peak with lock - makes filling easy
Four position, adjustable spring allows for custom settings (to block out smaller squirrels, larger birds, etc.)
Beautiful 2-tone color accents- red color with galvanized roof and cardinal weathervane or Green with roof and faux chimney
Pole mount or hang
Best Used For





Perky-Pet® Squirrel-Be-Gone® II Bird Feeder
Have fun watching everything from finches and blue jays to juncos and cardinals when you add this Perky-Pet® Squirrel-Be-Gone® II Bird Feeder in either red or green to your yard. Its designed with weight-activated perches that keep squirrels and even larger problem birds like blackbirds from getting to the seed, but the real standout point for this feeder is its country home-style look. The cutout shapes let the seed show through the windows and doors, and the bright red color adds a classic touch to your outdoor decor.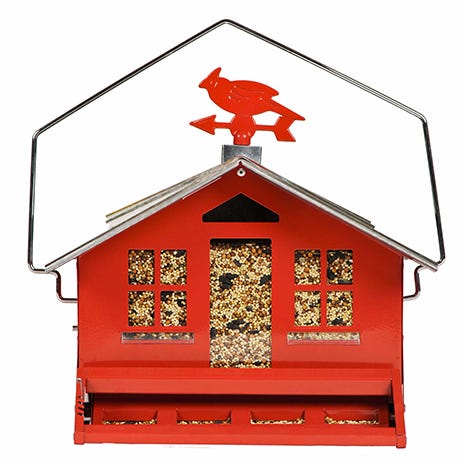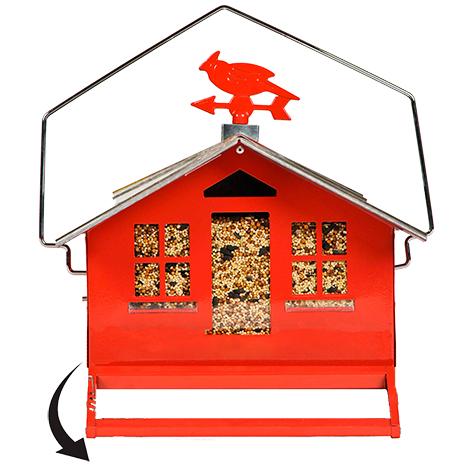 Squirrel-Proof Design
To offer defense against squirrels, this feeder boasts multiple great features. First, is the feeder's weight-activated perch, which is calibrated to support the weight of birds but not squirrels. When squirrels try to gain access to the seed, the ports close off under their weight. Birds can sit on the perch without activating it. The sensitivity can also be adjusted to keep out larger nuisance birds. In addition, the weathervane lid lock prevents squirrels from lifting the lid, while the metal frame discourages chewing.
To ensure a 100% squirrel proof feeder, placement is key! Hang the feeder with at least 18 inches of clearance on all sides so squirrels can't easily reach the ports without activating the perch.
Durable and Versatile
This Perky-Pet® Squirrel-Be-Gone® II Country Style Bird Feeder has an all-metal construction designed to stand up to the weather and squirrel invaders. The metal is powder-coated in a bright red eye-catching color and provides enhanced rust resistance and durability. This feeder can be hung or pole mounted for versatile placement anywhere around your yard.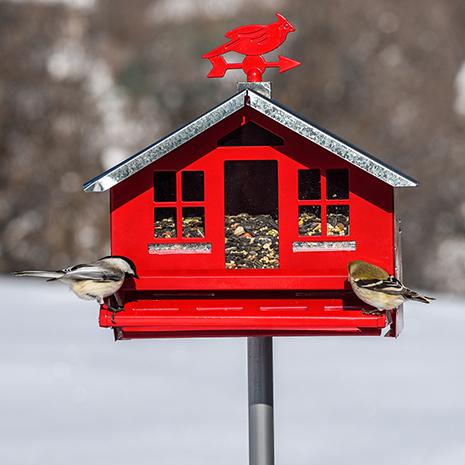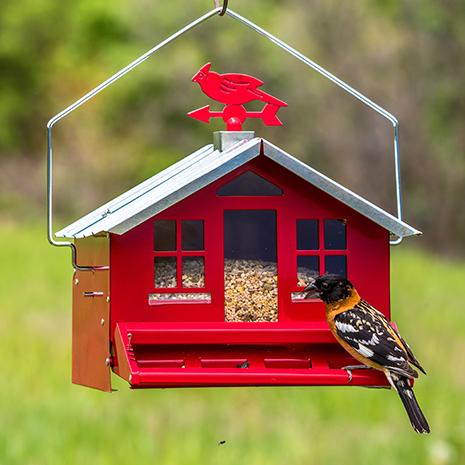 Attractive, Rustic Style
Birds and bird lovers alike can't deny the charm of this delightful feeder. This unique feeder is styled after a country barn, complete with a bold red finish, galvanized metal roof, and windows. The roof-style lid is even topped with a traditional weathervane, which conveniently locks the lid in place.
Easy to Clean
Cleaning and filling is an effortless process thanks to the feeder's convenient design. The removable roof and large opening make this feeder easy to fill with up to 8 lb capacity of black-oil sunflower seed, mixed seed, hulled sunflower seed, or safflower seed. Cleaning the feeder is also easy! We recommend cleaning the feeder at least every two weeks and regularly checking the seed to ensure it is free of insects and mold.
Perky-Pet® Perky-Pet® Squirrel-Be-Gone® II Country Style Bird Feeder Product Details
Do you want to know more helpful details about the Squirrel-Be-Gone® II Country Style Bird Feeder? Take a closer look at the in-depth specifications for this product.
Perky-Pet® Squirrel-Be-Gone® II Bird Feeder
Model #
CHOMESTYLE
Height
14 inches
Length
13.75 inches
Width
11 inches
Capacity
8 lb
Colors
Red or Green
Seed Type
Black-oil sunflower seed, hulled sunflower seed, mixed seed, or safflower seed
Materials
Metal, plastic

WARNING: This product can expose you to chemicals including Bisphenol A, which is known to the State of California to cause birth defects or other reproductive harm. For more information go to www.P65Warnings.ca.govwww.P65Warnings.ca.gov.
Perky-Pet® Squirrel-Be-Gone II Wild Bird Feeder
Model Number
CHOMESTYLE
Available
Red or green
Weight
4.45 lb
Dimensions
14 in H x 11 in W x 13.75 in D
Food Type
Black-oil sunflower seed, hulled sunflower seed, mixed seed, or safflower seeds
Capacity
8 lb of seed
where does the plastic piece wth 4 screws go,and what does it go?
Question by: Steve Palmer on Dec 30, 2021, 6:42 PM
I apologize for the inconvenience, please send us a picture of the piece in question to further assist you.
Answer by: Woodstream on Jan 3, 2022, 8:04 AM
i need glass in front of my feeder chrome feeder
Question by: roger neuleib on Jan 3, 2022, 9:17 PM
Replacement parts are not available for these feeders. They have a one year replacement policy. Reach out to us directly for additional assistance if your feeder was purchased within that time frame.
Answer by: Lauren Potter on Jan 4, 2022, 7:57 AM