Perky-Pet® Squirrel Stumper Kit
Special Price
$39.99
Regular Price
$50.46
Perky-Pet® Squirrel Stumper Kit
4
2.8
5
1
Earn 780 rewards points on your purchase! Learn More
Twist-lock lid keeps squirrels from opening the feeder & eating seed
Wire barrier keeps squirrels at a distance from the feeding ports
Eight feeding ports means there's plenty of room for multiple birds
Feeder holds up to 3 lb of seed
The 16" Squirrel Baffler will provide additional squirrel resistance
Seed Scoop holds up to 4 cups of seed & doubles as a funnel
The 33" hanging chain adjusts to fit various tree branch diameters
Includes a Squirrel Stumper® Bird Feeder, a transparent squirrel baffler, a 33" hanging chain, and a quick-fill seed scoop
Best Used For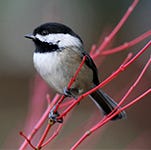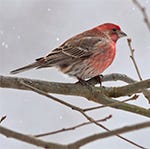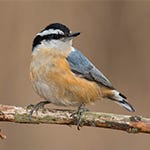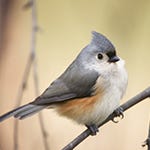 Perky-Pet® Squirrel Stumper® Kit
Feeding the birds involves a lot of tools and accessories. Luckily, the Perky-Pet® Squirrel Stumper® Kit has it all! This all-inclusive kit features everything you need to attract birds to your yard – a Squirrel Stumper® bird feeder, a transparent squirrel baffler, a 33" hanging chain, and a Quick-Fill seed scoop! Whether you're an experienced bird enthusiast or a beginner bird feeder, this kit is just what you need to simplify your feeding experience, while keeping squirrels out. Plus, it makes the perfect gift!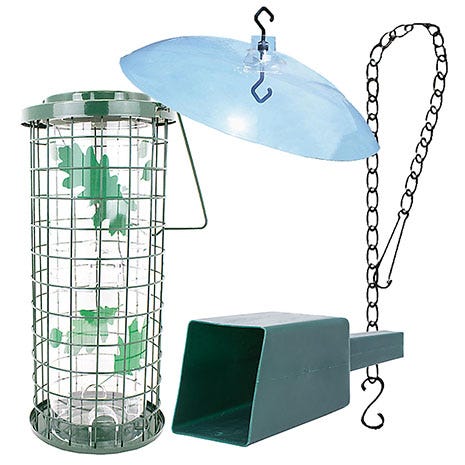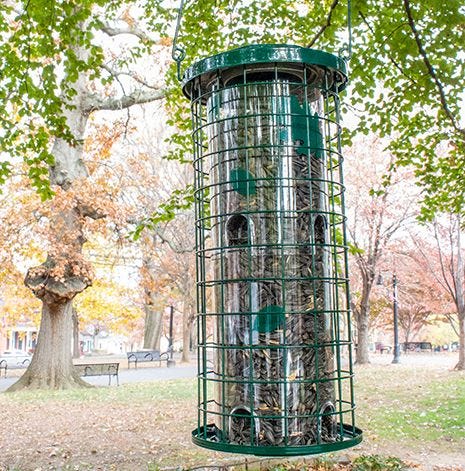 Squirrel Stumper® Bird Feeder
The Perky-Pet® Squirrel Stumper® Bird Feeder combines squirrel-resistant features with attractive design to create a feeding station that is truly unparalleled. First, there's the twist-lock lid, which not only removes for easy filling, but also locks in place so squirrels can't easily open the feeder and steal seed. This feeder also boasts a metal wire cage that creates a barrier around the ports making it harder for squirrels to gain access. In addition to its squirrel-resistant features, the Squirrel Stumper® is also a favorite of birds. The whopping eight feeding ports spaced evenly around the feeder provide plenty of room for multiple birds to dine at the same time.
Baffle the Squirrels
The 16" Transparent Squirrel Baffler provides additional squirrel resistance and can be hung or pole mounted. When hanging the baffler, it blocks squirrels from above. Most squirrels will descend the wire to the baffler and give up. A more persistent squirrel may put its weight on the baffler in efforts to access the bird feeder below, but after climbing onto the baffler, it will quickly tilt, sending the squirrel down to the ground. When pole mounted, this baffler prevents squirrels from gaining access to the bird feeder from below. Squirrels may try to climb up to the feeder, but they won't be able to get around the baffler.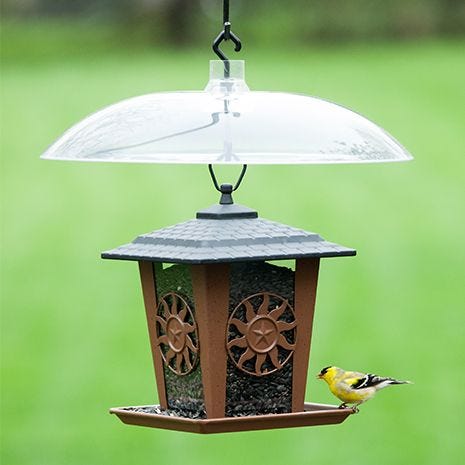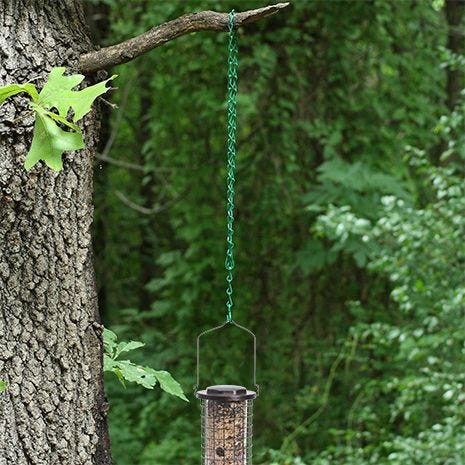 Hang it Anywhere
This kit also comes with a Perky-Pet® 33" Metal Hanging Chain so you can hang your new favorite feeder anywhere around your yard or patio. The long chain allows you to hang feeders from high branches and can adjust to fit branches of various sizes. It has a rust-resistant powder-coated finish to ensure durability even in the harshest weather. This sturdy hook is able to hold up to 16 lb, so you can hang planters and hanging baskets as well!
Easy Filling
Filling feeders can be a messy business. The Perky-Pet® Quick-Fill Seed Scoop has features that make filling all your bird seed feeders a quick and easy task. It works both as a funnel and as a scoop. To use as a funnel, simply fill it with seed, position the scoop over the feeder, then use your finger to trigger the seed release. The scoop boasts a four-cup capacity so you can fill your feeders in no time.
Perky-Pet® Squirrel Stumper® Kit Product Details
Do you want to know more helpful details about the Perky-Pet® Squirrel Stumper® Kit? Take a closer look at the in-depth specifications for this product.
Perky-Pet® Squirrel Stumper® Kit
Model #
BSQUIRREL
Includes

Perky-Pet® Squirrel Stumper® Bird Feeder
Perky-Pet® Quick-Fill Bird Seed Scoop
Perky-Pet® 33-Inch Hanging Chain
Perky-Pet® Transparent Squirrel Baffler

Feeder Capacity
3 lb
Number of Ports
8
Perky-Pet® Squirrel Stumper® Kit
Kit Model #
BSQUIRREL
Includes
Squirrel Stumper® (114G) Specifications

Twist-lock lid keeps squirrels from opening the feeder & eating seed
Wire barrier keeps squirrels at a distance from the feeding ports
Eight feeding ports means there's plenty of room for multiple birds
Heavy-duty, powder-coated metal frame stands up to rust and squirrel damage
Holds up to 3 lb of seed

Squirrel Baffler (340) Specifications

16" diameter dome prevents squirrel access to feeder
Can be hung on top of feeder or pole mounted below
Transparent design ensures birds have a clear view and feel safe
Able to hold up to 12 lb
Includes a baffle and all hardware (2 hooks, 1 baffle hub, and 3 screws)

Hanging Chain (65T) Specifications

33" hanging chain holds up to 16 lb
Rust-resistant powder-coated garden-green finish
Metal chain adjusts to fit various tree branch diameters
Hang bird feeders, planters and hanging baskets

Seed Scoop (342) Specifications

Innovative design doubles as a seed scoop and funnel for easy filling
Holds up to 4 cups of seed
Finger-control seed release opens and shuts funnel
Constructed of strong plastic