Perky-Pet® Top-Fill Hummingbird Starter Kit
Special Price
$29.79
Regular Price
$34.96
Perky-Pet® Top-Fill Hummingbird Starter Kit
2
4
5
1
Earn 580 rewards points on your purchase! Learn More
Top-Fill feeder design allows for easy, mess-free filling
5 flower-inspired feeding ports - soft and flexible for a natural feel
Feeder holds up to 12 oz of nectar
No-scratch foam mop easily cleans hard-to-reach spaces
23" hanging hook is perfect for hanging on high branches
Concentrate makes up to 48 oz of clear hummingbird nectar
Best Used For





Perky-Pet® Top-Fill Hummingbird Starter Kit
Feeding hummingbirds involves a lot of tools and accessories. Luckily, the Perky-Pet® Top-Fill Hummingbird Starter Kit has it all! This all-inclusive kit features everything you need to attract hummingbirds – a 12 oz capacity Top-Fill hummingbird feeder, a no-scratch cleaning mop, a 23-inch hanging hook, and clear hummingbird nectar concentrate! Whether you're an experienced bird enthusiast or a beginner bird feeder, this kit is just what you need to simplify your feeding experience. Plus, it makes the perfect gift.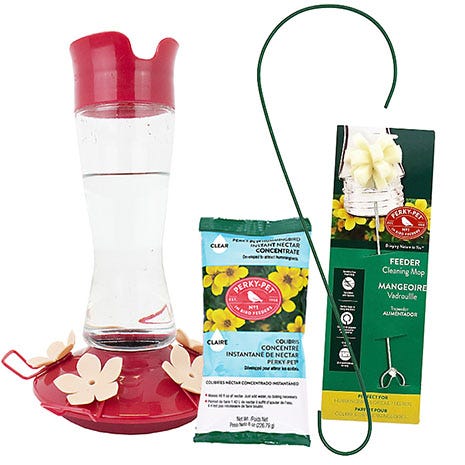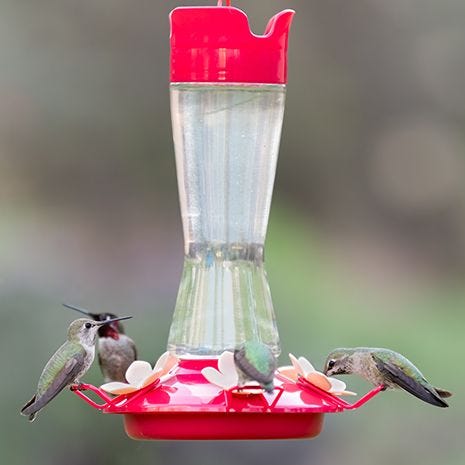 Pinch-Waist Top-Fill Hummingbird Feeder
The Perky-Pet® Elegant Copper Glass Hummingbird Feeder combines eye-catching brushed copper and sturdy hardened glass to add a dose of artistic charm while also enticing hummingbirds to drop in for a visit. However, the benefits of this feeder don't end at its aesthetic appeal. Able to hold up to 12 oz of nectar, this feeder has a wide-mouth bottle to allow for easy filling and cleaning. The red flower-shaped feeding ports are sure to catch the eye of visiting hummingbirds, while the wraparound perch allows multiple birds to rest and feast in style. Best of all, this feeder includes built-in bee guards to defend against unwanted insects.
Clear Hummingbird Nectar Concentrate
With such a high-energy lifestyle, hummingbirds need to eat constantly. To get you started, this kit includes an 8 oz bag of Perky-Pet® Clear Powder Hummingbird Nectar Concentrate. It's made of 100% sucrose, so your hummingbirds get just the essential energy they need to thrive. This concentrate makes feeding hummingbirds simple, just add water to create your desired amount of nectar. The 8 oz bag makes up to 48 ounces of hummingbird nectar to keep you in good supply through many visits. There's no need to boil it and our nectar requires no refrigeration, making storage a breeze!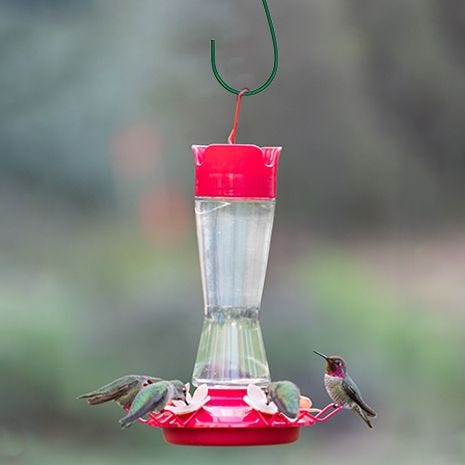 Hang It Anywhere
This kit also comes with a Perky-Pet® 23" Metal Hanging Hook so you can hang your new favorite feeder anywhere around your yard or patio, even high branches! It has a rust-resistant powder-coated finish to ensure durability even in the harshest weather. Plus, the extra-wide top hook won't damage tree branches. This sturdy hook is able to hold up to 15 lb, so you can hang planters and hanging baskets as well!
Easy Cleaning
The Perky-Pet® Foam Feeder Cleaning Mop will simplify the chore of cleaning your feeders. The long metal handle allows you to access all the hard-to-reach. It's made of soft, no-scratch foam so you don't have to worry about it damaging your feeders. The included feeder also makes cleaning easy. The entire feeder comes apart. You can even remove the perches and ports! Remember to clean your feeder at least once per week with a to prevent mildew buildup; clean more often in hot weather.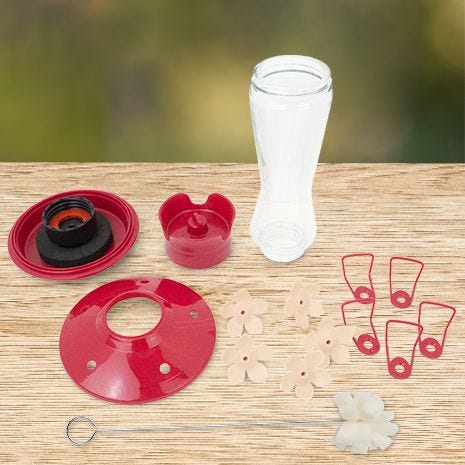 Perky-Pet® Top-Fill Hummingbird Starter Kit Product Details
Do you want to know more helpful details about the Perky-Pet® Top-Fill Hummingbird Starter Kit? Take a closer look at the in-depth specifications for this product.
Perky-Pet® Top-Fill Hummingbird Starter Kit
Model #
BFSTARTER
Includes
Feeder Capacity
12 oz
Ports
5
Nectar
8 oz bag of concentrate makes up to 48 oz of nectar
Perky-Pet® Top-Fill Hummingbird Starter Kit
Kit Model #
BTFSTARTER
Includes
9201-6 Specifications

Wide-mouth, Top-Fill design for easy, mess-free filling
5 flower-inspired feeding ports - soft and flexible for a natural feel
Feeding station include removable perches
Feeding ports are tapered to keep bees out of the nectar
Fill built-in ant moat with water to protect against ants
Gasket creates a seal around the base to prevent leaking
Entire feeder comes apart for easy cleaning
Holds 12 oz of nectar

23T Specifications

No scratch foam mop makes cleaning feeders easy
Perfect for hummingbird and oriole feeders
Prevents harmful mold and water residue build-up
Built-in handle hook for convenient hanging and storage

68 Specifications

Rust-resistant powder-coated garden green finish
Extra-wide top hook won't harm tree branches
Sturdy hook holds up to 15 lb
Great for hanging bird feeders, planters, and hanging baskets

243SF Specifications

Simply mix powder with water – no boiling required
Made of 100% sucrose – an essential energy source for hummingbirds
Don't worry about spills - clear formula is non-staining
Powder concentrate makes up to 48 oz of hummingbird nectar
Comes in an 8 oz bag