Squirrel-X X9 Squirrel-Resistant Bird Feeder with Spring-Loaded Perch - 6 lb - All Questions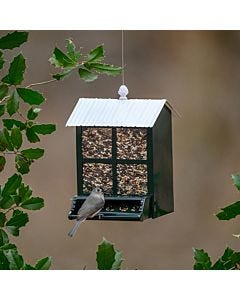 Squirrel-X X9 Squirrel-Resistant Bird Feeder with Spring-Loaded Perch - 6 lb
I purchased mine about 3 yrs ago and the spring loaded opening doesn't work properly any longer. I tried cleaning it but that didn't help. Is it okay to spray with WD40 or similar product? Recommendation, please.
Question by: Chris on May 6, 2023, 1:56 PM
We do not recommend applying WD40 or any similar product to the feeder. If the springs are no longer functional, we recommend purchasing a new feeder.
Answer by: Susan (Admin) on May 9, 2023, 10:55 AM