Perky-Pet® Squirrel-Be-Gone® Max Bird Feeder with Flexports® - All Questions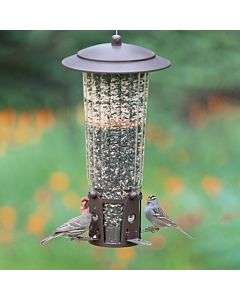 Perky-Pet® Squirrel-Be-Gone® Max Bird Feeder with Flexports®
I bought the squirrel be gone Ma and cannot open it. It says Turn here on top, but it doesn't turn. Help!
Question by: Angie binder on Nov 2, 2021, 7:29 PM
This model feeder has a button at the top to press so the lid can slide up the hanging string. If you have a different model Max feeder with a twist off lid, it may be on factory tight.
Answer by: Lauren Steiner on Nov 3, 2021, 8:20 AM
can i buy replacement flexports?
Question by: kate kennedy on Nov 4, 2021, 11:12 AM
Replacement flexports aren't available for separate purchase, however, our feeders are all covered by a 1-year replacement policy from the date of purchase. Please contact us at 855-737-5973 for assistance, we're happy to help.
Answer by: Kathryn Tator on Nov 4, 2021, 11:14 AM
How do you fill the SQUIRREL-BE-GONE MAX? Thanks!
Question by: Rocco Grella on Nov 30, 2021, 12:50 PM
To remove the lid, simply lift the Sure-Lock™ cap then twist the lid frame to unlock and remove the lid completely.
Answer by: Brandon Deleon on Nov 30, 2021, 1:32 PM
I bought this big flexport feeder thinking I could leave home without worrying about my birds running out of seed. The problem is, they get a few seeds from each port, then it jams up leaving a seed cave behind the port with no more access. The feeder stays full after the hole is made since they can't reach more. I'm feeding ordinary black sunflower seeds. How do I keep the seed flowing? Right now this feeder is an expensive storage device.
Question by: Laura on Dec 30, 2021, 4:07 PM
This feeder holds up to 4 lb of mixed seed, black-oil sunflower seed, sunflower chips, or safflower seed. We would recommend trying a different seed type or a mix.
Answer by: Brandon Deleon on Dec 30, 2021, 4:34 PM