Perky-Pet® Crystal Top-Fill Glass Hummingbird Feeder Kit - All Questions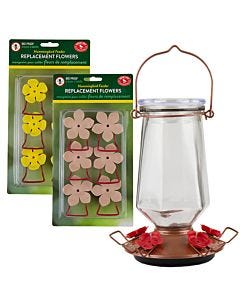 Perky-Pet® Crystal Top-Fill Glass Hummingbird Feeder Kit
I have the top fill hummingbird feeder. When assembling the feeder do you have to fill the bottom container first. How does the liquid get to the bottom when there is a rubber stopper
at the base.
Question by: Irene Montgomery on Dec 7, 2021, 6:17 PM
Our Top-Fill feeders also feature patented float technology. As you pour nectar into the feeder or hummingbirds drink, the float rises and lowers with the nectar levels to keep it from leaking out of the ports.

Answer by: Rachel Faust on Dec 8, 2021, 8:25 AM
How do you get the bottom section apart to clean?
Question by: Kanna L Helton on Jun 12, 2022, 6:22 PM
When the bottle is removed, the top half of the base lifts off the bottom half. The flowers and perches can also be removed. No other parts of the base should be removed when cleaning.
Answer by: Lauren Steiner on Jun 13, 2022, 11:16 AM