Perky-Pet® Dried Mealworm Bird Feeder with Flexports® - All Questions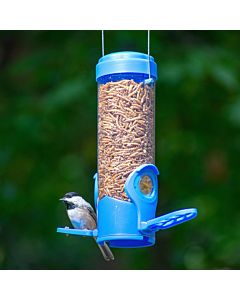 Perky-Pet® Dried Mealworm Bird Feeder with Flexports®
I purchased a model#388F dried meal worm feeder last year. I really liked it but by fall the Flexports were pretty much destroyed. I tried using it anyway this Spring but I observed much more was falling out when feeding than was being eaten. Are replacement Flexports available? The feeder is useless without ports that work correctly.
Question by: Gary Scales on May 6, 2023, 10:10 PM
Replacement parts are not available for this feeder. However, it is covered by a one-year replacement policy. Please feel free to contact us directly for more information.
Answer by: Susan (Admin) on May 9, 2023, 11:03 AM