The more birds that visit the bird feeders outside your window, the more intrigued you get by the little creatures. You find yourself asking, "Why do they do what they do? What makes them tick?"
You can gain tremendous knowledge by reading books, blogs and various online resources, but learning takes a huge step forward when you meet someone that lives and breathes for birds. Their stories and insights form a strong connection with you and your understanding of the birds around us. We found those enthusiasts at Hawk Mountain Sanctuary's PA Songbirds workshop, a teacher education course presented by the Hawk Mountain staff.
Hawk Mountain Sanctuary, a scientific research center based in East Central Pennsylvania, is a raptor conservation organization with an international reach. It also happens to be a short drive from Perky-Pet® headquarters.
Over the years, we've heard a lot about this world-famous eco-tourism destination – the grand views, the dedication to birds of prey and in the last few months, we've been thrilled to work with them. For one thing, we knew that just because they specialized in birds of prey didn't mean they don't care about other birds. Since Hawk Mountain is set on a 2,600-acre piece of land along Pennsylvania's Blue Mountains, the tract is a critical migratory corridor for all birds, not just raptors. As guardians of this valuable habitat, the staff at Hawk Mountain considers educating the world about it to be one of their most vital missions.
To do so, Hawk Mountain regularly hosts teacher education seminars, Erin Brown, the sanctuary's Director of Education, explained.
In Pennsylvania, like most states, teachers must fulfill additional requirements to retain their certification as a teacher. One way to earn these continuing education credits is to sign up for specialized seminars that are offered by institutions like Hawk Mountain.
What better way to meet that requirement than a day in a beautiful setting and learning about the birds you can bring to your window?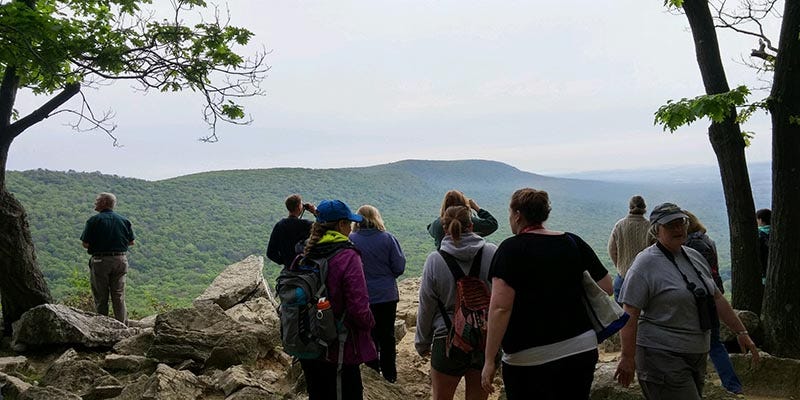 The Sights of Hawk Mountain
When the Perky-Pet® team heard about Hawk Mountain's PA Songbirds course, we immediately contacted the staff at Hawk Mountain to see if we could be part of it. Aside from regular K-12 teachers, the course is also also available to 4-H, Scout and other youth educators, and we figured we'd fit in nicely. The Hawk Mountain staff gave us the OK and we were thrilled.
The day started out with the journey to Hawk Mountain Sanctuary itself, driving into the heart of the Eastern Pennsylvania mountains – which is a wonderful opportunity in its own right. Trying to figure out exactly where Hawk Mountain is? It's off the same exit as the mammoth-sized Cabela's outdoor store in Hamburg, Pa. – if you live in Pennsylvania and have a hunter, hiker or fisher in your family, then you probably know the exact location!
Passing Cabela's, we drove another 15 minutes to Hawk Mountain's visitors' center for an 8 a.m. hike for some bird-watching and bird-listening opportunities.
For a time, we stuck close to the facility's native plant area, which allowed us to spot and listen to a number of birds. Eventually we did hit the trail and took a short walk as Ovenbirds and Wood Thrushes flitted through the forest around us.
As the forest around us thinned out, the walking path opened up in front of us for a stunning, unobstructed view of a pristine valley forest below us. The vista, an area clear of trees, showed us the primary part of the Hawk Mountain nature preserve – a vast tract that seemed to stretch forever. With a view like that, it wasn't hard to imagine what the country must have looked like in Colonial Times, when the land wasn't so dominated by our presence.
After taking in the view one last time — and spotting a few more birds – our hike leader returned us to the parking lot where we continued on to our "PA Songbirds" class.
Learning about Birds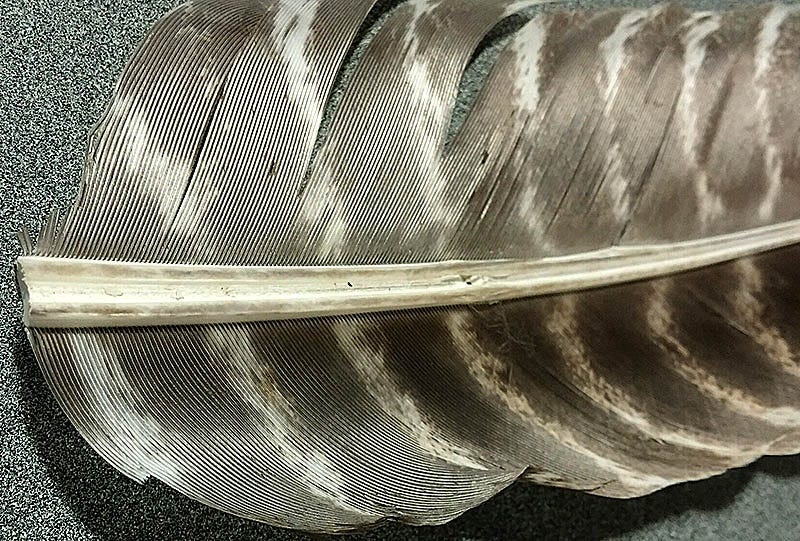 The main portion of the "PA Songbirds" seminar took place in Hawk Mountain's Visitor Center, a recently refurbished structure that includes a massive stone fireplace, murals depicting the transformation of Hawk Mountain and two wonderful viewing platforms that allow you to study the forest and all of its inhabitants.
The seminar was broken down into several small components – all of which are meant to give educators a taste of what they can do with their students.
Hawk Mountain's Erin Brown and Dan Lynch of the Pennsylvania Game Commission led the classes, which focused on migration, bird adaptations, how birds eat, nesting habits, bird identification tricks and behavioral observations. The workshop also allows Pennsylvania teachers to qualify for their Act 48 hours.
One component, for example, had the class participants playing a match game. Several people in the class were given a card with a specific bird on it. Other players had cards that explained bird habitats, food, nests and calls. The "bird" then had a job – to properly match itself with all its appropriate characteristics. The result was a group of people doing their best to make bird calls, explain what "they" liked to eat and "flying" from habitat to habitat in search of just the right fit. As part of "Team Cardinal," our group came together fairly quickly!
The classroom activities weren't always so abstract either. We certainly got to learn more about bird anatomy than we expected, and there's nothing like having a plateful of bird feet on your desk to kick start the learning process.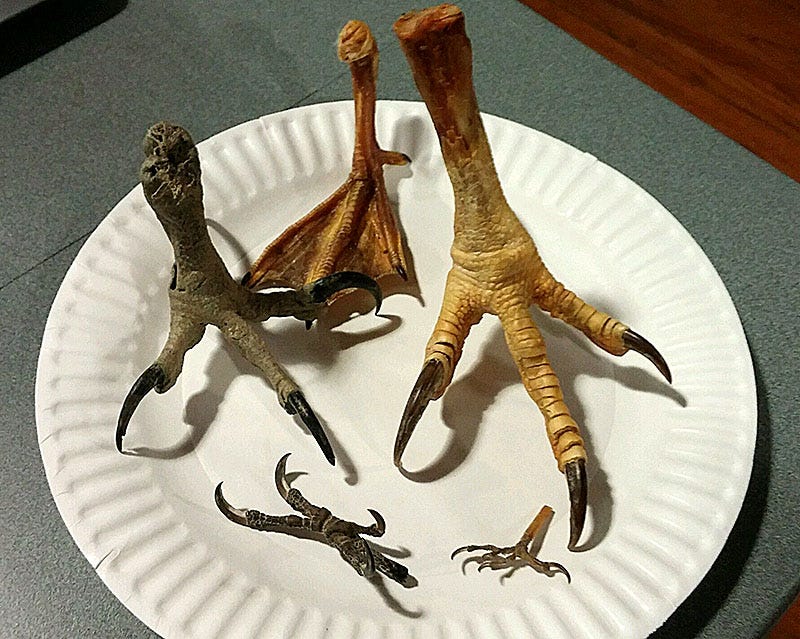 Yes, we are talking about an actual dinner plate filled with real bird feet. No, they were no longer attached to a bird. And, yes, it's definitely quite a sight!
Bird feet are an odd topic, sure, but it did get you thinking about the amazing anatomical differences there are between bird species. Some birds only need to land on a branch while others need to swim. Still others have to dig through forest litter or pluck a fish from the ocean.
Of course, there aren't any songbirds with 2-inch-long fish-grabbing talons, but to understand those birds better, you need to look at their cousins, too.
Speaking of bird parts, the class also showed educators how they can legally obtain specimens to show their students. After all, it's only with special permits that a person can collect feathers, preserved samples, skeletons, nests, egg shells and mounted specimens. In all, it's a simple process that must be completed in order to keep such samples.
Educational Material
Teachers won't walk away from the "PA Songbirds" workshop empty handed either. Perky-Pet® provides each educator with a free birdfeeder. Lyric®, a Perky-Pet® partner, also offered each a free bag of bird seed.
Even the Pennsylvania Game Commission and Hawk Mountain chips in on helping the teachers once they get back to class. Each educator was provided with:
"Pennsylvania Songbirds: A K-12 Teacher's Guide for Activities in the Classroom" — This 382-page book is positively huge and packed with great teaching opportunities for every grade level. For young learners, there are simple games and activities. For more sophisticated students, there are opportunities for studies, community projects and real-world ways to help songbirds.
"Pennsylvania Wildlife: Student Guide" – This 52-page student guide is best for younger kids. At first glance, it's a coloring book, but it also provides youngsters with interesting facts about dozens of bird and wildlife species.
"Wildlife of Pennsylvania: A Teacher's Guide" – This supplement to "Pennsylvania Wildlife" gives educators the additional information they need to help kids understand the roles of birds and animals in the ecosystem.
"Wildlife Notes" – This book contains 62 long-form articles about the birds and wildlife of Pennsylvania. It includes a variety of excellent illustrations and fascinating data on a wide variety of creatures that call Pennsylvania home.
"PA Game Commission Poster Series" – A set of eight posters to help in the identification of birds and animals. The series includes: Birds of the Forest, Marsh and Water Birds, Birds of Prey, Waterfowl, Birds of Field and Garden, Winter Birds, Mammals of the Mountain and Mammals of Farm and Woodlot. Each poster is beautifully illustrated with dozens of animals represented throughout the series. Definitely a great way to decorate the classroom!
Additional handouts – Aside from all those supplies, a number of other workshop handouts were included, such as an animal tracks marker, Hawk Mountain newsletters, Pennsylvania Game Commission Salvage Permit info sheet, a bird of prey silhouette guide and more.
Please note, however, that not all "PA Songbirds" sessions will include the same giveaways. It's likely to vary by region, instructor and availabilities.
In all, Hawk Mountain and the Pennsylvania Game Commission created a great workshop that demonstrates unique ways to help students understand the value of birds, bird conservation and how proper land management can allow people and nature live together.
Are you a teacher or educator interested in the PA Songbirds class or other opportunities from Hawk Mountain? Contact Erin Brown at (610)756-6000 x208 or brown@hawkmountain.org.