Droll Yankees® Yankee Flipper® Squirrel-Proof Bird Feeder - 5 lb - All Questions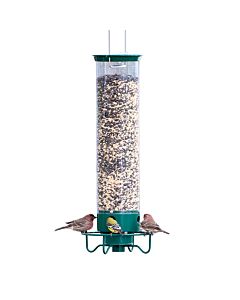 Droll Yankees® Yankee Flipper® Squirrel-Proof Bird Feeder - 5 lb
How do I remove the base for charging?
Question by: Elaine Urbik on Mar 19, 2023, 10:48 AM
Answer by: Lauren Potter (Admin) on Mar 20, 2023, 11:23 AM
Is it adjustable for weight? The red squirrel does not spin off.
Question by: Carol Chester on May 2, 2023, 12:58 PM
The sensitivity for this feeder cannot be adjusted. While red squirrels will not be heavy enough to activate the feeder, hanging it away from launching points will help to keep squirrels from stealing a snack.
Answer by: Susan (Admin) on May 8, 2023, 2:09 PM