Perky-Pet® 12" Metal Hanging Hook - 1-Pack
Perky-Pet® 12" Metal Hanging Hook - 1-Pack
27
4.8
5
1
Earn 220 rewards points on your purchase! Learn More
Hang bird feeders, planters and hanging baskets, and more
Garden green powder-coated finish resists rust
Extra-wide top hook won't harm tree branches
Sturdy metal hook holds up to 25 lb
Includes 1 metal hanging hook( 1 Pack)
Perky-Pet® 12" Metal Hanging Hook
The Perky-Pet® 12" Metal Hanging Hook features garden green finish that is rust resistant and will provide years of enjoyment for you and the wild birds that flock to the hanging feeders in your yard. This hook isn't just for holding bird feeders, either. Use it as a perch or with wind chimes, hanging plant baskets, and other decorations. The sturdy, easy-to-use design will not harm your tree branches.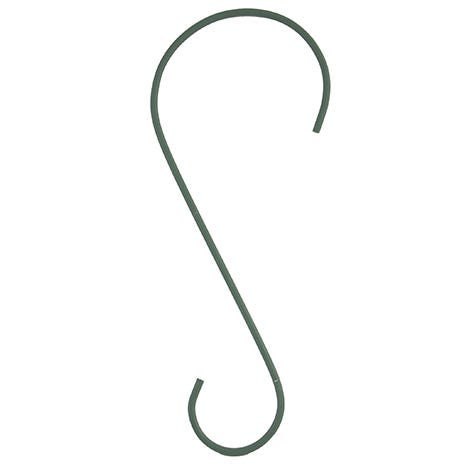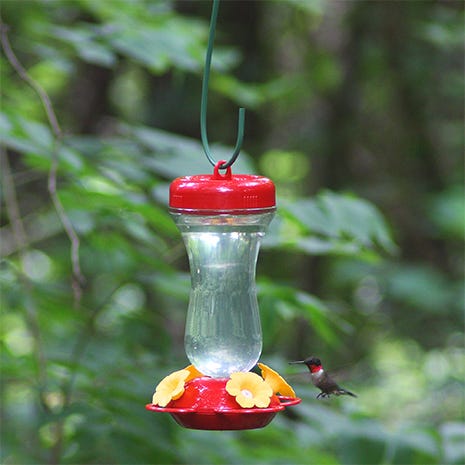 Perfect Size for Hanging on Branches and Hooks
This 12-inch hanging hook is the perfect size for a variety of locations. Hang on tree branches, shepherd's hooks, chains, and more keep your bird feeder or decorations at just the right height for your needs. In addition, you can use this hanging hook without worries because the extra-wide top hook won't damage trees.
Holds up to 25 lb
For your convenience, this hanging hook is tougher than it looks. For your convenience, each Perky-Pet® 12" Metal Hanging Hook is able to hold up to 25 lb, meaning the hook will hold virtually any seed feeder or hummingbird feeder Perky-Pet® has to offer. Plus, it will safely hold hanging planters and other backyard decorations in a variety of sizes.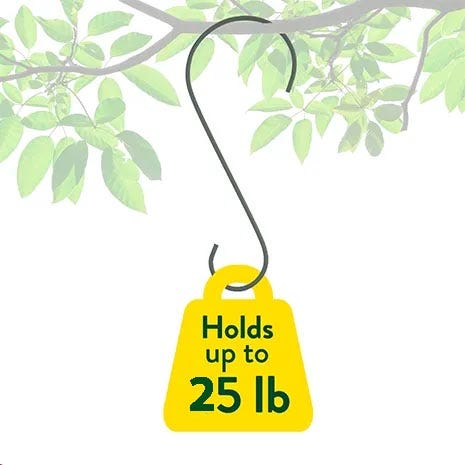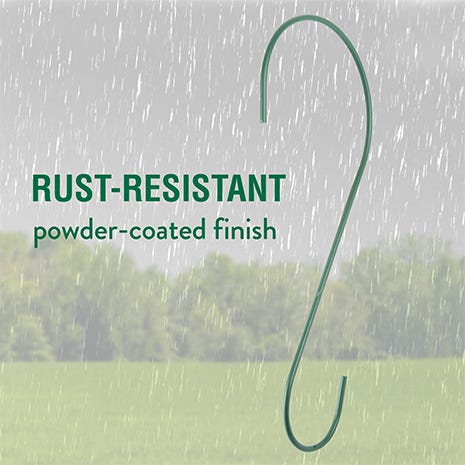 Sturdy and Durable
he Perky-Pet® 12" Metal Hanging Hook is constructed with solid steel to offer strength and durability. In addition, the hook is powder coated with a garden green finish to resist rust in any weather. Use our hooks to hang feeders and plants anywhere you need them. No tools necessary!
Perky-Pet® 12" Metal Hanging Hook Product Details
Do you want to know more helpful details about the 12" Metal Hanging Hook? Take a closer look at the in-depth specifications for this product.
Perky-Pet® 12" Metal Hanging Hook
Model Number
67
Quantity
1 Pack
Height
12 inches
Holds
25 lb
Materials
Steel
Perky-Pet® 12" Metal Hanging Hook
Model Number
67
Quantity
1 Pack
Height
12 inches
Holds
25 lb
Materials
Steel
Customer Reviews
0%
of customers
recommend this product