Perky-Pet® 2-Tier Copper Panorama Bird Feeder
Perky-Pet® 2-Tier Copper Panorama Bird Feeder
5
3.8
5
1
Earn 980 rewards points on your purchase! Learn More
Two compartments with Evenseed™ technology so ports stay active longer
Circular perch and seed tray allow for 360-degree feeding on both tiers
Fill with two different types of seed at once to attract a large variety of birds
Sure Lock™ cap locks lid in place to keep squirrels out
Powder-coated copper finish ensures rust resistance
Holds up to 4.5 lb of black-oil sunflower seed, peanuts, fruit and nut blends, or mixed seed
Best Used For





Perky-Pet® 2-Tier Copper Panorama Bird Feeder
Attract feathered friends to your yard with the Perky-Pet® 2-Tier Copper Panorama Bird Feeder - it's sleek and beautiful with room for every bird. A two-tiered circular perch provides space for plenty of birds to feed, while the Sure Lock™ cap locks the lid in place to keep squirrels from raiding the food. The antique copper finish makes a stunning accent to any garden that's perfect for completing your outside décor or gifting to your favorite bird lover.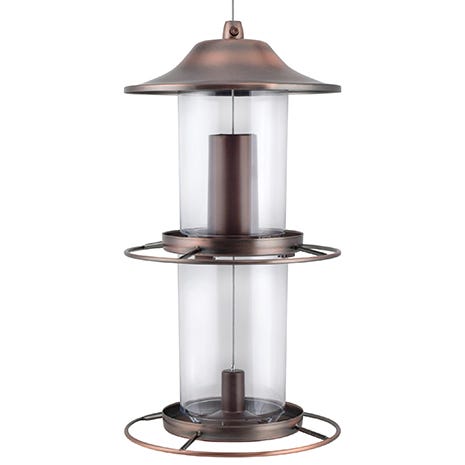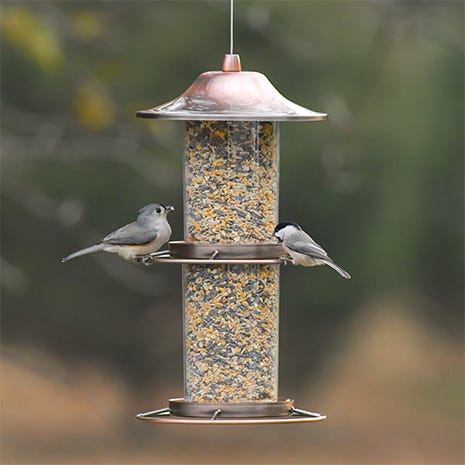 2-Tier Design Attracts Multiple Birds
The uniquely designed Perky-Pet® 2-Tier Copper Panorama Bird Feeder has two independent seed chambers that lets you fill with up to two different types of seed at the same time. Featuring two tiers, each with a circular perch and seed tray, this feeder allows multiple birds to dine from every angle without having to compete for ports. Evenseed™ technology allows seed to evenly dispense into the seed trays and stop dispensing once the tray is full. As the birds continue to dine, the seed is replenished into the tray.
Large Seed Capacity
Perky-Pet® 2-Tier Copper Panorama Bird Feeder offers a sizable 4.5 lb seed capacity so your hungry birds are always in good supply. In addition, the feeder's built-in drain holes prevent water from pooling in the reservoir, so seed stays fresh for longer. Not only will the birds love it, but it also means less seed waste for you! In addition, the large overhang shields the tray and birds as they dine.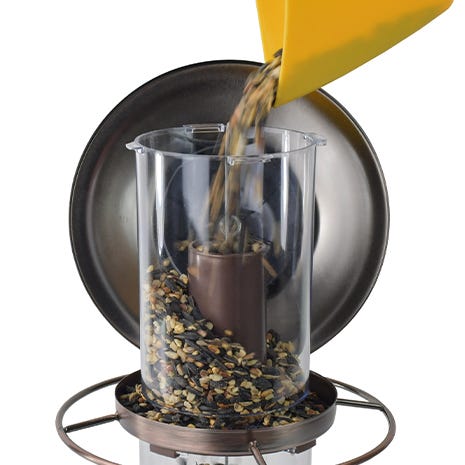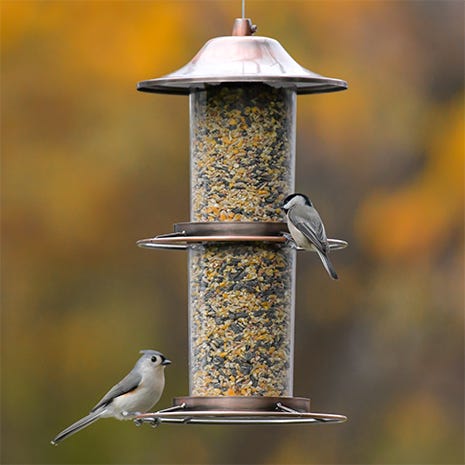 Attractive Antique Copper Finish
Not only is this feeder convenient and economical, but it's also eye-catching! The beautiful antique copper finish will make this a standout addition to any personal bird feeder collection or a thoughtful housewarming or holiday gift idea for the bird lover on your list. The metal is also powder-coated to ensure durability and rust resistance.
Sure-Lock™ Cap
To ensure that your offerings are reserved for the birds, this feeder features a Sure-Lock™ cap. This unique device secures the lid in place, while the metal lid, base, and perches offer additional protection. These features make it more difficult for squirrels to remove the lid and gain access to the abundance of food inside.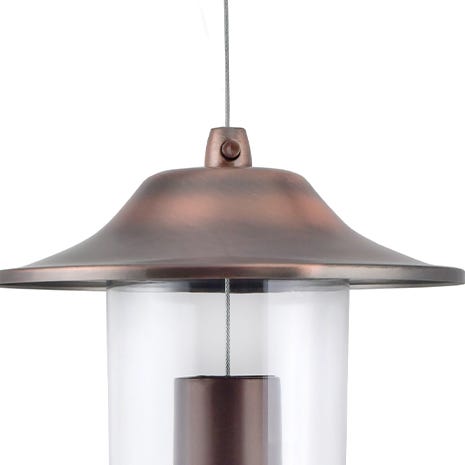 Perky-Pet® 2-Tier Copper Panorama Bird Feeder Product Details
Do you want to know more helpful details about the Perky-Pet® 2-Tier Copper Panorama Bird Feeder? Take a closer look at the in-depth specifications for this product.
Perky-Pet® 2-Tier Copper Panorama Bird Feeder
Model #
325C
Height
15.8 inches
Diameter
8.25 inches
Ports
2 seed trays
Capacity
4.5 lb
Seed Type
Black-oil sunflower seed, peanuts, fruit and nut blends, or mixed seed
Materials
Plastic, metal
Perky-Pet® 2-Tier Copper Panorama Bird Feeder
Model #
325C
Height
15.8 inches
Diameter
8.25 inches
Ports
2 seed trays
Capacity
4.5 lb
Seed Type
Black-oil sunflower seed, peanuts, fruit and nut blends, or mixed seed
Materials
Plastic, metal
Customer Reviews
80%
of customers
recommend this product