Perky-Pet® Copper Finish Triple Tube Bird Feeder with 2 FREE GIFTS
Special Price
$89.49
Regular Price
$100.47
Perky-Pet® Copper Finish Triple Tube Bird Feeder with 2 FREE GIFTS
4
3.5
5
1
Earn 1780 rewards points on your purchase! Learn More
12 feeding stations & extra-large capacity accommodates many birds
2-in-1 ports flip to serve mixed seed or Nyjer® (thistle)
Fill with 3 different types of seed to attract a large variety of birds
Feeder holds a whopping 10 lb of seed
Seed scoop holds up to 4 cups of seed & doubles as a bag clip
12" hanging hook allows for versatile feeder placement
Best Used For





Perky-Pet® Copper Finish Triple Tube Bird Feeder With FREE Gifts
Feeding the birds involves a lot of tools and accessories. The Perky-Pet® Copper Finish Triple Tube Bird Feeder makes it easy to attract a wide variety of bird species to your yard. It is designed to accommodate a wide variety of birds at once and can be used with different types of feed simultaneously thanks to its three independent seed compartments. The clear tubes allow you to easily monitor seed levels at a glance, and the copper-colored accents add to your outdoor landscaping. It's a bird feeder and piece of stunning décor all in one! This feeder also come with two FREE gifts – a 12" metal hanging hook and a Scoop N' Fill™ seed scoop to simplify your bird-feeding routine.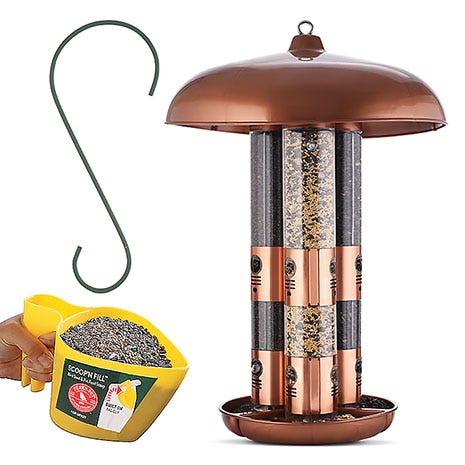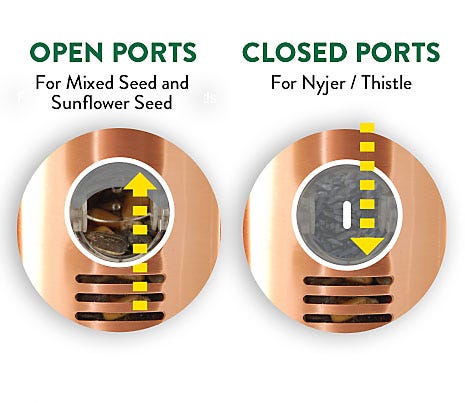 2-in-1 Flip Ports
With this unique feeder, you can easily go from serving mixed seed to Nyjer® with a minor adjustment to the ports. You'll be able to please the palates of your resident birds throughout the year without collecting multiple types of feeders. Simply flip ports down to accommodate Nyjer® or flip them up to serve sunflower seed or mixed seed.
Accommodate a Whole Flock
The Perky-Pet® Copper Finish Triple Tube Bird Feeder features three independent seed compartments, allowing you to serve sunflower seed, mixed seed, and Nyjer® all at once. It's like having three feeders in one! By offering more seed options, you'll easily be able to attract a wider array of your favorite bird species to the same feeder. Plus, the 10 lb seed capacity and 12 feeding stations ensure there will be plenty of room for them all!
Hang it Anywhere
This feeder also comes with a FREE Perky-Pet® 12" Metal Hanging Hook so you can hang your new favorite feeder anywhere around your yard or patio. It has a rust-resistant powder-coated finish to ensure durability even in the harshest weather. Plus, the extra-wide top hook won't damage tree branches! This sturdy hook is able to hold up to 35 lb, so it's more than up to the job of holding this extra-large feeder or you can hang planters and hanging baskets!
Easy Filling
Filling feeders can be a messy business. The Perky-Pet® Scoop N' Fill™ Seed Scoop has an ergonomic design that makes filling all your bird seed feeders an easy task. The scoop boasts a four-cup capacity so you can fill your feeders quickly. The scoop's handle also doubles as a bag clip. Lock it onto seed bags to seal in freshness!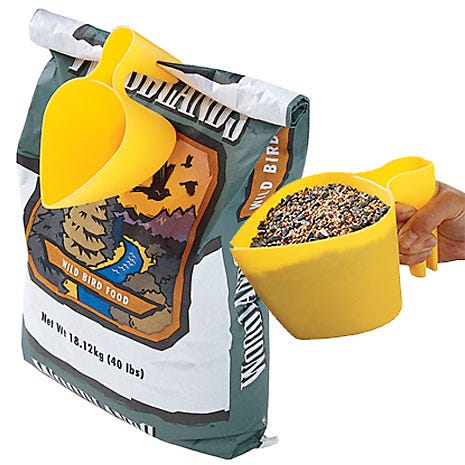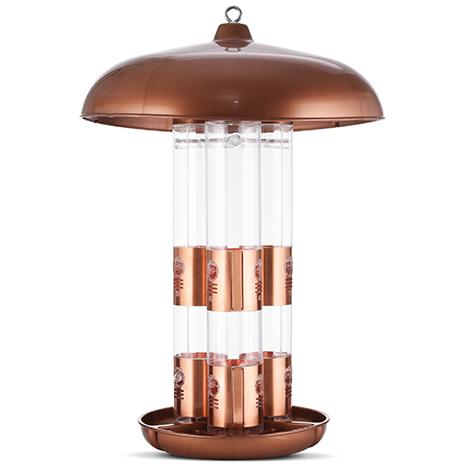 Easy to Use
Whether you plan on hanging this feeder from a tree or using a pole mount, assembly is as simple as screwing the baffle into place over the seed divider and then using a hammer to tap the perches into place. When it comes time to refill, just twist the lid off, pour in the seed and twist it back into place.
Perky-Pet® Copper Finish Triple Tube Feeder With FREE Gifts Product Details
Do you want to know more helpful details about the Copper Finish Triple Tube Bird Feeder with FREE Gifts? Take a closer look at the in-depth specifications for this product.
Perky-Pet® Copper Finish Triple Tube Bird Feeder With FREE Gifts
Model #
BCOPPERTPL
Includes
Feeder Capacity
10 lb
Number of Ports
12
Food Type
Black-oil sunflower seed, mixed seed, and Nyjer® / thistle

WARNING: This product can expose you to chemicals including Bisphenol A, which is known to the State of California to cause birth defects or other reproductive harm. For more information go to www.P65Warnings.ca.govwww.P65Warnings.ca.gov.
Perky-Pet® Copper Finish Triple Tube Bird Feeder with Free Gifts
Model #
BCOPPERTPL
Includes

Perky-Pet® Copper Finish Triple Tube Bird Feeder
Perky-Pet® 12-Inch Metal Hanging Hook
Perky-Pet® Scoop N' Fill™ Seed Scoop

Triple Tube Feeder (7103-2) Specifications

12 feeding stations & extra-large capacity accommodates many birds
2-in-1 ports flip to serve mixed seed or Nyjer® (thistle)
Fill with 3 different types of seed to attract a large variety of birds
Large baffle protects from squirrels and inclement weather
Attractive, copper-colored plastic accents look great in any yard
Holds up to 10 lb of seed

Metal Hook (67) Specifications

Rust-resistant powder-coated garden green finish
Extra-wide top hook won't harm tree branches
Sturdy hook holds up to 35 lb
Great for hanging bird feeders, planters, and hanging baskets

Seed Scoop (300-12) Specifications

Holds up to 4 cups of seed
Ergonomic design for comfortable, easy filling
Handle doubles as a bag clip to keep seed fresh
Constructed of strong plastic