Perky-Pet® Pink Top-Fill Glass Hummingbird Feeder
Perky-Pet® Pink Top-Fill Glass Hummingbird Feeder
17
2
5
1
Earn 460 rewards points on your purchase! Learn More
Wide-mouth Top-Fill design for easy filling
4 flexible, flower-shaped feeding ports with perches
Ant moat keeps ants out of nectar - fill it with water
Holds up to 24 oz of nectar
Best Used For





Perky-Pet® Pink Top-Fill Glass Hummingbird Feeder
If your yard is fortunate enough to have an abundance of hummingbirds, then the Perky-Pet® Pink Top-Fill Glass Hummingbird Feeder is the feeder for you! The wide-mouth opening and patented Top-Fill technology makes filling easy and mess-free. Simply remove the lid, pour in the nectar, and you're ready to feed the hummingbirds. The flowers that adorn this feeder are a soft, flexible plastic, making them look and feel more natural! The built-in ant moat on the cap blocks the ants from accessing the nectar when filled with water.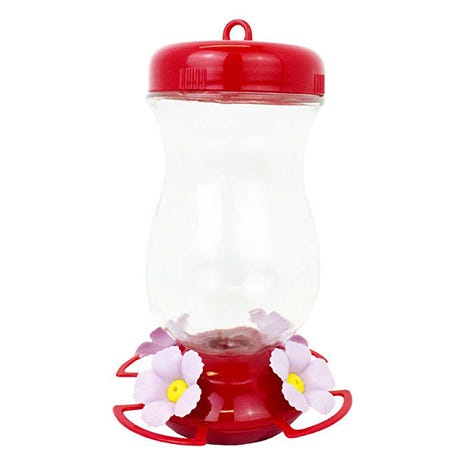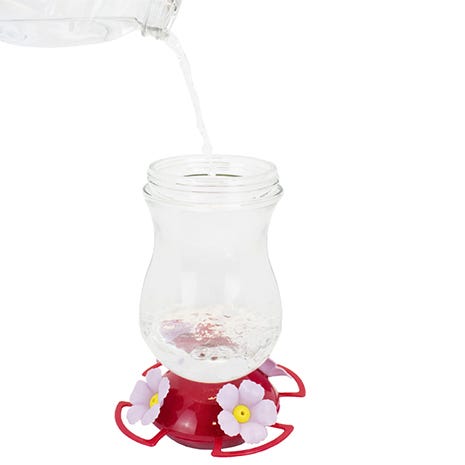 Top Fill Design for Easy Filling
No more messes and no more spills! Our unique feeder features patented Top-Fill technology so that filling is never a hassle. Simply remove the lid and pour up to 24 oz of nectar into the convenient wide-mouth opening to get your feeder up and running - there's no need to invert the bottle!
Feeding Ports Inspired by Nature
Hummingbirds are accustomed to imbibing nectar from flowers. That's why we've developed this feeder with soft, flexible flower-inspired feeding ports to offer a more natural look and feel. The color and realistic flower shape are perfect for attracting hummers, while the four ports ensure there's enough room for multiple birds to dine simultaneously.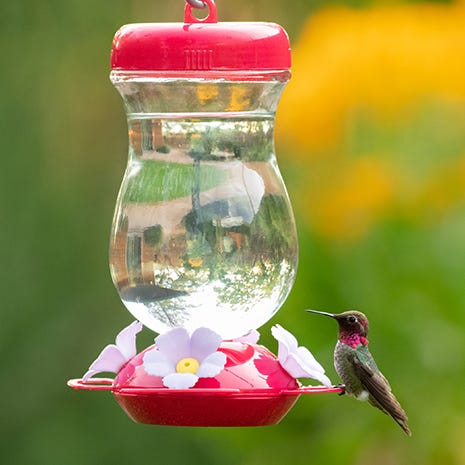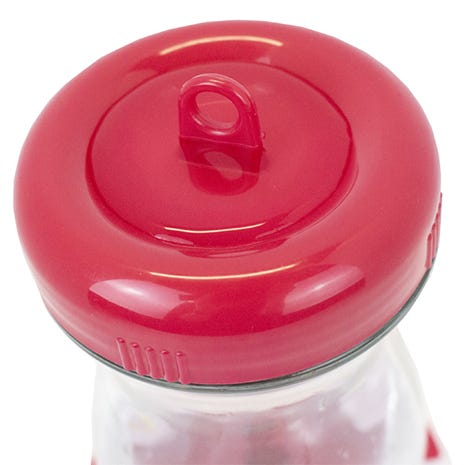 Keep Insects Out
When you're filling your feeders, you want to ensure that nectar is reserved just for the birds. Thanks to the built-in ant moat, you can keep those pesky ants at bay with little effort. Simply fill the cap with water to prevent ants from gaining access to the feeder ports.
Comes Apart for Easy Cleaning
Hummingbirds prefer to visit fresh, clean feeding stations. With the Top-Fill Feeder, keeping a clean feeding station is no longer time consuming. The wide mouth bottle makes it easy to clean the hard-to-reach places inside the bottle. Plus, the base comes apart completely, so no piece goes uncleaned due to inaccessibility. Remember to clean your feeder at least once per week with a mild soap and water solution to prevent mildew buildup.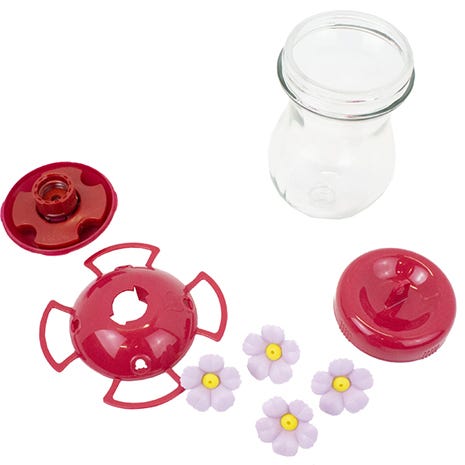 Perky-Pet® Pink Top-Fill Glass Hummingbird Feeder Product Details
Do you want to know more helpful details about the Perky-Pet® Pink Top-Fill Glass Hummingbird Feeder? Take a closer look at the in-depth specifications for this product.
Perky-Pet® Pink Top-Fill Glass Hummingbird Feeder
Model #
132TFP
Height
9.8 inches
Diameter
5.95 inches
Capacity
24 oz
Ports
4
Materials
Glass, plastic
Perky-Pet® Pink Top-Fill Glass Hummingbird Feeder - 24 oz
Model Number
132TFP
Weight
1.150 lb
Dimensions
9.8 in H × 5.95 in W × 5.95 in D
Capacity
24 oz
How do you clean the ports?
I'm hoping this one doesn't leak. Is the bottom one piece
Question by: Nancy Cuticchia on May 30, 2022, 4:18 PM
This feeder disassembles for easy cleaning. The ports are designed to be removable. They may be cleaned by soaking them in a solution of warm water with a mild soap.
Answer by: Rachel Faust on May 31, 2022, 8:54 AM
Can you purchase replacement flowers for model # 132TFP? My mother purchased one before she passed and we would like to restore it but the flowers disintegrated.

Question by: Kelly Stone on Nov 16, 2021, 4:02 PM
I am sorry for your loss! I apologize for the inconvenience, however replacement flowers are not available for this feeder.
Answer by: Brandon Deleon on Nov 16, 2021, 4:10 PM