Perky-Pet® Squirrel-Be-Gone® II Wild Bird Feeder - All Questions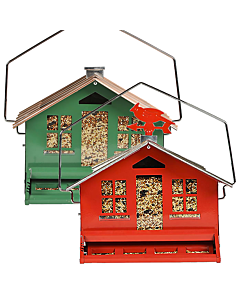 Perky-Pet® Squirrel-Be-Gone® II Wild Bird Feeder
where does the plastic piece wth 4 screws go,and what does it go?
Question by: Steve Palmer on Dec 30, 2021, 6:42 PM
I apologize for the inconvenience, please send us a picture of the piece in question to further assist you.
Answer by: Woodstream on Jan 3, 2022, 8:04 AM
i need glass in front of my feeder chrome feeder
Question by: roger neuleib on Jan 3, 2022, 9:17 PM
Replacement parts are not available for these feeders. They have a one year replacement policy. Reach out to us directly for additional assistance if your feeder was purchased within that time frame.
Answer by: Lauren Potter on Jan 4, 2022, 7:57 AM