February is National Bird Feeding Month, and if you're like the experts at Perky-Pet®, then you're a fanatic for helping your backyard friends. By no coincidence, National Bird Feeding Month takes place during the toughest month of the year for wild birds – food is scarce and keeping warm is a priority so it's more important than ever to keep up with your efforts!
Beyond feeding the birds, there are plenty of other ways to celebrate the birds in your life. That's why we're bringing you a few ways to get your creativity flowing and help your feathered friends at the same time. These unique and simple projects will give you even more opportunities to appreciate and assist the birds who are counting on you. After all, we need something to brighten up the long winter months as well, right?
1. Set Out the Buffet
Simply providing your backyard birds with a healthy and varied diet is a great way to celebrate this month. Along with seeds and suet, you can get creative and try offering different types of grains, beans, and vegetables. See what works and what doesn't. Dried fruit, for example, is a great option for specific birds such as orioles and robins that may be wintering in your area.
2. Learn their songs
Are you a veteran bird feeder? Do you think you know the voices of all the birds that fly through your yard? Then test your birding knowledge and play the Cornell Lab of Ornithology's Bird Call Quiz. Practice throughout the month and become a master just in time for spring feeding. Maybe you can even try stretching your vocal chords and attempt mimicking the calls yourself!
3. Develop Your Artistic Skills
Painting and drawing are challenging hobbies, to say the least. Specializing in a particular subject matter, however, is one way to overcome that challenge. So we say try recreating the birds you love on paper or canvas! From how-to books to instructional videos on YouTube, you'll find plenty of assistance to create that masterpiece. That way, you'll have beautiful birds to look at even when you can't spot them in your yard.
4. Get social
Share your passion for birds by sharing your photos and creations online! Better yet, try to take one photo a day and share it on your social media accounts! That way you can celebrate the month with other avid bird lovers, while also bringing awareness to people who haven't discovered the joys of this hobby yet. Don't forget to tag us on Facebook or Twitter when you post your best pictures!
5. Make A DIY bird feeder
Use your imagination and make a do-it-yourself feeder! There are plenty of options out there, such as this pinecone bird feeder, or you could try this decadent fruit garland that tastes as good as it looks! Not only will you and your family have tons of fun making them, your backyard birds are sure to appreciate the creativity!
6. Stamp it
The U.S. Postal Service and postal services from around the world frequently feature birds on their stamps. Why not start your own collection of bird-themed stamps? The USPS has a beautiful collection of Song Bird stamps, so it's a perfect opportunity to begin! As you get deeper into this inexpensive hobby, you'll find plenty of options to add to your albums.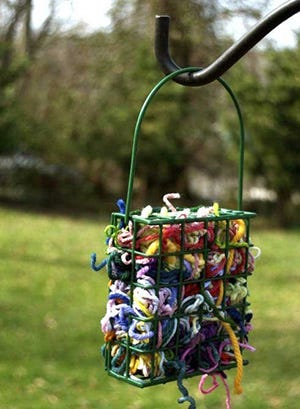 7. Do Some Birdscaping
Be an exterior decorator and revamp the bird oasis in your backyard for the spring. A new season means a completely new set of birds to feed and enjoy! Get to work in the garden by prepping some bird-friendly flowers. This is also a good time to clean your feeders and get them ready to hang. The revitalized landscape is sure to add to the beauty that your feathered friends have already brought to your yard.
8. Get the kids involved
Spread your love of birds to younger enthusiast! Watch the bird feeder in your yard and pass on your birding knowledge to the kids in your life. Teach them how to identify common backyard birds with birding books or our online species library. Try out some fun birding activities to get them excited about your favorite pastime.
9. Get crafty
Birds are a wonderful inspiration to many people. So it's no wonder there are so many bird-themed crafts to honor them. Try a project that the birds will benefit from (such as a DIY bird bath) or simply get busy crafting a beautiful piece inspired by your favorite feathered friends.
Check out our Pinterest page for plenty of great ideas to keep you busy this month. Some projects are great for beginners and crafters of all skill levels, while others will challenge the most-gifted crafters around! No matter what you choose, your birds are sure to appreciate the results.
10. Spread the joy
Give the gift of bird feeding to a friend! Find your favorite feeder from Perky-Pet® and make them some homemade nectar! If your friend is already a birder, they will appreciate the gesture, and if they are a novice, this gift will get them into the bird-feeding frenzy!
As you participate this month, be sure to share your pictures and stories with the Perky-Pet® community by visiting us on Facebook. Also, sign up for our e-newsletter to have other interesting articles and stories sent right to your inbox. You'll also receive exclusive updates on your favorite bird feeders and bird feeding accessories.