"I'm bored!" Parents and grandparents have heard this phrase one too many times, especially over summer break. Aside from vacations and trips to the pool, it can be difficult to find interesting activities to keep kids entertained. Have no fear, Perky-Pet® is here and now is the time to introduce them to bird feeding!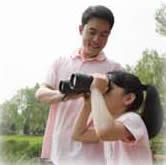 Feeding birds can be entertaining for everyone, not just kids. This is also a great hobby that allows you to sneak in a little education as well. Begin by trying to identify the birds that visit your feeders. Help kids look through a birding book or go online and find various species native to the area. Pay attention to the parts of a bird that differentiate them from others... wing shape, color, sound, and behavior are just a few.
Don't have a feeder? No problem! There are several to choose from and many that are perfect for beginners. For first-timers, choose a simple feeder that's easy to fill and clean. Check out this Perky-Pet® Hopper Feeder that's perfect for beginners! It's important to teach kids that keeping a clean feeder helps keep the birds healthy. Providing fresh seed is also crucial - who wants to eat stale food?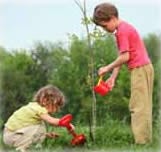 Contribute to the environments health. Plant a tree, or a few shrubs with kids to provide the birds shelter. They appreciate not only food, but a nice place to relax and feel safe. Plants with flowering fruits or berries are also a good choice, especially once the colder months arrive. Ask your neighborhood nursery or garden center about specific bird-preferred varieties.
Hummingbirds are another type of bird that is fun to feed and watch. Hummingbirds eat nectar, not seed. So, you'll want to keep your eye out for the right type of feeder. Typically, hummingbird feeders are filled from the bottom. However, today, there are feeders on the market that you can fill from the top. These feeders are great for kids because of the ease of cleaning and filling. Keep in mind, adding nectar for the first few times can be a bit messy, so it's a good idea to help young ones in the beginning.
Get crafty with kids! Did you know you can make your own bird food? Yes, with just a few simple ingredients, in addition to the seed you provide, you can add more food choices for your feathered friends who visit. Kids will have a blast with this one! Find some bird-friendly recipes listed below.
So what are you waiting for - get going! Gather the kids and grandkids together and start birding!
Recipes:
Birdie Granola
2 1/2 cups corn meal
1/2 cup peanut butter
1/4 cup peanuts
1/2 cup suet
1/2 cup chopped apples
1 cup seed (any variety)
1/4 cup cranberries

To prepare:
Combine first 3 ingredients and press into a sheet pan.
Freeze until firm. Once firm, remove from the freezer and crumble the mixture.
Mix the crumbles with the remaining ingredients, divide into single serving containers and freeze.

Birdie Raisin Delight
1 cup uncooked oatmeal
1 cup wheat germ
1 cup flour
1 cup corn meal
1 cup skim milk
1 cup raisins
1/2 cup shortening

To prepare:
Mix all ingredients and form a thick batter.
Grease and lightly flour a cake pan.
Bake the mixture at 350 degrees for 1-hour.
Cool and break into medium-sized pieces. Place pieces into suet basket.

Suet Bars
2 cups corn meal
1 cup flour
1/4 cup sugar
1 cup crunchy peanut butter
2 cups quick cooking oats
1 cup suet

To prepare:
Melt suet and peanut butter together. Stir in remaining ingredients.
Pour mixture into individual containers to about 1 1/2 inches thick and place in freezer.
After the mixture has become firm, cut it into squares to fit your suet feeder.