Perky-Pet® Holly Berry Gilded Chalet Wild Bird Feeder
Perky-Pet® Holly Berry Gilded Chalet Wild Bird Feeder
13
4.2
5
1
Earn 320 rewards points on your purchase! Learn More
Made of durable plastic with an elegant antique gold finish
Sure-Lock™ cap locks lid in place to keep squirrels out
Circular feeding tray for many birds to feed from all angles
Holds up to 2 lb of seed
Best Used For





Holly Berry Gilded Chalet Bird Feeder
Treat your feathered friends like the treasured visitors they are by adorning your garden with this Perky-Pet® Holly Berry Gilded Chalet Bird Feeder. The 360-degree seed tray gives you and your feathered friends a great view. An embossed holly-berry pattern on the lid is beautifully complemented by an antique-gold finish that lends a charming visual accent befitting of your distinguished guests. The Sure-Lock™ cap locks the lid in place to keep unwanted visitors out of the reservoir. You'll have no trouble removing the bird feeder's lid and twisting off the base for hassle-free filling and cleaning.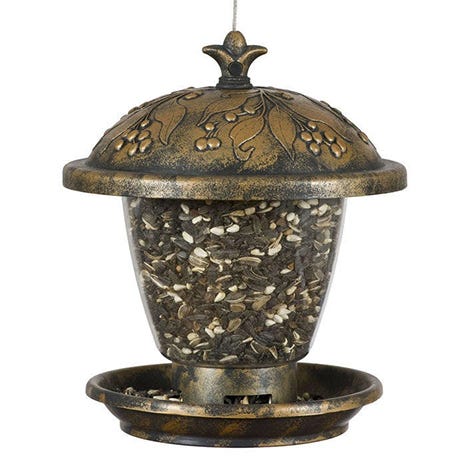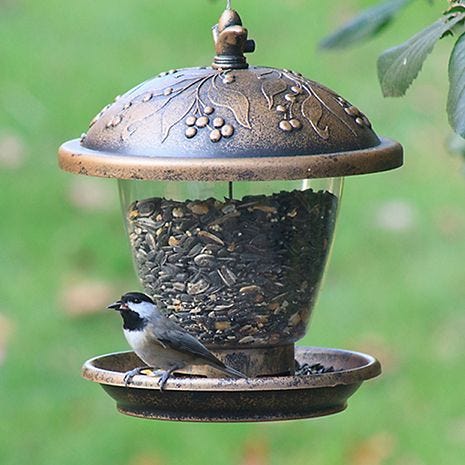 Plenty of Seating for Birds
The Perky-Pet® Holly Berry Gilded Chalet Bird Feeder is designed to appeal to wild birds' preferences, so you'll have plenty of visitors to enjoy. Every feathered attendee gets a great view and a tasty meal from any angle on this feeder's circular perch. Several birds can feed at once from the continuously flowing fresh seed, avoiding those pesky long lines and fights over the front row.
Enchanting Design
"Is that a bird feeder or an elegant yard ornament?" neighbors are sure to wonder when they spy your Perky-Pet® Holly Berry Gilded Chalet blowing in the breeze. The lid boasts an embossed holly-berry pattern that lends graceful flow to your yard and an antique-gold finish that adds a luxurious touch.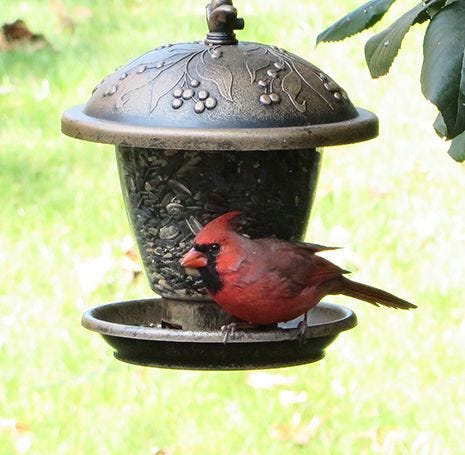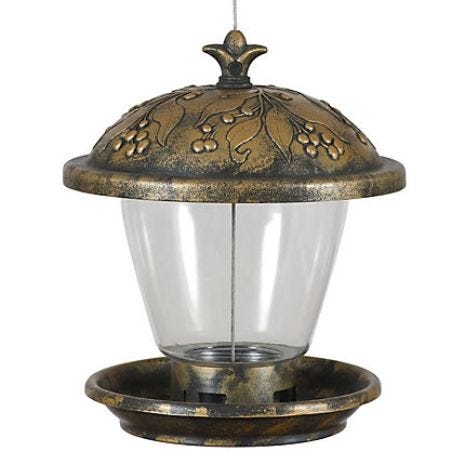 Durable Construction
Don't let all that beauty fool you — the Gilded Chalet Bird Feeder is treated with a UV inhibitor that helps prevent fading when exposed to sunlight. The plastic container is also durable, and a wire enables sturdy hanging on your balcony or from your favorite tree. The durable materials make this feeder as timeless as its charming design.
Easy to Fill and Clean
Birds prefer to visit fresh, clean feeders. Luckily, cleaning and filling the Holly Berry Gilded Chalet Bird Feeder with fresh seed is easy! Lift off the lid and remove the base with a simple twist. Wash each piece in a mild solution of warm soapy water. Once reassembled, the feeder's wide-mouth opening makes filling a breeze. Clean and change seed at least every two weeks to prevent mold and insects!
Perky-Pet® Holly Berry Gilded Chalet Bird Feeder Product Details
Do you want to know more helpful details about the Holly Berry Gilded Chalet Bird Feeder? Take a closer look at the in-depth specifications for this product.
Perky-Pet® Holly Berry Gilded Chalet Bird Feeder
Model #
305
Height
9.5 inches
Diameter
8 inches
Capacity
2 lb
Food Type
Black-oil sunflower seed, mixed seed, safflower seed, and more
Materials
Plastic

WARNING: This product can expose you to chemicals including Bisphenol A, which is known to the State of California to cause birth defects or other reproductive harm. For more information go to www.P65Warnings.ca.govwww.P65Warnings.ca.gov.
Perky-Pet® Holly Berry Gilded Chalet Wild Bird Feeder
Model Number
305
Weight
.660 lb
Dimensions
15.5 in H x 8 in W x 8 in D
Perch
Circular
Capacity
2 lb of seed
Customer Reviews
0%
of customers
recommend this product