Greg H., the man who would become the inventor of the Perky-Pet® Hummerbar®, had a problem we would all love to have: There were too many hummingbirds visiting his feeders. It all started about four years ago after Greg realized he had a lot of hummingbirds to feed, and, as a result, a lot of feeders to clean.
"We had a hummingbird feeder set up that attracted hummingbirds, and always had two or three waiting to feed. We put another up and that brought in more. Just for fun, we put up a third. We kept putting up more and more feeders and more came."
The problem, Greg explained, was that filling and cleaning was too much for all those feeders. It was a time drain, but he still wanted all those hummingbirds to visit.
"We tried to figure out a feeder that could feed them all at once," he said, noting there would be a lot less cleaning involved with a single feeder that served more hummingbirds. That notion was the start of the project where Greg and his son, Steven, would soon develop the Perky-Pet® Hummerbar®, a revolutionary horizontal hummingbird tube feeder that permits tens of hummingbirds to feed at one time.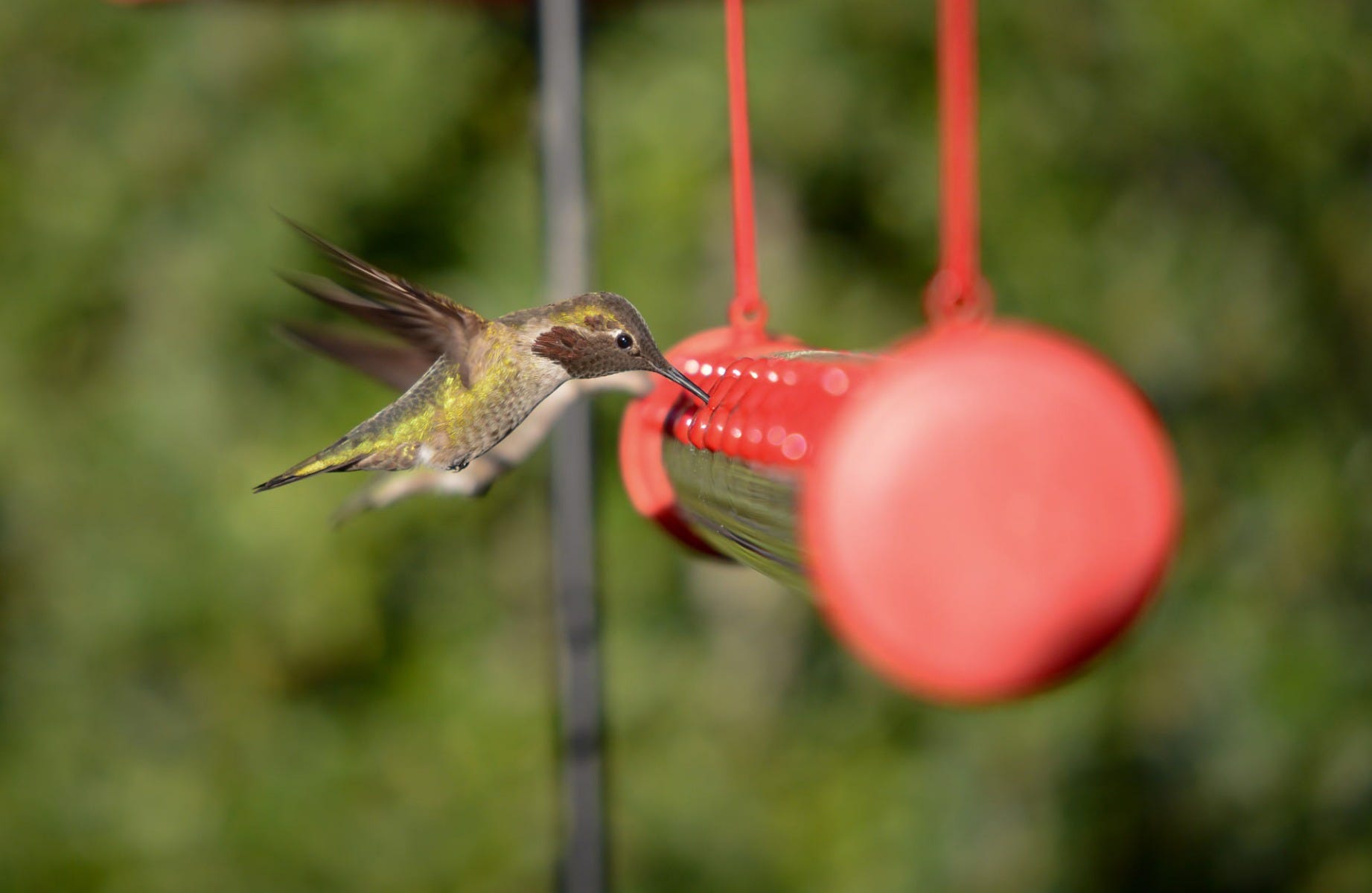 The First Hummerbar®
To build the feeder, the father-son team first had to come up with the right design. Some were discarded along the way but it really seemed to mesh when they dreamed up "a long tube with a cap on each end."
"We had some success with that design, and it was the dawn of the Hummerbar®," Greg explained.
With the basic idea in his head, Greg said he had some work to do. "I did about a year's worth of research on hummingbirds -- the length of their tongues, calculating angles, and determining positioning. I also wanted to make sure the birds could see over the tube."
He explained that in many other feeders, the hummingbird instincts kick in and they frequently check for danger because the reservoirs can block their views. With the Hummerbar®, the hummingbirds drinking from it have a clear 360-degree view of their environment. Other ideas for the multi-bird feeder didn't make it to the final version. "We made a window version," Greg said. "We tried making it into a triangle or a square."
Ultimately though, the final design was dictated by a basic rule of manufacturing, he said. "The easiest way to get it to market was to keep it simple," Greg explained.
The earliest versions also looked a bit different than what you can buy from Perky-Pet®. One of the first had a stripe of red paint along the top of the feeder. Others had their flowers painted on with puff paint to give them a three-dimensional look. Another version was painted to look like a branch with flowers.
Ultimately, the final version came together: A clear, horizontal tube with stoppers at each end and suspended by cords. The clear tube was chosen to help monitor nectar levels, but it ended up having an added benefit, Greg explained.
"The clear tube magnifies your view of the action of the hummingbird's tongue. They dart out 20 to 80 times a second. Now you can really see it," Greg said.
With the final design in place, Greg said his Hummerbar® became a neighborhood hit. "Once we created it, many of my neighbors and friends said they wanted one," Greg noted," I live at an apartment complex and have people park their stroller and sit and watch it."
With that sort of interest, he knew he had something special and took the next step. "I went through the patent process. Then I researched bird feeder companies and I knew that Perky-Pet® had the broadest penetration in the market." He also appreciated that Perky-Pet® has been a trusted brand in hummingbird feeding since 1958, he felt confident the company would be the best partner to bring his hard work to market. Not long after, Perky-Pet® and Greg reached a deal on the feeder and the Hummerbar® was put into production and debuted in Spring 2015.
Advice for Inventors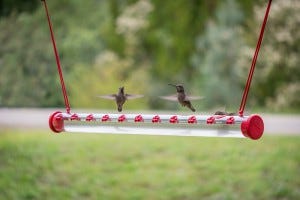 Greg, who works in sales, marketing and consulting, has some advice for other inventors.
"I'm a real big advocate for inventors to keep advancing the process," he said. "Focus on the passion of the project and for every cool idea you have, you need to make it. Go to Home Depot and assemble it from the parts from there. You can do it."
He added that planning is really important. Be prepared to make dozens of versions and do it economically. The Hummerbar® wasn't the product of a massive workshop either. "We did it in our apartment and out in the patio."
Once your final design is set and you've had your patent approved, "Come up with something close and let a manufacturer like Perky-Pet® see it. The most important part of a new product is to demonstrate the utility of it, and that's what you have to be prepared to do."
The patent is absolutely vital as a manufacturer such as Perky-Pet® won't look at designs without a patent in place. Now that Greg has his new hummingbird feeder in production, he's realized he's a victim of his own success.
"I go through a gallon of hummingbird nectar a day with my 2-foot Hummerbar®."
The Hummerbar®
Perky-Pet® introduced the Hummerbar® in Spring 2015 after working with the inventor and the company's engineers to make it manufacturable. Two versions of the unique hummingbird feeder are now available. The 2-foot Hummerbar® has 22 feeding ports and the 4-foot version has 44 ports. Once the horizontal feeder is leveled, the Hummerbar® is easy to fill, just remove its plug and add hummingbird food.
The Hummerbar® is designed to simulate the angles and depth of the nectar flowers the little birds love so much. By mimicking these features, hummingbirds can reach the bottom of the Hummerbar® tube with their long tongues.
Do you have a bustling Hummerbar® Hummingbird Feeder? Visit us on Facebook to share your pictures and stories with the Perky-Pet® Community. Also, be sure to sign up for our e-newsletter to receive the latest birding advice as well as exclusive updates on your favorite products.