Perky-Pet® Copper Finish 2-in-1 Wild Bird Feeder
Perky-Pet® Copper Finish 2-in-1 Wild Bird Feeder
36
3.8
5
1
Earn 780 rewards points on your purchase! Learn More
2-in-1 Ports adjust to serve mixed or Nyjer®
More seed options means you can attract more birds
Four feeding ports with perches to accommodate multiple birds
Seed tray for extra perch space, keeps seeds off the ground
Attractive antique copper finish stands out in any yard
Holds up to 1.8 lb of mixed seed or Nyjer® (thistle)
Best Used For





Perky-Pet® Copper Finish 2-in-1 Bird Feeder
Do you live in an area with a wide variety of colorful birds? Attract them to your yard with the Perky-Pet® Copper Finish 2-in-1 Bird Feeder, featuring a dual-port system that serves multiple birds different kinds of seed, such as either a mixed/sunflower seed blend or a thistle/finch mix. With more seed options to choose from, you'll be able to attract more species of birds to your yard. The off-set perches allow you to see many different birds at once! The lovely antique copper finish of the feeder makes it a perfect addition to any yard.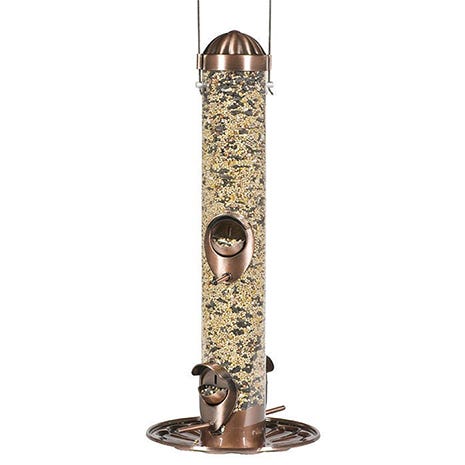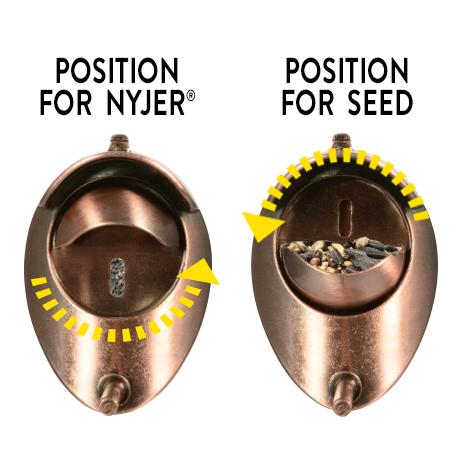 2-in-1 Ports Attract More Birds
With this unique feeder, you can easily go from serving mixed seed to Nyjer® with a minor adjustment to the ports. Simply turn the small port cover 180 degrees. For a mixed seed option, turn the port to the wider, open-mouthed position. Cardinals, chickadees, and nuthatches will happily dine. If you have finches in your area, fill the Copper Finish 2-in-1 Bird Feeder with Nyjer® and turn the port to the smaller dispensing position.
Four Feeding Stations
Birds won't be able to resist flocking to the Perky-Pet® Copper-Finish 2-in-1 Bird Feeder! It features four feeding ports in off-set spacing around the tube, ensuring there's plenty of room for many birds to gather. Plus, each seed port is paired with a comfortable perch so they can rest while they dine. With all those birds, you're in for a spectacular view!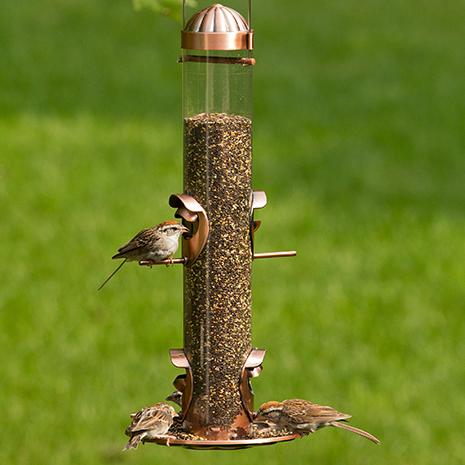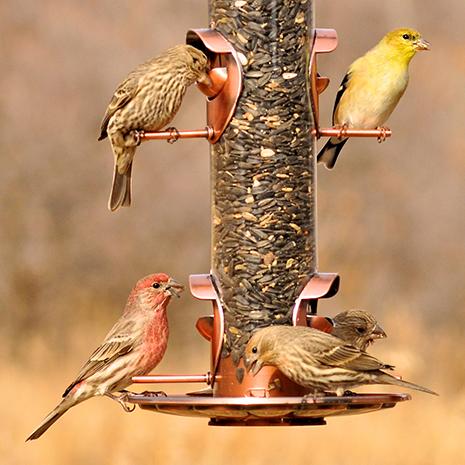 Keeps Seed Off the Ground
The Perky-Pet® Copper Finish 2-in-1 Bird Feeder boasts a seed tray at the base, which not only acts as an additional space to perch, but also helps to catch seed. By catching the seeds and shells that birds drop as they feed, you'll have fewer messes to deal with on the ground below your feeder! In addition, the seed reservoir is made of clear, shatter-resistant plastic to ensure durability while making it easy to see when seed levels are low.
Easy to Fill and Clean
For your convenience, this feeder is very easy to fill and clean. The lid and base remove for better cleaning access. Remember to clean your feeder regularly with mild soapy water and a bottle brush often to keep your visiting feathered friends healthy and happy. Check feeders at least every two weeks for mold and insects. To fill the feeder, simply slide off the lid and add your preferred seed type.
Perky-Pet® Copper Finish 2-in-1 Bird Feeder Product Details
Do you want to know more helpful details about the Copper Finish 2-in-1 Bird Feeder? Take a closer look at the in-depth specifications for this product.
Perky-Pet® Copper Finish 2-in-1 Bird Feeder
Model #
385-2
Height
16.5 inches
Diameter
6.6 inches
Ports
4
Capacity
1.8 lb
Seed Type
Mixed seed, Nyjer®/thistle
Materials
Plastic

WARNING: This product can expose you to chemicals including Bisphenol A, which is known to the State of California to cause birth defects or other reproductive harm. For more information go to www.P65Warnings.ca.govwww.P65Warnings.ca.gov.
Perky-Pet® Copper Finish 2-in-1 Bird Feeder
Model Number
385-2
Ports
2-in-1
Color
Copper finish
Capacity
1.8 lb of seed
Customer Reviews
11%
of customers
recommend this product