Perky-Pet® Closer to Nature Wood Feeder Kit
Special Price
$47.99
Regular Price
$59.45
Earn 940 rewards points on your purchase! Learn More
Charming wood kit perfectly complements any outdoor setting
Attract birds to dine and reside in your backyard oasis
Seed scoop holds up to 4 cups of seed & doubles as a funnel
The 33" hanging chains adjust to fit various tree branch diameters
Includes a Perky-Pet® Mountain Chapel Bird Feeder, a Perky-Pet® Wren Home, two 33-inch hanging chains, and a Quick-Fill Seed Scoop
Best Used For





Perky-Pet® Closer to Nature Wood Feeder Kit
The Perky-Pet® Closer to Nature Wood Feeder Kit is a great way to feel more in tune with nature and the birds you love. The wood accents in this charming collection will perfectly complement any outdoor setting. With a Perky-Pet® Mountain Chapel Bird Feeder, a Perky-Pet® Wren Home, a Perky-Pet® Quick-Fill Seed Scoop, and two Perky-Pet® 33-inch Hanging Chains included in this kit, you'll have everything you need to upgrade your bird-feeding routine. Plus, it makes a perfect gift!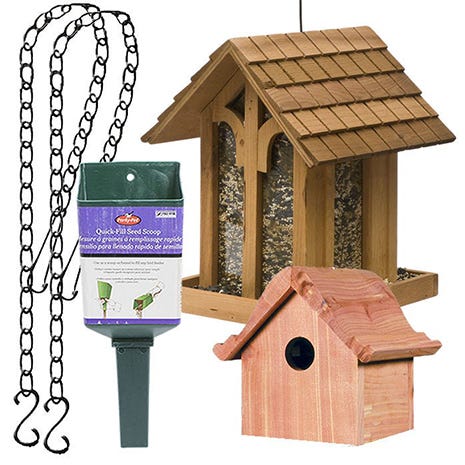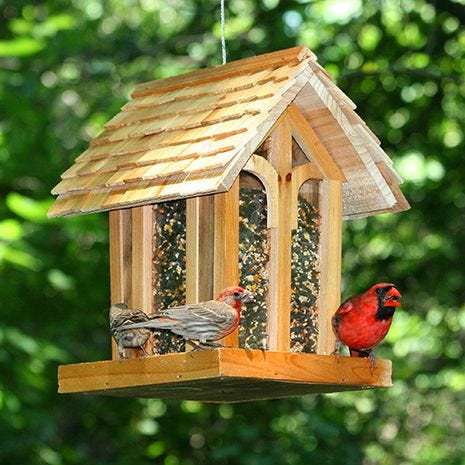 Invite Birds to Dine
Welcome a multitude of feathered seed worshippers into your yard with the Perky-Pet® Mountain Chapel Bird Feeder on display. Your avian guests will find 3.5 lb of seeds and a generously sized tray on which several can perch. The strong and sturdy fir construction ensures years of bird-feeding delight, and the thoughtful design enables quick filling and easy cleaning. A graceful leaf print on the feeder's transparent windows lends even more natural beauty to your enchanted garden and lets you keep an eye on the seed levels for your devoted flock.
Invite Birds to Stay
Want to give your favorite small backyard birds a safe place to setup a home? The Perky-Pet® Wren Home is the perfect size for your wren friends and offers a 1.5-inch hole for bird entry. This wooden bird house features a charming Dutch Style roof that will look great in amongst your outdoor décor. Made from fir, which is naturally weather resistant and insect-repelling, this bird house boasts a sturdy construction that will provide you with years of bird watching enjoyment.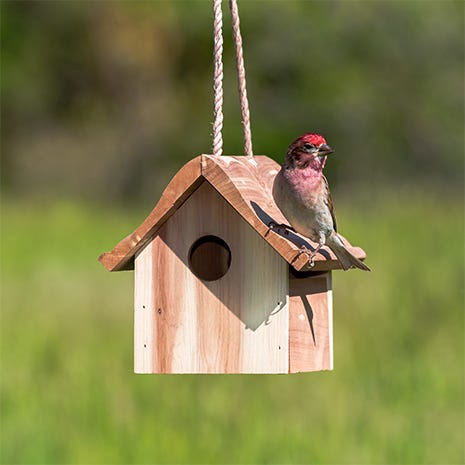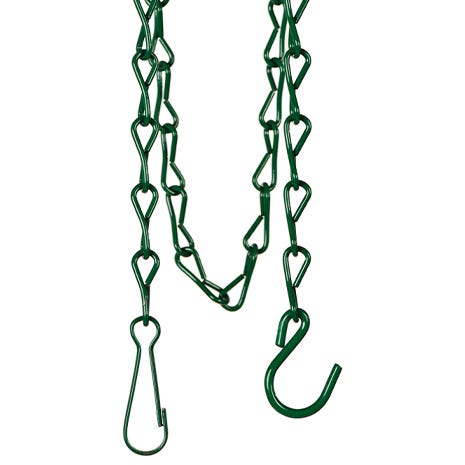 Hang Anywhere
This kit also comes with two Perky-Pet® 33" Metal Hanging Chains so you can hang your new feeder and wren home anywhere around your yard or patio. The long chain allows you to hang feeders from high branches and can adjust to fit branches of various sizes. It has a rust-resistant powder-coated finish to ensure durability even in the harshest weather. This sturdy hook can hold up to 16 lb.
Easy Filling
Filling feeders can be a messy business. The Perky-Pet® Quick-Fill Seed Scoop has features that make filling all your seed feeders a quick and easy task. It works both as a funnel and as a scoop. To use as a funnel, simply fill it with seed, position the scoop over the feeder, then use your finger to trigger the seed release. The scoop boasts a four-cup capacity so you can fill your feeders in no time.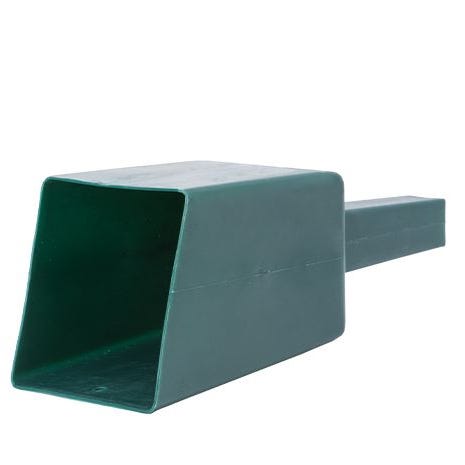 Perky-Pet® Closer to Nature Wood Feeder Kit Product Details
Do you want to know more helpful details about the Closer to Nature Wood Feeder Kit? Take a closer look at the in-depth specifications for this product.
Perky-Pet® Closer to Nature Wood Feeder Kit
Model #
BWOODKIT
Includes

Perky-Pet® Mountain Chapel Bird Feeder – 3.5 lb seed capacity
Perky-Pet® Wren Home
Perky-Pet® 33-inch Hanging Chain (2)
Perky-Pet® Quick-Fill Seed Scoop
Perky-Pet® Closer to Nature Wood Feeder Kit
Model #
BWOODKIT
Includes

Perky-Pet® Mountain Chapel Bird Feeder – 3.5 lb seed capacity
Perky-Pet® Wren Home
Perky-Pet® 33-inch Hanging Chain (2)
Perky-Pet® Quick-Fill Seed Scoop

Seed Feeder (50172) Specifications

Spacious seed tray provides plenty of room for birds to dine
Constructed of durable fir to ensure it lasts for years
Transparent, leaf print windows allow for seed level monitoring
Designed for easy filling and cleaning
Holds up to 3.5 lb of seed

Wren Home (50301) Specifications

Entice wrens to make your yard their home
Charming Dutch-style roof looks great in any setting
Made of durable fir wood
Stands 6.5" tall with 1.5" hole for bird entry

Hanging Chain (65T) Specifications

33" hanging chain holds up to 16 lb
Rust-resistant powder-coated garden-green finish
Metal chain adjusts to fit various tree branch diameters
Hang bird feeders, planters and hanging baskets

Seed Scoop (342) Specifications

Innovative design doubles as a seed scoop and funnel for easy filling
Holds up to 4 cups of seed
Finger-control seed release opens and shuts funnel
Constructed of strong plastic