Perky-Pet® Mountain Chapel Bird Feeder
Perky-Pet® Mountain Chapel Bird Feeder
20
4.4
5
1
Earn 820 rewards points on your purchase! Learn More
Made from fir
Seed tray provides plenty of room for birds to dine
Holds up to 3.5 lb of seed
Best Used For




Perky-Pet® Mountain Chapel Bird Feeder
Welcome a multitude of feathered seed worshippers into your yard when word gets out you've got a Perky-Pet® Mountain Chapel Bird Feeder on display. Your avian guests will find 3.5 lb of their favorite seeds and a generously-sized tray on which several can perch while dining. The strong and sturdy fir construction ensures years of durable bird-feeding delight, and the thoughtful design enables quick filling and easy cleaning. A graceful leaf print on the feeder's transparent windows lends even more natural beauty to your enchanted garden and lets you keep an eye on the seed levels for your devoted flock.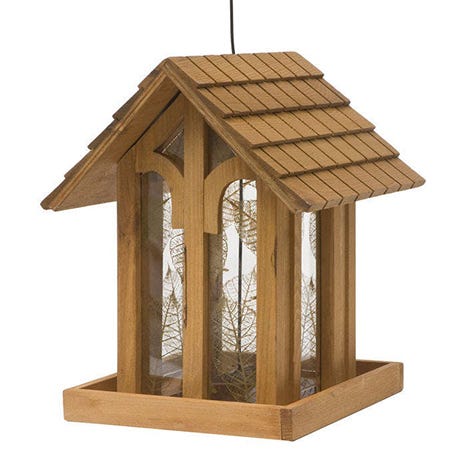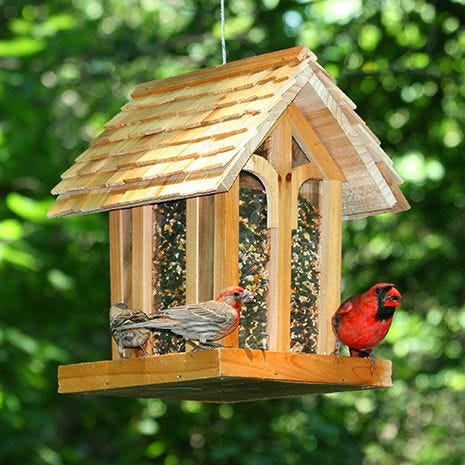 Plenty of Seating for Birds
There's no waiting in line for your turn at the seed tray with the Perky-Pet® Mountain Chapel Bird Feeder. The seed tray allows for feeding from every side of the feeder, making it possible for multiple birds to feast at once and gives you an excellent view from all angles. Plus, the 3.5 lb seed capacity ensures there's plenty of food to go around.
Eye-Catching Design
The Perky-Pet® Mountain Chapel features a charming shingled roof and a natural wood finish to lend rustic flair to your flower garden, balcony or backyard. The lovely leaf print on the clear windows adds an elegant accent while allowing you to visually monitor the seed levels so your visitors never go hungry. It's a bird feeder and piece of stunning décor all in one!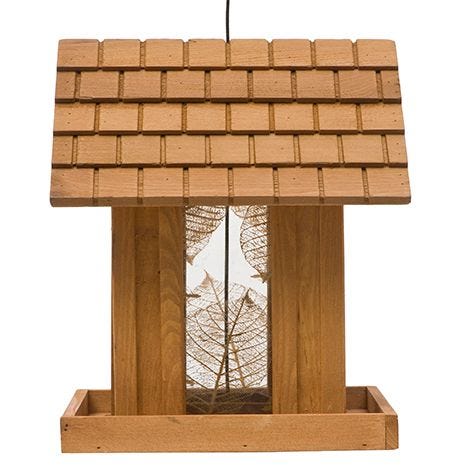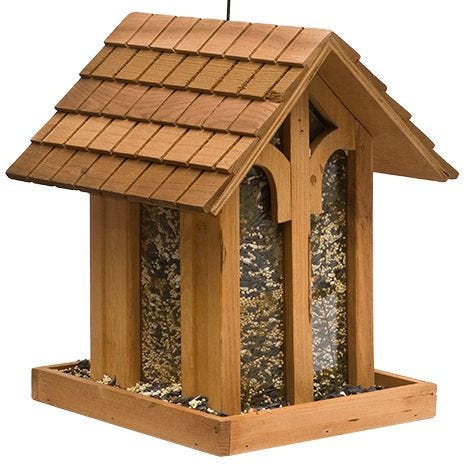 Durable, Low-Maintenance Construction
Crafted from high-quality fir with a reddish tint that brings warmth to your landscape, this sturdy and durable bird feeder is designed to last. Just lift the roof off for quick refilling and cleaning. Clean and change seed at least every two weeks to prevent mold and insects.
Perky-Pet® Mountain Chapel Product Details
Do you want to know more helpful details about the Mountain Chapel Bird Feeder? Take a closer look at the in-depth specifications for this product.
Perky-Pet® Mountain Chapel Bird Feeder
Model #
50172
Height
11.2 inches
Length
9.5 inches
Width
9.4 inches
Capacity
3.5 lb
Seed Type
Black-oil sunflower seed, mixed seed, and more
Materials
Fir, plastic

WARNING: This product can expose you to chemicals including Bisphenol A, which is known to the State of California to cause birth defects or other reproductive harm. For more information go to www.P65Warnings.ca.govwww.P65Warnings.ca.gov.
Perky-Pet® Mountain Chapel Bird Feeder
Model Number
50172
Weight
2.6 lb
Dimensions
22.25 in H × 9.1 in W × 9.3 in D
Filling
Designed for easy filling and cleaning
Capacity
3.5 lb of seed
Customer Reviews
5%
of customers
recommend this product