Perky-Pet® Squirrel Slammer Wild Bird Feeder
Perky-Pet® Squirrel Slammer Wild Bird Feeder
39
3.6
5
1
Earn 820 rewards points on your purchase! Learn More
3.5 lb seed capacity
Weight activated ports slam shut under squirrel's weight
Metal base & ports prevent squirrel damage
Clear cover protects birds as they feed
3 feeding stations
Best Used For





Perky-Pet® Squirrel Slammer Bird Feeder
Keep your feathered friends happy with this Perky-Pet® Squirrel Slammer Bird Feeder. The second those pesky squirrels try to rob the feeder, the weight-activated shield slams down, closing the three feeding ports to prevent squirrels from snatching the goods. Adjust the weight setting as needed to keep off larger birds as well to ensure your favorite birds get plenty of seed, so they stick around for your bird-watching pleasure.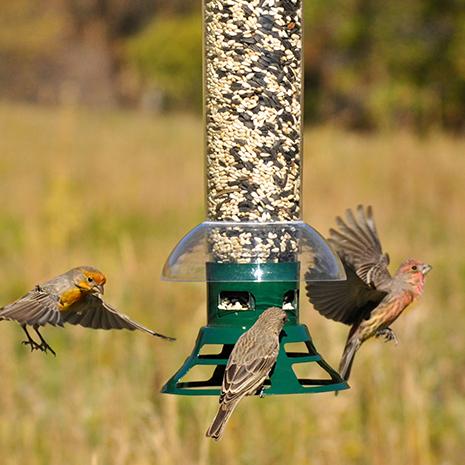 Squirrel-Proof Design
To offer defense against squirrels, this feeder boasts multiple great features. First, is the feeder's weight-activated perch, which is calibrated to support the weight of birds but not squirrels. When squirrels try to gain access to the seed, the ports close off under their weight. Birds can sit on the perch without activating it. The sensitivity can also be adjusted to keep out larger nuisance birds. In addition, the miniature baffle provides an extra guard, while the metal frame discourages chewing.
To ensure a 100% squirrel proof feeder, placement is key! Hang the feeder with at least 18 inches of clearance on all sides so squirrels can't easily reach the ports without activating the perch.
Enjoyable for Birds and You
Three feeding stations let multiple birds enjoy dining at this Perky Pet® Squirrel Slammer Bird Feeder. The tube keeps the bird seed inside dry, while the clear cover provides shelter for your favorite backyard birds as they dine on the seed you provide. The roomy perches at the base let them relax and enjoy a meal from all angles while you enjoy their presence in your yard.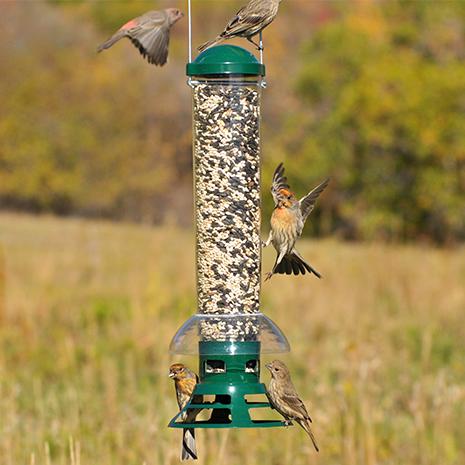 Simple and Durable
Rely on the strong, durable design of the Perky Pet® Squirrel Slammer Bird Feeder. Its simple design features a metal base and ports that are well constructed to prevent damage from squirrels, while the clear plastic seed tube holds up great to time and inclement weather. The sturdy metal handle allows fuss-free hanging from a variety of locations around your property.
Easy to Fill and Clean
When you need to add more seed to this Perky Pet® Squirrel Slammer Wild Bird Feeder, simply lift the top off and add bird seed. Its clear design ensures you know when it needs refilling, and it holds up to 3.5 lb of seed for a ready supply. When it's time to clean this bird feeder, just take it apart, soak it in warm, soapy water, and scrub it with a bottle brush. Rinse it well and let it air dry before adding fresh seed to the feeding tube.
Perky-Pet® Squirrel Slammer Bird Feeder Product Details
Do you want to know more helpful details about the Squirrel Slammer Bird Feeder? Take a closer look at the in-depth specifications for this product.
Perky-Pet® Squirrel Slammer Bird Feeder
Model #
5141-2
Height
18.1 inches
Diameter
6.2 inches
Ports
3
Capacity
3.5 lb
Seed Type
Black-oil sunflower seed and mixed seed
Materials
Metal, plastic

WARNING: This product can expose you to chemicals including Bisphenol A, which is known to the State of California to cause birth defects or other reproductive harm. For more information go to www.P65Warnings.ca.govwww.P65Warnings.ca.gov.
Perky-Pet® Squirrel Slammer Bird Feeder - 3.5 lb Capacity
Model Number
5141-2
Ports
3
Includes
Mini baffle above ports to shield birds and seed
Capacity
3.5 lb seed
How do you keep all the seeds from falling out through the four port holes when filling. The port holes are huge and all the birdseed spills out. What am I doing wrong? Help.
Question by: Cathy favero on Nov 12, 2021, 2:32 PM
Some seed spillage is normal; a larger seed type, such as sunflower, will help reduce this.
Answer by: Kathryn Tator on Nov 12, 2021, 2:34 PM
MODEL 5141-2. I took my perky pet squirrel slammer completely apart to try to reattach the tension control screw/nut. And I mean every screw & bolt! No surprise, I'm having trouble reassembling, I can't figure out the order for the 4 different metal pieces -could you please send me a detailed diagram or how to video please? ASAP my birds are hungry! Thanks! NB - rotting seeds get caught between the metal parts and between the clear plastic & the green port plastic insert... bird disease medium?
Question by: AG on Jan 30, 2022, 6:55 PM
This feeder is not designed to be taken apart. We apologize for the inconvenience, however, we do not have a diagram or video of how to reassemble the feeder.
Answer by: Brandon Deleon on Jan 31, 2022, 8:09 AM