Perky-Pet® Upside Down® Thistle Feeder
Perky-Pet® Upside Down® Thistle Feeder
10
3.6
5
1
Earn 340 rewards points on your purchase! Learn More
Attracts finches and other wild birds
Made of durable plastic with clear reservoir
6 feeding ports
Holds up to 2 lb of seed
Best Used For

Perky-Pet® Upside Down® Thistle Feeder
With its unique upside down perch system, the Perky-Pet® Upside Down Thistle Feeder is designed specifically to cater to the goldfinches in your yard. The 2 lb seed capacity ensures your goldfinch visitors will have plenty to eat. In addition, the feeder is made of durable plastic so it will stand up to the outdoor elements. Easily hang it anywhere around your yard using the convenient built-in hanging hook. You'll soon be able to see why these beautiful little birds are so beloved.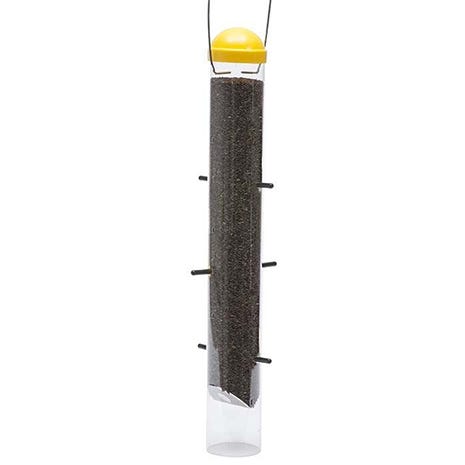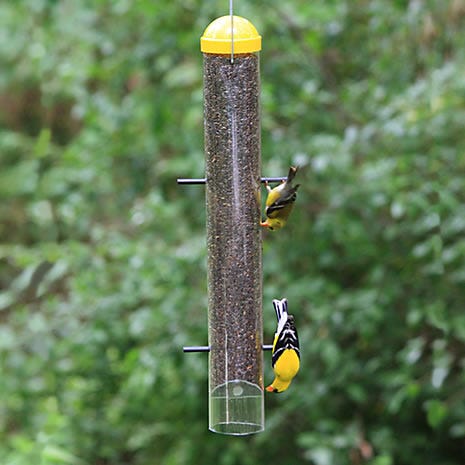 VIP Dining For Goldfinches
Darling and acrobatic, goldfinches have no problem feeding while perched upside down. This long, tube-shaped feeder caters to that unique ability, by providing upside down feeding stations with the perches positioned above, rather than below, each feeding port. With a feeding station all their own, goldfinches can leisurely dine without being bothered by other birds.
Six Upside-Down Feeding Stations
Birds won't be able to resist flocking to the Perky-Pet® Upside Down® Thistle Feeder! It features six feeding ports evenly spaced around the tube so multiple birds can dine at the same time and you can enjoy a better view. Plus, each seed port is paired with a comfortable perch.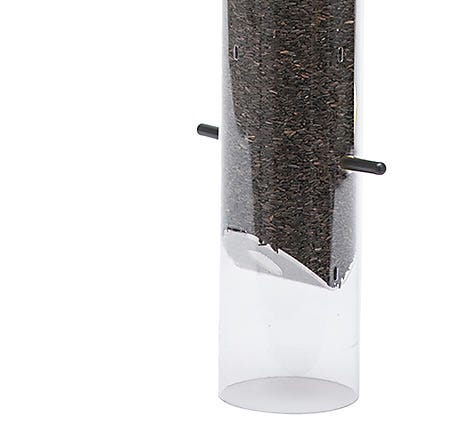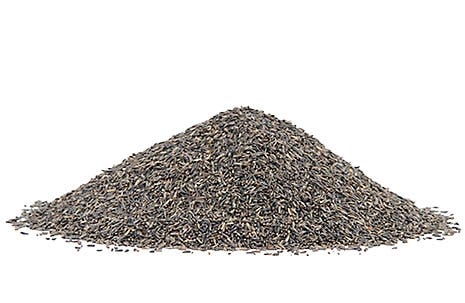 Never Run Out of Seed
The Perky-Pet® Upside Down® Feeder is able to hold up to 2 pounds of thistle seed or finch mix so there's plenty for your hungry backyard goldfinches. The clear plastic reservoir allows you to easily monitor seed levels at a glance. When it's time to refill, simply slide the cap up along the hanging bail to access the feeder tube.
Perky-Pet® Upside Down® Thistle Feeder Product Details
Do you want to know more helpful details about the Upside Down Thistle Feeder? Take a closer look at the in-depth specifications for this product.
Perky-Pet® Upside Down Thistle Feeder
Model #
399-6
Height
19.25 inches
Length
3 inches
Width
3.5 inches (including perches)
Ports
6
Capacity
2 lb
Seed Type
Thistle / Nyjer®
Materials
Plastic

WARNING: This product can expose you to chemicals including Bisphenol A, which is known to the State of California to cause birth defects or other reproductive harm. For more information go to www.P65Warnings.ca.govwww.P65Warnings.ca.gov.
Perky-Pet® Upside Down® Thistle Feeder - 2 lb Capacity
Model Number
399-6
Weight
.254 lb
Dimensions
22.25 in H × 5.2 in W × 5.2 in D
Capacity
2 lb
Customer Reviews
20%
of customers
recommend this product