News Release
Note: High resolution images available upon request

Perky-Pet® Releases Guide on How to Attract Backyard Songbirds
New e-Book Provides Tips for Tuning into Nature's Soundtrack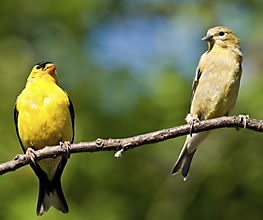 LITITZ, PA— June 29. 2016—A new resource is now available to bird lovers looking for simple ways to attract more songbirds to their backyards. Perky-Pet®, trusted experts in backyard bird feeding since 1958, has released a new, free e-Book featuring a step-by-step guide for attracting melodious feathered friends to backyards everywhere.
Songbirds: A Beginner's Guide to Attracting Songbirds to Your Backyard instructs bird enthusiasts of all abilities how to prepare their yard to feed, shelter, house and reduce risks to songbirds. The new Attracting Songbirds e-book is available on perkypet.com.
"We compiled the Perky-Pet Songbirds guide to help people easily attract their favorite backyard songbirds," says Judy Hoysak, Director of Marketing at Perky-Pet. "If you want to kick back and enjoy the unique experience of a bustling backyard filled with lovely sights, colors and sounds, our guide will help you get there."
Inside A Beginner's Guide to Attracting Songbirds to Your Backyard, readers will learn how to: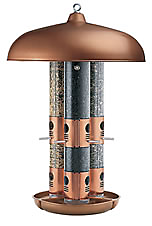 Prepare a safe, clean and inviting environment that will entice backyard songbirds to pay a visit
Identify popular songbirds by referring to photos, audio clips of bird songs, food preferences and habitats
Choose bird food, bird feeders and bird bathsdesigned to attract songbirds and keep them coming back for more
Provide shelter intended to keep birds safe from predators and inclement weather
Accommodate backyard guests with hospitable bird houses and bird nesting boxes
Birdscape a backyard into a sought-after haven for favorite songbirds
"Once local songbirds realize that your backyard offers a welcoming habitat with a reliable food and water source, there's a high likelihood they will take up permanent residence," says Hoysak. "When that happens, sit back and enjoy the show – it's a genuine crowd-pleaser."
Visit www.perkypet.com to view the all–inclusive guide to creating the perfect backyard space to please your favorite birds.
About Perky-Pet®
Perky-Pet® brand is a trusted name to bird lovers, with high quality, functional feeders that address the demands of both bird hobbyists and enthusiasts alike. A good resource for just about every wild bird need is right at your fingertips. Visit the Perky-Pet® website to learn more about bird watching, bird feeding tips and tools, and ways to attract birds. Perky-Pet® is a registered trademark of Woodstream Corporation, a long-standing, privately-held company and leading manufacturer of quality-branded caring control products for pets and wildlife, natural solutions for lawns and gardens and wild bird feeding products. For more information visit www.perkypet.com/
Media Contact:
Ryan Public Relations
Carolyn Schinsky
314-822-9784
carolyn@ryan-pr.com