Clear Liquid Hummingbird Nectar Concentrate 64 oz Bottle
Clear Liquid Hummingbird Nectar Concentrate 64 oz Bottle
4
4.3
5
1
Earn 400 rewards points on your purchase! Learn More
Bird preferred - 100% sucrose
No artificial colors
64 ounce bottle of nectar concentrate
Makes 256 ounces of clear nectar
Easy to use - just mix with water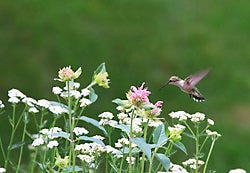 Perky-Pet® Clear Hummingbird Nectar Concentrate 64 oz Bottle
Our clear nectar keeps your backyard hummingbirds fueled and happy. Each 64 oz bottle of concentrate makes up to 256 oz of hummingbird food. This 100% sucrose concentrate mimics natural flower nectar and is the perfect energy source for every type of hummingbird.
The chart below is a guide on the more common hummingbird feeder capacities and how much concentrate and water to use to get to your desired fluid ounces of nectar.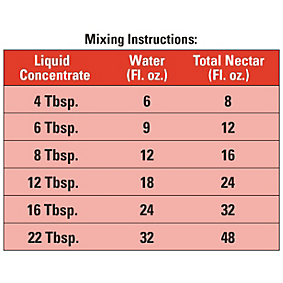 Perkypet.com is the top destination to find quality Wild Bird Feeders and Accessories. Perky-Pet® and K-Feeders wild bird products are trusted brands to bird lovers everywhere. Interact with nature, relax and build memories that last a lifetime by conveniently ordering from perkypet.com. Happy Bird Feeding!
Perky-Pet® Clear Hummingbird Nectar Concentrate 64 oz Bottle - Specifications
A 64 oz bottle of concentrate
Customer Reviews
0%
of customers
recommend this product
Does the Hummingbird Nectar Concentrate have an expiration date?
Question by: William Morris on May 9, 2023, 9:22 PM
Unopened, this product does not have an expiration date. Once opened, it can be stored covered in the refrigerator for up to 30 days.
Answer by: Susan (Admin) on May 10, 2023, 9:34 AM