Perky-Pet® Ruby Starburst Vintage Glass Hummingbird Feeder
Perky-Pet® Ruby Starburst Vintage Glass Hummingbird Feeder
4
3.8
5
1
Earn 540 rewards points on your purchase! Learn More
Red glass vintage bottle with embossed starburst accents
Wide mouth for easy filling and cleaning
4 flower feeding ports
16 oz nectar capacity
Perky-Pet® Ruby Starburst Vintage Hummingbird Feeder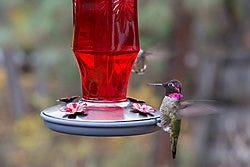 The Perky-Pet® Ruby Starburst Vintage Hummingbird Feeder will add style and sophistication to your backyard hummingbird feeder collection. The bright red bottle embossed with unique starburst accents will attract the attention of hummingbirds from all over. Use the attached metal hanger to hang your antique hummingbird feeder in a location that's easy for the hummers to spot and that's easy for you to view all the wondrous hummingbird action.
16 oz Capacity & 4 Feeding Ports – The 4 red flower feeding ports on the brushed nickel base ensure that hummingbirds will know exactly where to go for a tasty meal. With a 16 oz nectar capacity, you'll have more time to relax and enjoy all the hummingbirds that will soon be buzzing to your feeder.
Convenient Wide Mouth Opening – Having a hummingbird feeder with a wide mouth opening makes filling and cleaning so much easier. Never again will you struggle to fill your hummingbird feeder with fresh nectar, as the wide mouth opening lets you pour nectar into the reservoir with ease. Cleaning is simple too! There's plenty of room to scrub every nook and cranny with a hummingbird feeder cleaning mop, so you can give your hummingbirds the freshest nectar possible. We recommend you clean your feeders a few times a week, and more often in extremely hot and humid climates.

Hummingbirds love:
4 bright red flower feeding port options 16 oz nectar capacity
16 oz nectar capacity
Consistently full and clean feeder
You'll love:
Ease of filling
Ease of cleaning
Stunning vintage look of this feeder
Perky-Pet® Ruby Red Starburst Vintage Hummingbird Feeder 16 oz
Model Number
8139-2
Color
Red
Weight
1.7 lb
Dimensions
8.5" height x 5.5" depth x 5.5" length
Capacity
16 oz of nectar
Ports
4 flower feeding ports
Style
Vintage glass bottle with starburst accents
Customer Reviews
0%
of customers
recommend this product