Perky-Pet® Squirrel-Be-Gone® Wild Bird Feeder
Perky-Pet® Squirrel-Be-Gone® Wild Bird Feeder
184
2.6
5
1
Earn 940 rewards points on your purchase! Learn More
All-metal, weight-activated cage closes ports to squirrels
6 feeding ports with U-shaped perches for multiple birds
Powder-coated finish offers rust resistance for durability
Rustic leaf design is both attractive and functional
Clean feeder at least every 2 weeks with a mild soap and water solution
Holds up to 2 lb of seed
Best Used For




Perky-Pet® Squirrel-Be-Gone® Bird Feeder
The Perky-Pet® Squirrel-Be-Gone® Bird Feeder combines innovative squirrel-resistant features with attractive design to create a feeding station that is truly unparalleled. The weight-activated cage keeps squirrels from accessing ports, while the metal helps to resist damage from chewing. With its rustic powder coating and decorative leaf-themed design, this feeder will make a charming addition in any backyard setting. Simply hang using the convenient built-in hanging cord!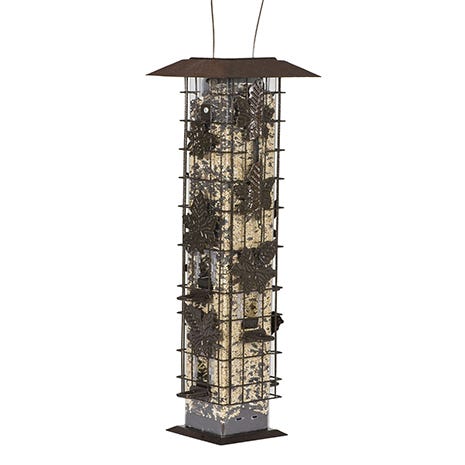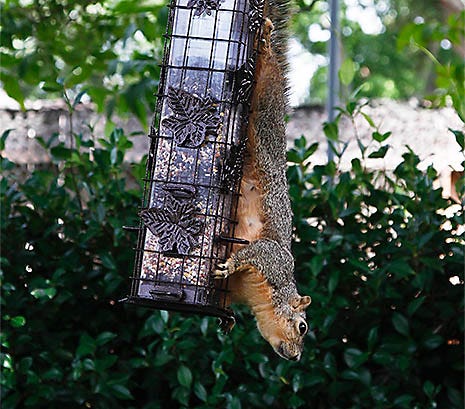 Resists Squirrels
To offer defense against squirrels, this feeder boasts multiple great features. First, this feeder's weight-activated system is calibrated to support the weight of birds but not squirrels. When squirrels try to gain access to the perches, the cage is pulled down, causing the decorative leaves to cover the ports. In addition, the metal cage prevents squirrel chewing and damage.
Accommodates Multiple Birds
With less competition from squirrels, birds won't be able to resist the Perky-Pet® Squirrel-Be-Gone® Feeder! It features six feeding ports evenly spaced around the reservoir so multiple birds can dine at the same time and you can enjoy a better view. Plus, birds will enjoy taking a break on its comfortable U-shaped perches.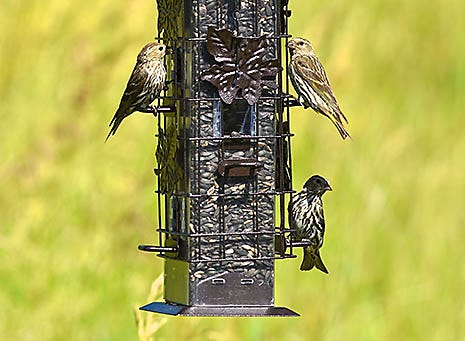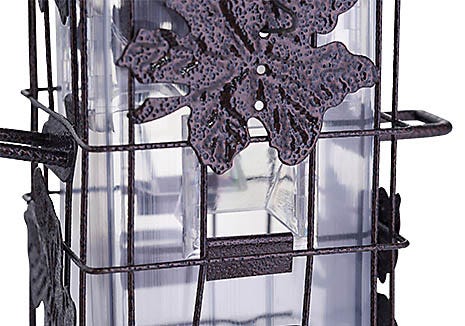 Attractive Rustic Design
Birds and bird lovers alike can't deny the charm of this delightful feeder. The metal cage is adorned with a leafy design that will look at home in any yard. In addition, the metal is finished with a powder coating to enhance the rustic look, while also ensuring rust resistance.
Never Run Out of Seed
When you have hungry visitors in your backyard, you can't risk running out of seed! For your convenience, the Perky-Pet® Squirrel-Be-Gone® Feeder features a clear plastic seed reservoir capable of holding up to 2 lb of seed. The clear design makes it easy to monitor seed levels at a glance so you never run out during peak feeding times.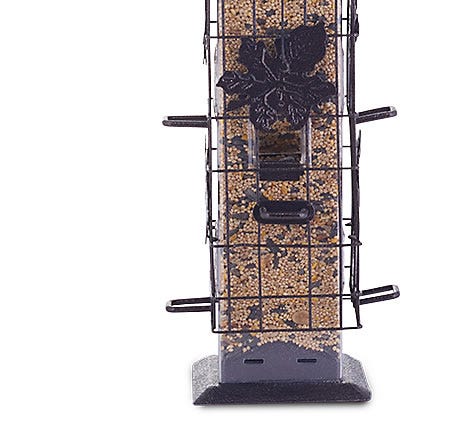 Perky-Pet® Squirrel-Be-Gone® Feeder Product Details
Do you want to know more helpful details about the Perky-Pet® Squirrel-Be-Gone® Feeder? Take a closer look at the in-depth specifications for this product.
Perky-Pet® Squirrel-Be-Gone® Feeder
Model #
336
Height
19.08 inches
Length
7.10 inches
Width
6.97 inches
Ports
6
Squirrel Resistant
Yes
Capacity
2 lb
Materials
Metal, plastic

WARNING: This product can expose you to chemicals including Bisphenol A, which is known to the State of California to cause birth defects or other reproductive harm. For more information go to www.P65Warnings.ca.govwww.P65Warnings.ca.gov.
Perky-Pet® Squirrel-Be-Gone® Wild Bird Feeder
Model Number
336
Weight
1.81 lb
Dimensions
19.08 in H x 7.9 in L x 6.97 in W
Ports
6 with u-shaped perches
Capacity
2 lb of seed
Customer Reviews
9%
of customers
recommend this product
I think the cardinals are having trouble with this feeder. It looks like when a cardinal is on the perch the bird's body blocks the port. Can you confirm that the feeder is not designed for birds larger than sparrows and finches?
Question by: Bill Akerley on Jan 29, 2022, 10:01 AM
This feeder is best used for chickadees, finches, nuthatches, titmice, and other similarly sized birds.
Answer by: Lauren Potter on Jan 31, 2022, 10:15 AM
How do you clean the bird feeder?
Question by: Donna on May 8, 2023, 2:44 PM
This feeder can be cleaned with mild soap and water, then allowed to air dry completely.
Answer by: Susan (Admin) on May 9, 2023, 11:39 AM
How to open this tall bird feeder
Question by: C.Ripley on Jan 3, 2022, 1:53 PM
Press down on the cage and then lift the lid off and to the side. It is connected by a spring on the underside of the lid.
Answer by: Lauren Potter on Jan 3, 2022, 2:01 PM