Perky-Pet® The Preserve Wild Bird Feeder
Perky-Pet® The Preserve Wild Bird Feeder
45
3.6
5
1
Earn 800 rewards points on your purchase! Learn More
Features a decorative metal top, feeding ports, and perches
Holds up to 3 lb of seed
Diamond-shaped barrier allows birds in and keeps squirrels out
Clear, shatter-resistant plastic reservoir for easier seed level monitoring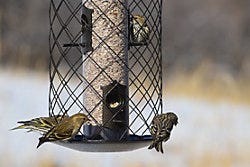 Perky-Pet® The Preserve™ Feeder
Although squirrels can be smart little animals, they can't outwit this special squirrel resistant bird feeder with its patented barrier!
The Perky-Pet® The Preserve™ Feeder features a decorative metal top, feeding ports, perches and holds up to 3 lb of seed. The patented, diamond-shaped barrier allows birds in and keeps squirrels out. The clear, plastic reservoir makes it easy to monitor seed levels.

Remember to clean your feeder once every two weeks with a mild soap and water solution.

WARNING: This product can expose you to chemicals including Bisphenol A, which is known to the State of California to cause birth defects or other reproductive harm. For more information go to www.P65Warnings.ca.govwww.P65Warnings.ca.gov.
Perky-Pet® The Preserve Wild Bird Feeder
Model Number
735
Weight
2.25 lb
Dimensions
16.4 in H × 8.75 in W × 8.75 in D
Capacity
3 lb seed capacity
Ports
4
What size birds can fit through the holes? (With examples) Can large birds get their heads/ beaks in to reach the food?
Question by: Kim Estevez on Nov 21, 2021, 4:38 PM
It is best for birds with smaller bills, such as the sparrow, junco and goldfinch.
Answer by: Brandon Deleon on Nov 22, 2021, 8:37 AM
Do you sell a replacement tube
Question by: Steve Ard on Mar 21, 2022, 1:03 PM
Replacement tubes are not available separately for our feeders. The feeder is covered under a 1-year replacement policy. Please contact us at 855-737-5973 for assistance.
Answer by: Rachel Faust on Mar 21, 2022, 2:17 PM