Perky-Pet® Grand Master Plastic Hummingbird Feeder
Perky-Pet® Grand Master Plastic Hummingbird Feeder
38
3.9
5
1
Earn 580 rewards points on your purchase! Learn More
Six flower-shaped feeding ports with perches to accommodate multiple hummingbirds
Wide-mouth bottle ensures easy filling and cleaning
Entire feeder comes apart for easy cleaning
Easily monitor nectar levels with the clear plastic bottle
Large-capacity feeder holds up to 48 oz of nectar
Includes 1 Feeder
Best Used For





Perky-Pet® Grand Master Plastic Hummingbird Feeder
If you have a busy backyard full of hungry hummers, the Perky-Pet® Grand Master Plastic Hummingbird Feeder is the perfect solution. This large-capacity feeder is truly the granddaddy of all hummingbird feeders. It holds an astounding 48 oz of nectar to prevent frequent refills when you have lots of hummingbird visitors. Plus, the base features six flower-shaped ports with comfortable perches so hummers can rest while they dine. Find the best seat in your house now, because hummingbirds are sure to be on their way!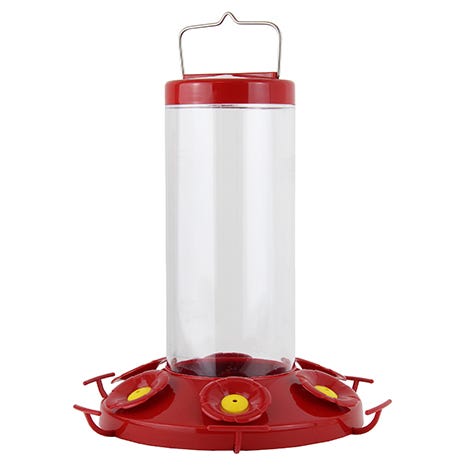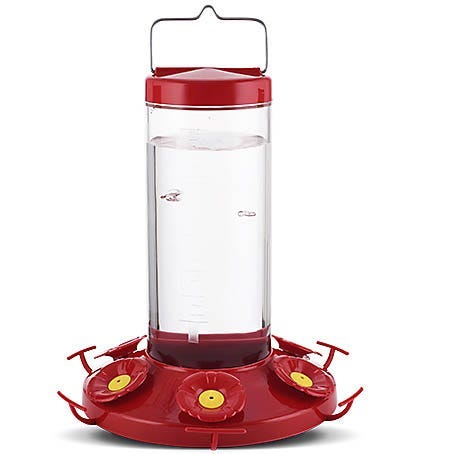 Extra-Large Nectar Capacity
The most notable feature of the Perky-Pet® Grand 48 Plastic Hummingbird Feeder is its exceptional size. The large reservoir boasts a whopping 48 oz nectar capacity – it's perfect if your yard is constantly full of hungry hummers. If one thing is for sure, this feeder truly lives up to its name.
Accommodates Multiple Birds
The Perky-Pet® Grand Master Plastic Hummingbird Feeder features six feeding ports with comfortable perches. The vibrant red color and flower-shaped ports are perfect for attracting hummers. With its multi-port design and large nectar capacity, this feeder will easily accommodate tons of hummingbird guests.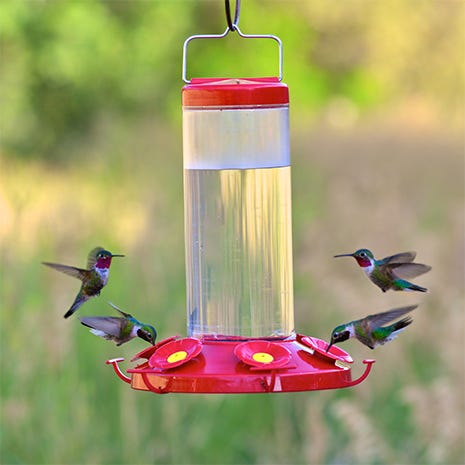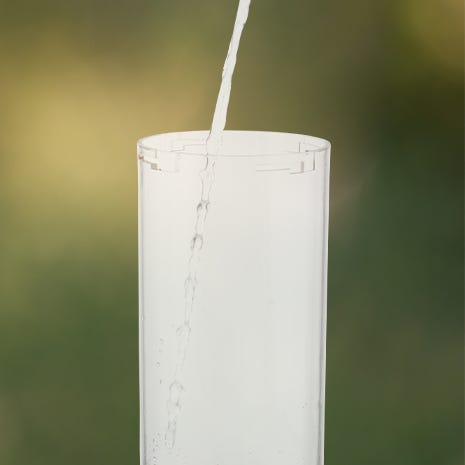 Wide-Mouth Bottle for Easy Filling
Filling your feeder doesn't have to be messy and frustrating. That's why we've designed the Perky-Pet® Grand Master Plastic Hummingbird Feeder with a convenient wide-mouth bottle. It makes filling easier, resulting in fewer spills as you pour nectar. Plus, it's made of clear, shatter resistant plastic so you can effortlessly monitor nectar levels at a glance.
Comes Apart for Cleaning
Hummingbirds prefer to visit fresh, clean feeding stations. To make that easier, this feeder disassembles completely for effortless cleaning. Remove the base and bottle with ease – even the perches and flower-shaped feeding ports come apart! In addition, the large bottle means you can reach every nook and cranny. Remember to clean your feeder at least once per week with a mild soap and water solution to prevent mildew buildup.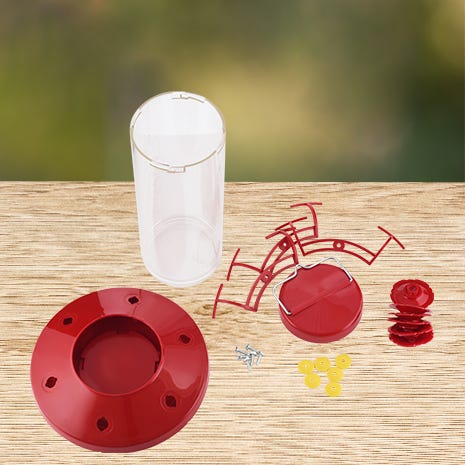 "The best hummingbird feeder EVER (and I have had many). I bought four 48 oz feeders because I was changing the nectar several times a day in my 32 oz feeder. These are SO easy to keep clean. Grand 48 indeed!"
Perky-Pet® Grand Master Plastic Hummingbird Feeder Product Details
Do you want to know more helpful details about the Grand Master Plastic Hummingbird Feeder? Take a closer look at the in-depth specifications for this product.
Perky-Pet® Grand Master Plastic Hummingbird Feeder
Kit Model #
220-6
Height
11.5 inches
Diameter
8.34 inches
Capacity
30 oz
Ports
6
Materials
Plastic
Perky-Pet® Grand Master Hummingbird Feeder
Model #
220-6
Height
11.5 inches
Diameter
8.34 inches
Capacity
30 oz
Ports
6
Materials
Plastic
Customer Reviews
39%
of customers
recommend this product