Perky-Pet® Red Hummingbird Nectar Concentrate - 16 fl oz - 1-Pack
Perky-Pet® Red Hummingbird Nectar Concentrate - 16 fl oz - 1-Pack
2
5
5
1
Earn 140 rewards points on your purchase! Learn More
Bird preferred - 100% sucrose
16 fl oz bottle makes 64 fl oz of hummingbird food
Formula mimics flower nectar
Brings hummingbirds to your yard
Easy to use - just mix with water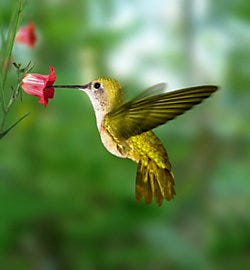 Perky-Pet® Hummingbird Nectar Concentrate
Our 16 oz bottle of hummingbird nectar concentrate makes extra sweet nectar that the tiny flying dynamos love. Formulated with 100% sucrose, this nectar is the perfect energy source for hummingbirds visiting your feeders. This bottle can make up to 64 oz of nectar.
The chart below features some of the more common hummingbird feeder capacities and how much concentrate and water to use to get to your desired fluid ounces of nectar.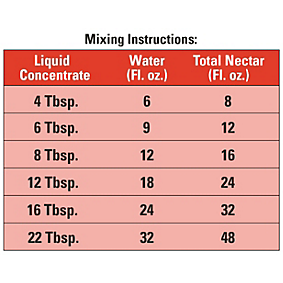 Perkypet.com is the top destination to find quality Wild Bird Feeders and Accessories. Perky-Pet® and K-Feeders wild bird products are trusted brands to bird lovers everywhere. Interact with nature, relax and build memories that last a lifetime by conveniently ordering from perkypet.com. Happy Bird Feeding!
Perky-Pet® Red Hummingbird Nectar Concentrate - 16 fl oz
Model Number
247
Weight
1.3 lb
Dimensions
6.2 in H x 2.4 in W x 2.3 in D
Nectar Total
64 oz
Customer Reviews
50%
of customers
recommend this product