In the Spring
In the springtime, feeding provides the supplemental nourishment that birds need to recover from migration.
Spring cleaning is not just for the inside of your house, don't forget to spring clean your bird feeders. Soak tube feeders in water,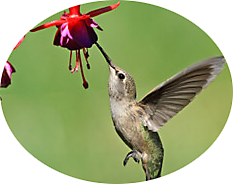 and use a long-handled brush to scrub hard-to-reach areas. Be sure to rinse thoroughly.
A handful of uncooked rice is a good cleansing agent for hard-to-reach places in hummingbird feeders. Fill the feeder with a solution of one-part vinegar to four-parts water, add the rice and shake vigorously. Don't forget the feeding ports, and always rinse thoroughly.
If you find what appears to be an abandoned young bird, stop and look, but do not interfere. The parents probably are close by, watching as the youngster gains independence.
Beyond Spring
After the birds have regained their strength from spring migrations, and summer approaches, you might be tempted to take your seed feeders down. Keep in mind, however, that summertime feeding helps reduce the stress of nesting at a time when natural seed supplies are at their lowest.
In the late fall and winter, heavy snowfalls bury natural sources of wild bird food. In addition, most of the lush berry and seed laden vegetation of spring and summer has withered and blown away, and most insect species are either dead or dormant. As you can see from our bird feeding tips, bird feeders are important in all the seasons.
Perkypet.com is the top destination to find quality Wild Bird Feeders and Accessories. Perky-Pet® and K-Feeders wild bird products are trusted brands to bird lovers everywhere. Interact with nature, relax and build memories that last a lifetime by conveniently ordering from perkypet.com. Happy Bird Feeding!