Facts
Appearance of the Purple Finch
The Purple Finch is a medium-sized finch, having a length of 5-6 inches and weighing a little over half an ounce to an ounce.
The male Purple Finch has more of a raspberry coloring than purple on its upper body while its underbelly is white.
The female Purple Finch, far less colorful than the male, has brown and white stripes throughout its body. The female's appearance is very suited for the camouflaging needed in sitting on a nest of eggs.
Geography of the Purple Finch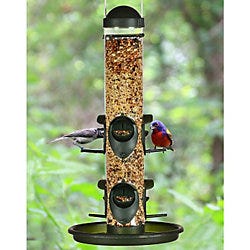 The Purple Finch can be found throughout Canada and the eastern half and Pacific coastal areas of the United States.
The Purple Finch, however, does spend its winters close to the Mexican border.
Local Environments of the Purple Finch
The Purple Finch prefers open woodlands, although it will also live in the suburbs where bird feeders are present.
During the winter, a Purple Finch can often be spotted at bird feeders among the throngs attempting to get nourishment when blossoms, fruits and insects are not available.
Perkypet.com is the top destination to find quality Wild Bird Feeders and Accessories. Perky-Pet® and K-Feeders wild bird products are trusted brands to bird lovers everywhere. Interact with nature, relax and build memories that last a lifetime by conveniently ordering from perkypet.com. Happy Bird Feeding!