6: Birdscaping
CHAPTER 6: Birdscaping Your Backyard
Whether you've got a balcony in an urban area or sprawling acres in the countryside, the elements to attracting songbirds are essentially the same. No matter where you live, birds require food, water and shelter. Learn how you can use "birdscaping" to make your yard a desirable haven for your favorite songbirds.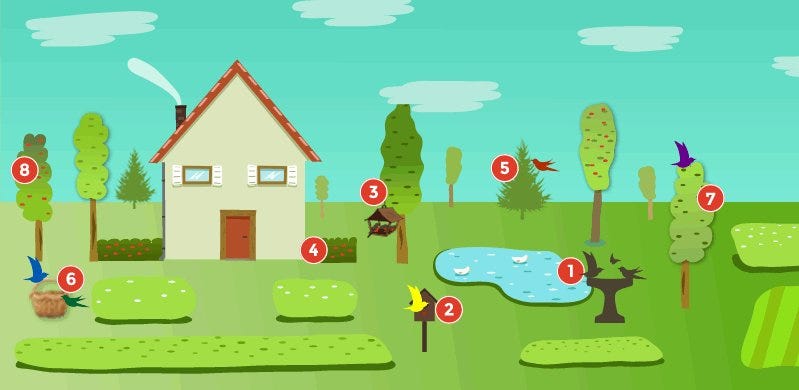 1. Water:
This is one of the most important features your yard should have if you want to attract birds. Waterers, ponds and birdbaths are great ways to supply water to your visitors. When cold temperatures hit, add heaters to your ponds and baths to prevent freezing.
2. Bird Houses:
Bird houses come in many shapes and styles. They all offer essentially the same thing: shelter. Place these around your yard to invite birds to nest.
All creatures need to eat. Bird feeders are the best way to supply offerings to the feathered masses. Scatter different styles of feeders containing different types of foods to attract the widest variety of songbirds.
4. Berry Bushes:
Berry bushes satisfy two of the essential categories of bird necessities: shelter and food. Many berry bushes provide a natural cover for your backyard songbirds as well as a supply of tasty food. Not only will many of your feeder birds enjoy sampling the berries, but songbirds that don't visit feeders may seek food at the bushes as well.
5. Evergreens:
These are very important to backyard birds. Evergreens are great for offering shelter during the sparse winter season and providing nesting sites during the summer. For some birds, evergreens can also provide food such as sap.
6. Nesting Materials:
Birds need resources when it's time to build a nest. While they often can forage these from the plants around your home, you could also provide them with useful materials. Put out a basket containing yarn, cloth strips, wool and grass to encourage nesting in your yard.
7. Deciduous Trees:
While they will become bare in late fall and winter, deciduous trees offer great cover and plentiful nesting sites during the spring and summer seasons. Songbirds will also enjoy the variety of food they can retrieve from these trees such as a variety of nuts and insects.
8. Fruit Trees:
Similar to berry bushes, fruit trees serve the purpose of providing food and shelter. Birds love to nest in these trees, and enjoy the convenience of having sweet fruits abounding nearby.
Perkypet.com is the top destination to find quality Wild Bird Feeders and Accessories. Perky-Pet® and K-Feeders wild bird products are trusted brands to bird lovers everywhere. Interact with nature, relax and build memories that last a lifetime by conveniently ordering from perkypet.com. Happy Bird Feeding!