Hummingbird Migration Facts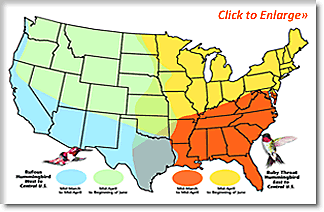 Each year, hummingbirds embark on two migrations – one north and one south. These migratory journeys, which can span hundreds or thousands of miles, require immense preparation and a shocking amount of energy from these small birds - the smallest in the world. Their spring migration north, from South America and Mexico up to Canada, is a solitary journey with the goal of getting to their breeding grounds early enough to claim the best feeding territories. With that sort of pressure, this hummingbird migration can begin as early as February in Mexico and finish in mid-May in Canada and Alaska.
The fall southern hummingbird migration follows a similar timeframe. Hummingbirds can set out as early as late July and the last stragglers will cross the southern U.S. border by late October. It's this amazing cycle of hummingbird migration that can also bring a sudden swarm of activity to your hummingbird feeders. If you have a well-maintained hummingbird feeder, expect plenty of new visitors as they try to boost their energy before the next stage of their journey.