Perky-Pet® Carnival Vintage Glass Oriole Feeder
Perky-Pet® Carnival Vintage Glass Oriole Feeder
51
1.8
5
1
Earn 540 rewards points on your purchase! Learn More
Vintage carnival glass bottle with orange luster finish
Wide mouth for easy filling and cleaning
Unique circular perch
4 flower feeding ports
16 oz nectar capacity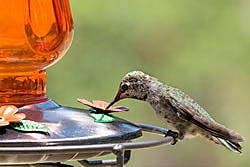 Perky-Pet® Carnival Glass Vintage Oriole Feeder
Offer your backyard orioles a sweet nectar treat with the stylish Perky-Pet ® Carnival Glass Vintage Oriole Feeder. Featuring a shimmery orange luster finish, this antique-style feeder will be a charming addition to your backyard.
Wrap-around Perch—Orioles are often seen hanging out on tiny hummingbird feeders to get a taste of the nectar inside. However, hummingbirds are much smaller than orioles, and therefore, their feeders are smaller as well. It can be rather awkward and uncomfortable for orioles to drink from hummingbird feeders, so why not provide them with a feeder that's made to accommodate them! The Carnival Glass Vintage Oriole Feeder features a unique circular wrap-around perch that offers plenty of room for orioles to comfortably sit and dine.
16 oz Capacity & 4 Feeding Ports—The 4 feeding ports on the brushed nickel base feature vibrant orange flowers with green leaves, resembling of the flowers orioles drink from in nature. The port openings are slightly larger than those of a hummingbird feeder to make room for an oriole's larger beak and tongue. Holding up to 16 oz of nectar will come in handy when the orioles start flocking to this feeder! Use the attached metal hanger to place your oriole feeder in a location that's easy for orioles flying by to see.
Convenient Wide Mouth Opening—The wide mouth nectar reservoir and base easily detach when it's time for cleaning. Be sure to clean oriole nectar feeders at least twice a week to prevent mold from accumulating. You may need to clean more often in extremely hot conditions. When it's time to refill, the wide mouth opening offers enough room, so filling is quick and mess-free.

Orioles love:
4 feeding port with colorful accents
16 oz nectar capacity
Comfortable wrap-around perch
Consistently full and clean feeder
You'll love:
Wide Mouth Bottle
Easy to Fill and Easy to Clean
Unique and vintage appearance
Fun of watching vibrant orioles right in your backyard
Carnival Glass Vintage Oriole Feeder
Model Number
8135-2
Weight
2.15 lb
Dimensions
7.6" D x 7.6" W x 11.75" H
Capacity
16 oz of nectar
Ports
4 feeding ports
Features
Unique circular perch
I bought the vintage oriole feeder and I can't get the bottom off to fill. How do I do this?
Question by: Cindy Bradish on Apr 28, 2022, 7:50 AM
The base should twist off for easy filling.
Answer by: Rachel Faust on Apr 28, 2022, 8:20 AM