Perky-Pet® Deluxe Copper Feeder Kit
Special Price
$61.99
Regular Price
$77.94
Earn 1220 rewards points on your purchase! Learn More
Beautiful brushed copper-finish set will stand out in any setting
Hummingbird feeder holds up to 12 oz of nectar
12" hanging hook holds up to 25 lb and won't damage branches
Use the hanging hook to hang the hummingbird feeder or swing
Hummingbirds can use the swing to wait for a spot at the feeder
Includes a Perky-Pet® Elegant Copper Hummingbird Feeder, a Beaded Copper-Finish Hanging Hook, and a Beaded Copper-Finish Hummingbird Swing
Best Used For





Perky-Pet® Deluxe Copper Feeder Kit
With the Perky-Pet® Deluxe Copper Feeder Kit, it's all about the details! Each item has a beautiful, eye-catching design that is as stylish as it is functional. The attractive, brushed copper-finish and striking rose-tinted bead accents are sure to captivate you, as well as your bird visitors as they dart through your yard. This all-inclusive kit features everything you need to attract hummingbirds and seed-eating birds – a Perky-Pet® Elegant Copper Glass Hummingbird Feeder, a Perky-Pet® Copper Panorama Bird Feeder, a Beaded Copper-Finish Hanging Hook, and a Beaded Copper-Finish Hummingbird Swing! Whether you're an experienced bird enthusiast or a beginner bird feeder, this kit is just what you need to enhance your feeding experience. Plus, it makes the perfect gift!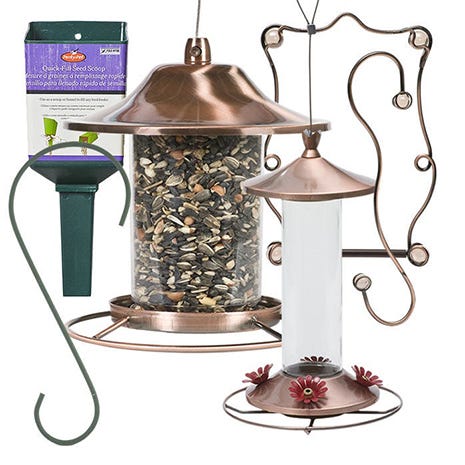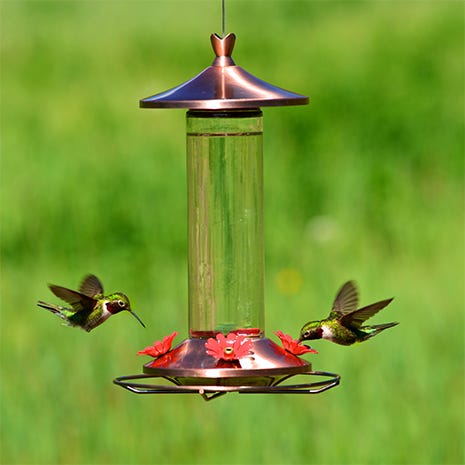 Elegant Copper Hummingbird Feeder
The Perky-Pet® Elegant Copper Glass Hummingbird Feeder combines eye-catching brushed copper and sturdy hardened glass to add a dose of artistic charm while also enticing hummingbirds to drop in for a visit. However, the benefits of this feeder don't end at its aesthetic appeal. Able to hold up to 12 oz of nectar, this feeder has a wide-mouth bottle to allow for easy filling and cleaning. The red flower-shaped feeding ports are sure to catch the eye of visiting hummingbirds, while the wraparound perch allows multiple birds to rest and feast in style. Best of all, this feeder includes built-in bee guards to defend against unwanted insects.
Copper Panorama Bird Feeder
There's no waiting in line for your turn at the seed tray with the Perky-Pet® Copper Finish Panorama Bird Feeder. A sturdy circular perch allows for 360-degree feeding, making it possible for multiple birds to feast at once and gives you an excellent view from all angles. Plus, the 2 lb seed capacity ensures there's plenty of food to go around. The handsome copper finish enhances the natural beauty of your home's exterior while extending a warm welcome to resident birds.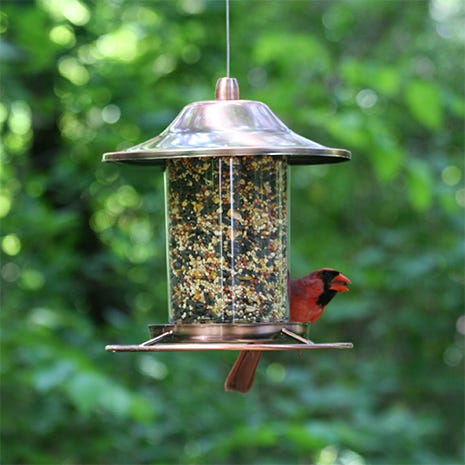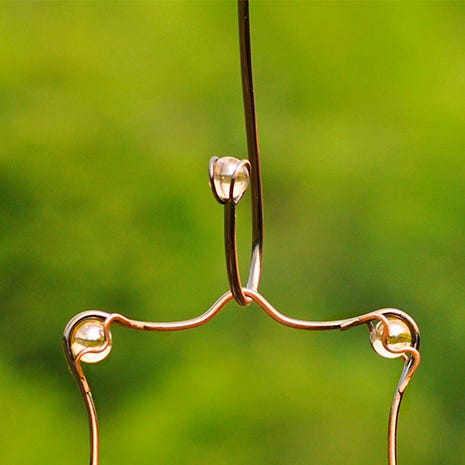 Hummingbird Swing
The Perky-Pet® Beaded Copper Finish Hummingbird Swing is an elegant addition to your array of hummingbird accessories. Simply hang near your feeders or close to nectar-producing flowers. Hummingbirds will use the swing to wait for an opening at your feeder and flowers or to take a break after they've had their fill of nectar. Since hummers are likely to rest for a bit, the perch also provides an opportunity for picture-taking! It isn't just for hummingbirds either - any bird will be happy to use it for a resting spot since it provides an unobstructed view in all directions. For your convenience, the perch is plastic coated, making it easy to clean.
Hang it Anywhere
To make placement easy, this kit includes two 12" hanging hooks. Use them to hang your feeders or hummingbird swing at just the right height for your needs. In addition, you can use them without worry because they won't damage tree branches. Each able to hold up to 25 lb, the hooks will also safely hold hanging planters and other backyard decorations.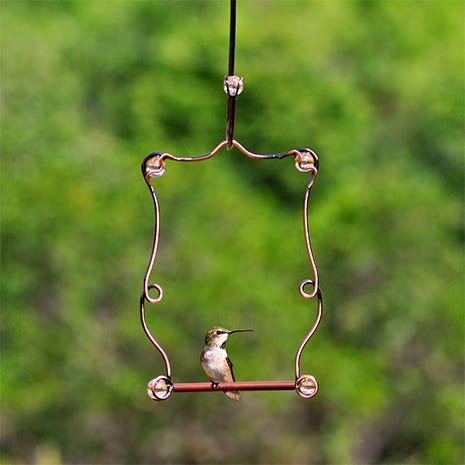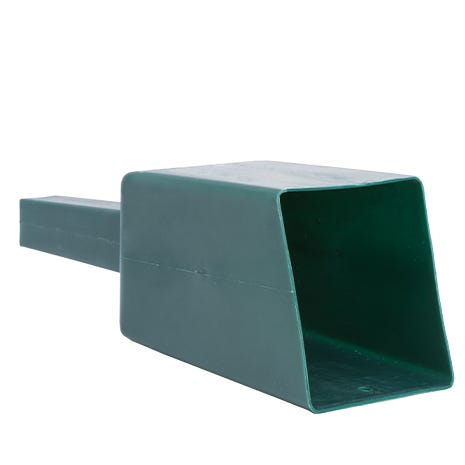 Easy Filling
Filling feeders can be a messy business. The Perky-Pet® Quick-Fill Seed Scoop has features that make filling your Copper Panorama Bird Feeder a quick and easy task. It works both as a funnel and as a scoop. To use as a funnel, simply fill it with seed, position the scoop over the feeder, then use your finger to trigger the seed release. The scoop boasts a four-cup capacity so you can fill your feeders in no time.
Perky-Pet® Deluxe Copper Feeder Kit Product Details
Do you want to know more helpful details about the Deluxe Copper Feeder Kit? Take a closer look at the in-depth specifications for this product.
Perky-Pet® Deluxe Copper Feeder Kit
Model #
BDCOPPER
Includes

Perky-Pet® Elegant Copper Hummingbird Feeder
Perky-Pet® Copper Panorama Bird Feeder
Perky-Pet® Beaded Copper-Finish Hanging Hook
Perky-Pet® 12" Metal Hanging Hook
Perky-Pet® Beaded Copper-Finish Hummingbird Swing
Perky-Pet® Quick-Fill Seed Scoop
Perky-Pet® Copper Hummingbird Kit
Model #
BDCOPPER
Includes

Perky-Pet® Elegant Copper Hummingbird Feeder
Perky-Pet® Copper Panorama Bird Feeder
Perky-Pet® Beaded Copper-Finish Hanging Hook
Perky-Pet® 12" Metal Hanging Hook
Perky-Pet® Beaded Copper-Finish Hummingbird Swing
Perky-Pet® Quick-Fill Seed Scoop

Hummingbird Feeder (710B) Specifications

Wide-mouth bottle reduces messes and spills while filling
Four flower ports with circular perch for 360-degree feeding
Base comes apart to make cleaning easy
Built-in bee guards protect against insects
Beautiful brushed copper finish will stand out in any setting
Holds up to 12 oz of nectar

Seed Feeder (312C) Specifications

Seed tray and circular perch allows for 360-degree feeding
Antique copper, powder-coated finish offers rust resistance
Sure-Lock™ cap locks lid in place to keep squirrels out
Wide-mouth opening allows for easy filling and cleaning
Clear, shatter-resistant plastic reservoir to monitor seed level
Holds up to 2 lb of seed

Hanging Hook (85) Specifications

Brushed copper finish with rose-tint bead accents
Holds up to 35 pounds
Powder-coated to add rust resistance
Heavy-duty steel hook won't damage tree branches
Hang bird feeders, perches, wind chimes, and more

Metal Hanging Hook (67) Specifications

Rust-resistant powder-coated garden green finish
Extra-wide top hook won't harm tree branches
Sturdy hook holds up to 25 lb
Great for hanging bird feeders, planters, and hanging baskets

Hummingbird Swing (90) Specifications

Gives hummingbirds a place to rest while they wait for a spot at the feeder
Copper finish frame with rose-tinted beads
Easy to clean plastic-coated perch
Perfectly frames birds for photography
Holds up to 18 oz of water

Seed Scoop (342) Specifications

Innovative design doubles as a seed scoop and funnel for easy filling
Holds up to 4 cups of seed
Finger-control seed release opens and shuts funnel
Constructed of strong plastic