Perky-Pet® Elegant Copper Glass Hummingbird Feeder
Perky-Pet® Elegant Copper Glass Hummingbird Feeder
108
2.6
5
1
Earn 560 rewards points on your purchase! Learn More
Wide-mouth bottle reduces spills while filling
Four flower feeding ports with circular perch for 360-degree feeding
Base comes apart to make cleaning easy
Built-in bee guards protect against insects
Brushed copper finish will stand out in any setting
Holds up to 12 oz of nectar
Best Used For





Perky-Pet® Elegant Copper Glass Hummingbird Feeder
The Perky-Pet® Elegant Copper Glass Hummingbird Feeder combines eye-catching brushed copper and sturdy hardened glass to add a dose of artistic charm while also enticing hummingbirds to drop in for a visit. However, the benefits of this feeder don't end at its aesthetic appeal. Able to hold up to 12 oz of nectar, this feeder has a wide-mouth bottle to allow for easy filling and cleaning. The red flower-shaped feeding ports are sure to catch the eye of visiting hummingbirds, while the wraparound perch allows multiple birds to rest and feast in style. Best of all, this feeder includes built-in bee guards to defend against unwanted insects.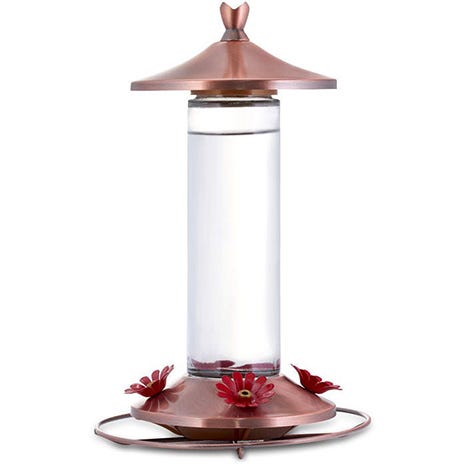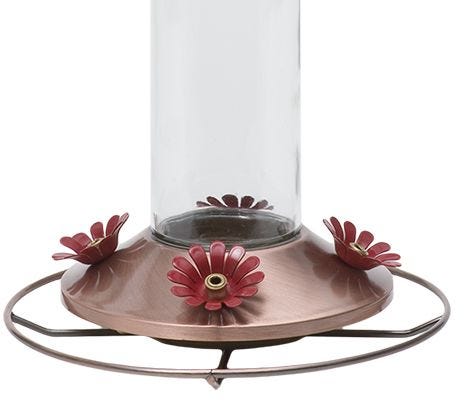 Elegant Details Add Visual Appeal
With the Elegant Copper Hummingbird Feeder, it's all about the details! It has a beautiful, eye-catching design that is as stylish as it is functional. The attractive, brushed copper-finish and striking crystal clear glass are sure to captivate you, as well as your hummingbird visitors as they dart through your yard. In addition, the flowers around the base of the feeder add a charming touch and double as feeding ports.
Accomodates Multiple Birds
With four feeding ports and a 360° perch, the Perky-Pet® Elegant Copper Glass Hummingbird Feeder will easily accommodate multiple hummingbirds at the same time. Plus, the ports' flower-shaped design and bold red color is sure to catch the attention of hummers as they pass by.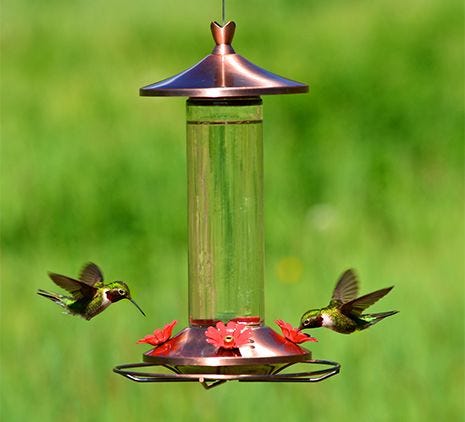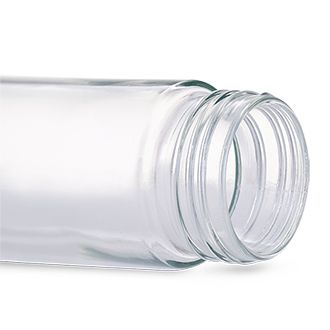 Wide-Mouth Bottle for Easy Filling
To ensure ease of filling, this attractive feeder is designed with a convenient wide-mouth bottle. The larger opening will reduce the risk of messes and spills as you pour nectar into the bottle. Plus, it's easy to keep an eye on nectar levels thanks to the clear glass construction.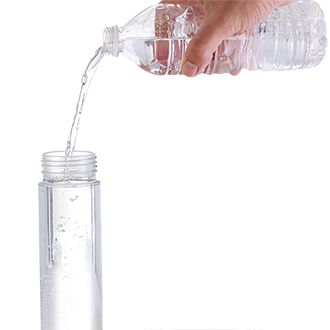 Keep Out Insects
Insects are often a source of frustration at hummingbird feeders. Fortunately, each of the four feeding ports feature a built-in bee guard to provide an effective line of defense against unwanted pests. The bee guards keep bees at bay, while hummingbirds can still easily access the nectar.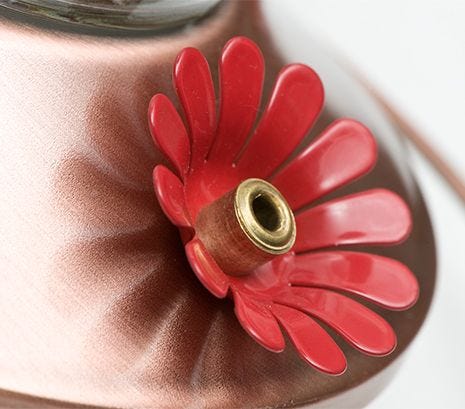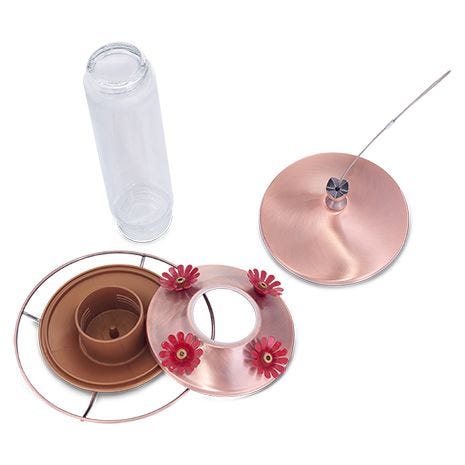 Comes Apart for Thorough Cleaning
A clean, healthy hummingbird feeder is much more likely to attract lots of visitors. To make your job easier, this feeder has been designed for efficient cleaning. The wide-mouth bottle makes it easier to reach the interior of the bottle. Additionally, the base comes apart so you can access all of the nooks and crannies. Remember to clean your feeder at least twice per week with a mild soap and water solution to prevent mildew buildup.
Perky-Pet® Elegant Copper Glass Hummingbird Feeder
Watch as hummingbirds stop for a visit at the Perky-Pet® Elegant Copper Glass Hummingbird Feeder.
"Thank you so much for this improved design – and a wide-mouth opening for easy filling and cleaning. This glass feeder design has been a hummingbird favorite in my garden. But that old tiny top opening made it impossible to clean well. With this wide-mouth opening not only is this a hummingbird favorite but mine as well."
Perky-Pet® Elegant Copper Glass Hummingbird Feeder Product Details
Do you want to know more helpful details about the Perky-Pet® Double Decker Plastic Hummingbird Feeder? Take a closer look at the in-depth specifications for this product.
Perky-Pet® Elegant Copper Glass Hummingbird Feeder
Model #
710B
Height
10.8 inches
Diameter
6.7 inches
Capacity
12 oz
Ports
4
Materials
Glass, copper
Perky-Pet® Elegant Copper Glass Hummingbird Feeder
Model Number
710B
Ports
4
Built-In
Bee guards protect against insects
Capacity
12 oz of nectar
Customer Reviews
3%
of customers
recommend this product