Perky-Pet® Fruit Trio Oriole Nectar Feeder
Perky-Pet® Fruit Trio Oriole Nectar Feeder
36
2.2
5
1
Earn 620 rewards points on your purchase! Learn More
Multiple serving options to attract more orioles
Wide-mouth opening for easy cleaning and filling
Built-in ant moat and bee guards keep out insects
Includes orange spike and jelly cup attachments
Four feeding ports with perches
Holds up to 30 oz of nectar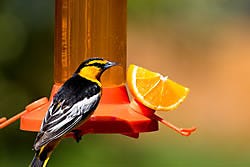 Perky-Pet® Fruit Trio Oriole Nectar Feeder
It's no secret that orioles have a sweet tooth. The Perky-Pet® Fruit Trio Oriole Nectar Feeder allows you to serve three of their favorite foods in one convenient location. The large reservoir can hold up to 30 oz of nectar, which is accessible through four feeding ports around the feeder base. This unique feeder also includes a jelly cup and orange spike, which attach to the ports so you can serve up an orange slice and a sampling of jelly – two of orioles' favorite treats! Orioles won't be able to resist visiting this enticing feeder.
The vibrant orange color makes this feeder hard to miss – orioles will easily be able to spot it as they fly nearby. When they stop to feed, the four large perches provide plenty of room for multiple orioles to rest while they dine on their sweet treats. To protect your nectar from insects, this oriole feeder comes complete with a built-in ant moat and bee guards. To use the ant moat, simply fill the top of the cap with water to prevent ants from crawling down the feeder to access the ports.
For easy filling and cleaning, the Perky-Pet® Fruit Trio Oriole Nectar Feeder features a convenient wide-mouth opening. Plus, the clear glass bottle allows you to easily monitor nectar levels at a glance so your orioles never run out! Use the built-in hanging hook to hang the feeder anywhere around your yard where you can easily view the bird-feeding action.
Why Birds Love It:
Nectar ports, an orange spike and jelly cup provide three enticing food options for orioles.
Four large perches provide plenty of room for multiple birds to perch and dine simultaneously.
The vibrant orange color is attractive and easy to spot when flying nearby.
The 30 oz nectar capacity keeps orioles in good supply.
Why You'll Love It:
The feeder's wide-mouth opening makes cleaning and filling effortless.
A clear reservoir allows for easy monitoring of nectar levels.
Insects can't gain access to nectar thanks to a built-in ant moat and bee guards.
The 3-in-1 serving option ensures plenty of exciting bird activity at the feeder.
Perkypet.com is the top destination to find quality Wild Bird Feeders and Accessories. Perky-Pet® and K-Feeders wild bird products are trusted brands to bird lovers everywhere. Interact with nature, relax and build memories that last a lifetime by conveniently ordering from perkypet.com. Happy Bird Feeding!
Perky-Pet® Fruit Trio Oriole Nectar Feeder
Model Number
209BO-4
Weight
1.35 lb
Dimensions
11.25 in H × 9.1 in W × 9.1 in D
Capacity
20 oz of nectar
Ports
4 feeding ports with perches
Includes
Includes orange spike and jelly cup attachments
Customer Reviews
3%
of customers
recommend this product
Is it possible to purchase just the very bottom piece. Birds knocked it off the tree and when it hit the ground the very bottom threaded piece broke and will no longer hold nectar.
Question by: Mark Kenneson on May 8, 2023, 10:21 AM
Replacement parts are not available for this feeder.
Answer by: Susan (Admin) on May 9, 2023, 11:31 AM