Perky-Pet® Pinch Waist Glass Hummingbird Feeder - 1 Feeder
Perky-Pet® Pinch Waist Glass Hummingbird Feeder - 1 Feeder
66
3.3
5
1
Earn 460 rewards points on your purchase! Learn More
Convenient wide mouth opening for easy filling and cleaning
4 flower feeding ports with built in bee guards & perches
Built in ant moat in lid keeps ants away
Holds 16 oz of nectar
1 Feeder
Best Used For



Add Style & Function to Your Yard with the Perky-Pet® Pinch-Waist Glass Hummingbird Feeder
The Perky-Pet® Pinch Waist Glass Hummingbird Feeder will attract hummingbirds to your yard and keep them coming back again and again. Capable of holding up to 16 oz of nectar, this hummingbird feeder features a clear glass bottle with a pinched waist. The wide mouth design allows for easy filling and cleaning. Its bright-red plastic top and base are visually appealing while catching the attention of passing hummingbirds. The feeder's design also includes four feeding stations, each with a resting perch and a built-in flower-shaped bee guard to protect the nectar supply. The feeder also comes with a built-in ant moat on the lid.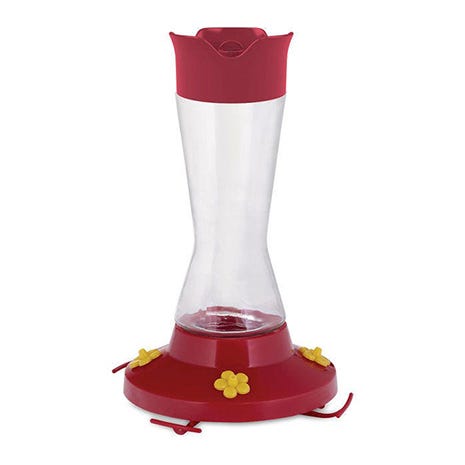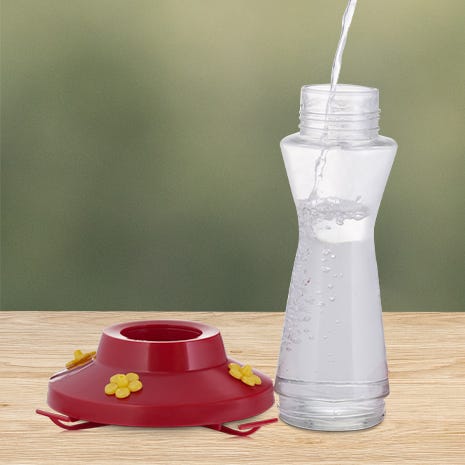 Clear, Wide-Mouth Bottle for Easy Filling
Attempting to pour nectar can often be messy and time consuming – but not with the Pinch-Waist Feeder. This feeder's bottle is designed with a wide mouth so that filling is easy and spilling is reduced. Additionally, it's made of clear, hardened glass to ensure effortless monitoring of nectar levels.
Keep Insects Out
Our built-in defense measures guard against unwanted insect invaders so that the nectar is reserved for hummingbirds only. The built-in, flower-shaped bee guards protect the feeding ports, while the built-in ant moat prevents ants from reaching the feeder ports. Simply fill the top of the lid with water to keep ants away.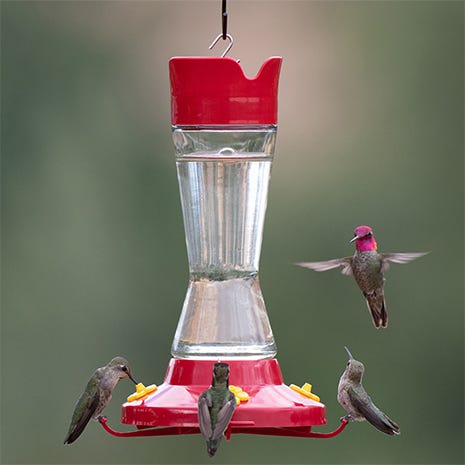 Multiple Perches & Ports
To attract more hummingbirds to your yard, this feeder features four feeding ports with perches. This will allow multiple hummingbirds to sit and imbibe nectar at the same time. Plus, each port is bright yellow and flower shaped to catch the eye of hummers passing overhead.
Comes Apart for Effortless Cleaning
Hummingbirds are more likely to visit a feeder that is fresh, clean and healthy. That's why this feeder has been designed to make cleaning easier than ever. In addition to its wide mouth opening, this hummingbird feeder's base can be unscrewed from the glass reservoir and taken apart for convenient access and thorough cleaning. Remember to clean your feeder at least twice per week with a mild soap and water solution to prevent mildew buildup.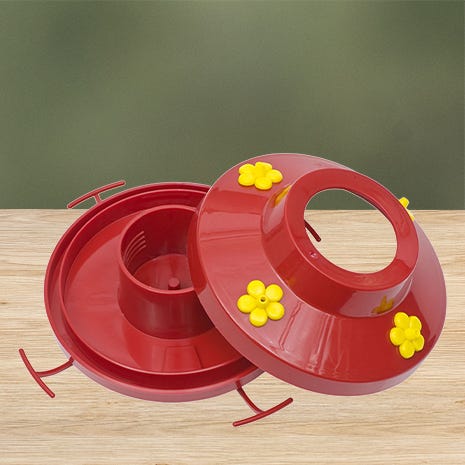 "Purchased for a Christmas gift. Received way before expected (in 3 days) right before Christmas. Ordered this style due to I already have 2 in the previous but similar style by Perky-Pet®. After receiving, love the changes/updates. Will definitely be ordering this one in the future again." (Review from Phyl)
Pinch-Waist Glass Hummingbird Feeder Product Details
Do you want to know more helpful details about the Pinch-Waist Feeder? Take a closer look at the in-depth specifications for this product.
Perky-Pet® Pinch-Waist Glass Hummingbird Feeder
Model #
210PB
Height
7.1 inches
Width
7.1 inches
Depth
10.5 inches
Capacity
16 oz
Port Number
4
Materials
Glass, plastic
Perky-Pet® Pinch-Waist Glass Hummingbird Feeder
Model Number
210PB
Ports
4
Wide Mouth
For easy filling and cleaning
Capacity
16 oz of nectar
Customer Reviews
5%
of customers
recommend this product