Perky-Pet® Window-Mount Hummingbird Feeder
Perky-Pet® Window-Mount Hummingbird Feeder
168
3.6
5
1
Earn 360 rewards points on your purchase! Learn More
Feeder attaches directly to windows for up-close bird watching
3 hollyhock-inspired ports are soft & flexible for a natural feel
Feeding ports are tapered to keeps bees out of nectar
Mount two ways – use the suction cup or hang from a nail
Comes apart completely for easy cleaning
Constructed of shatter-resistant plastic for durability
Holds up to 8 oz of nectar
Includes 1 Feeder
Best Used For





Perky-Pet® Perky-Pet® Window Mount Plastic Hummingbird Feeder
Enjoy having hummingbirds right outside your window with the Perky-Pet® Window Mount Plastic Hummingbird Feeder. Holding up to 8 ounces of nectar, this hummingbird feeder features a transparent plastic reservoir and a bright red base that will capture the attention of hummingbirds. The inviting design includes three lifelike hollyhock-inspired feeding ports. They are bright, soft and flexible just like the flowers they flock to in nature! Each port is accompanied by a perch for comfortable dining.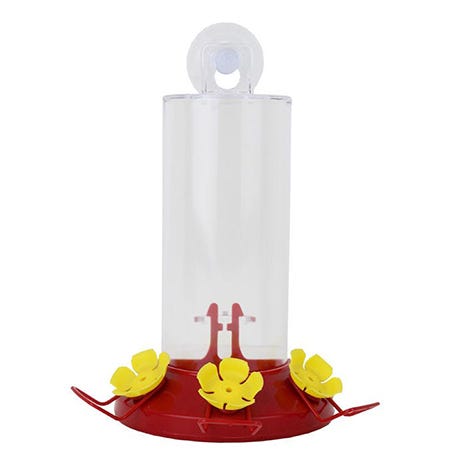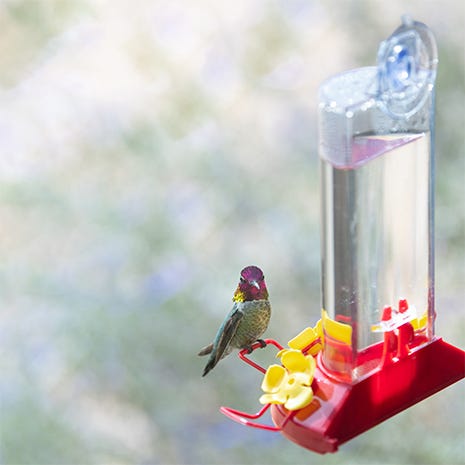 Up-Close Birdwatching
By attaching this feeder to the outside of any window with the included suction cups, you can enjoy closer and more frequent hummer sightings – all from the comfort of your home! With food for them and fun for you, this feeder promises hours of enjoyment as you watch hummingbirds sipping nectar and buzzing about. Alternatively, this hummingbird feeder can also be hung by a screw or nail on the side of a tree or attached to a post.
To securely hang a window feeder, it is important to thoroughly clean your window first. Once clean, moisten the feeder's suction cups with a bit of water or vegetable oil then apply the feeder to the glass. The moisture will create better suction, so the feeder stays in place
Feeding Ports Inspired By Nature
Hummingbirds are accustomed to imbibing nectar from flowers. That's why we've developed this feeder with soft, flexible hollyhock-inspired feeding ports to offer a more natural look and feel. The bright color and realistic flower shape are perfect for attracting hummers, while the three ports ensure there's enough room for multiple birds to dine simultaneously.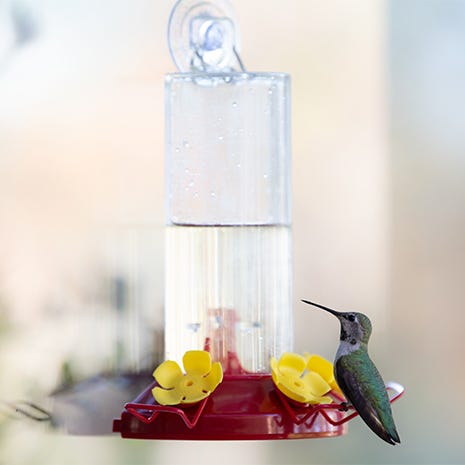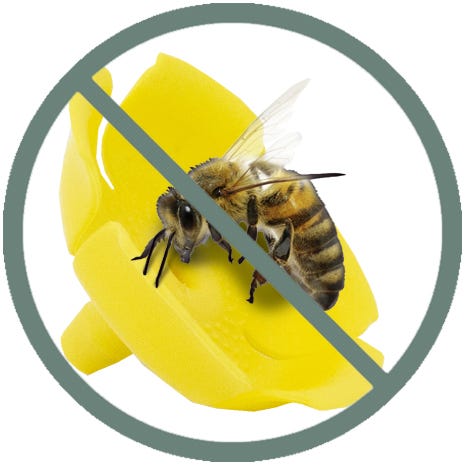 Naturally Keeps Bees Out
With this feeder, there's no need for an added bee guard. The specially designed feeding ports feature a long tapered "stem" that prevents bees from gaining access to the nectar, while hummingbirds will have no trouble at all! It's a natural way of keeping out pesky bees without adding extra parts for you to clean.
Removable Perches
Each of the three feeding stations features a removable perch, so you can mount your feeder with or without them. By using the feeder with the perches on, you can give your hummingbird friends a place to rest while they dine. Or, if your hummingbird feeders are frequently plagued by woodpeckers or other unwanted birds, you can use the feeder without perches. Hummingbirds can hover while they feed, but other birds can't.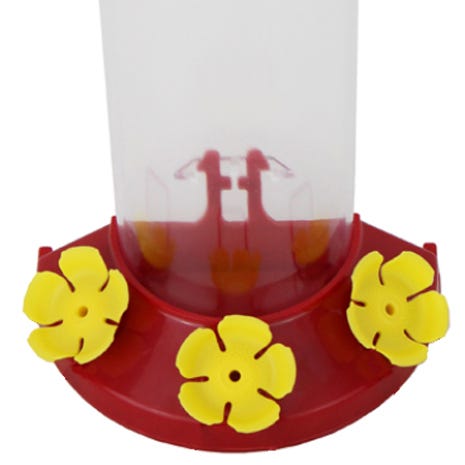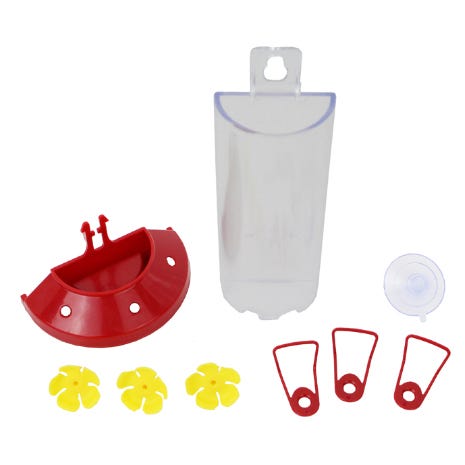 Comes Apart For Easy Cleaning
Hummingbirds prefer to visit fresh, clean feeding stations. To make that easier, this feeder disassembles for effortless cleaning. Easily separate the base, bottle and lid. You can even remove the feeding ports and perches! The reservoir's wide mouth opening also enables easy cleaning and filling. Remember to clean your feeder at least once per week with a mild soap and water solution to prevent mildew buildup; clean more often in hot weather.
"I LOVE this feeder! I've had the same one for what would have been the 5th summer but I dropped it and stepped on it by accident! I have to say, to all of you negative reviewers out there - It isn't the product that's faulty, it's 99.9999% user error as to why they fall off the window! If you hang it correctly you won't have a problem! Take the time, do it right and these precious little gems will love you and return for life!"
Perky-Pet® Window Mount Plastic Hummingbird Feeder Product Details
Do you want to know more helpful details about the Window Mount Plastic Hummingbird Feeder? Take a closer look at the in-depth specifications for this product.
Perky-Pet® Window Mount Plastic Hummingbird Feeder
Model #
217
Height
8.4 inches
Width
5.5 inches
Length
3.5 inches
Capacity
8 oz
Ports
3
Materials
Plastic
Perky-Pet® Window Mount Plastic Hummingbird Feeder
Model Number
217
Quantity
1 feeder
Weight
.274 lb
Dimensions
8.75 in H x 6.5 in W x 4 in D
Nectar Capacity
8 oz
Feeding Ports
3
Customer Reviews
7%
of customers
recommend this product