Perky-Pet® Sunflower Seed and Peanut Wild Bird Feeder
Special Price
$12.79
Regular Price
$19.99
Perky-Pet® Sunflower Seed and Peanut Wild Bird Feeder
24
4.8
5
1
Earn 240 rewards points on your purchase! Learn More
Circular openings for clinging birds to eat from all angles
All-metal construction prevents squirrel damage
Well ventilated feeder keeps seed fresh & dry
Holds up to 1.25 lb of seed or peanuts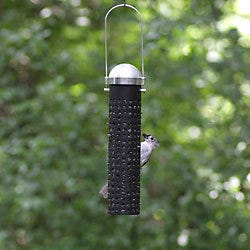 Perky-Pet® Sunflower & Peanut Feeder
With the many openings on this feeder, you can watch a multitude of birds as they flock to enjoy seeds or peanuts.
The Perky-Pet® Sunflower & Peanut Feeder holds 1.25 pounds of sunflower seed or peanuts. The full circle of perforations allows more birds to feed at once, making this one of the most economical and convenient tube feeders on the market! In addition, squirrels cannot damage the all-metal construction.
Remember to clean your tube feeders once every two weeks with a mild soap and water solution.
Perky-Pet® Sunflower Seed and Peanut Wild Bird Feeder
Model Number
395
Weight
.610 lb
Dimensions
11.5 in H x 3.0 in W x 2.4 in D
Capacity
1.25 lb of seed
Ports
Full circle perforation that allows more birds to feed
How large are the holes in the Perky-Pet Sunflower seed and peanut feeder?
Question by: Marilyn Lockwood on Apr 12, 2017, 8:00 PM
The openings are approximately 1/4 of an inch in diameter.
Answer by: Woodstream (Admin) on Apr 14, 2017, 8:00 PM